Aug. 28, 2017, © Leeham Co.: Airline officials want their airplanes to sip fuel and the engine and airframe manufacturers work mightily to shave even 1% off of consumption.
The Airbus A320neo, Boeing 737 MAX, A330neo, A350 and 787 all made big strides in cutting fuel costs.
Bombardier's CSeries, Embraer's EJet-E2, the Mitsubishi MRJ and even the COMAC C919 and Irkut MC-21 are touted to be double-digit more fuel efficient than the jets these are intended to replace.
Pratt & Whitney, Rolls-Royce, CFM and GE Aviation spend billions of dollars developing engines that drive the fuel efficiencies sought by the airlines. After all, typically airframe improvements only account for about 5% of fuel reductions. Engines account for 15% or more.
It took 30 years for the most fuel efficient jets matched the fuel efficiency of the best piston airliners from the 1950s, according a recent presentation by AeroDynamics Advisory at the ADSE conference at the Abbotsford Air Show early this month.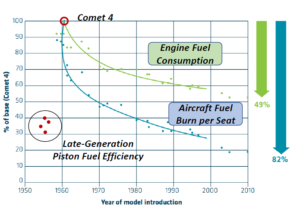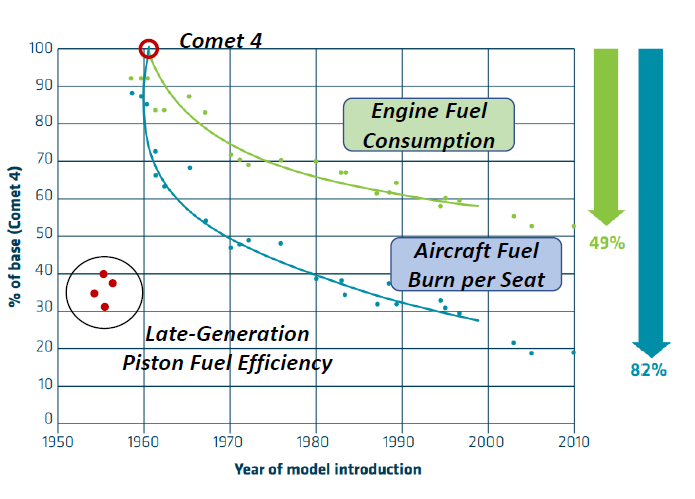 From the pistons to the jets
It was no secret that the first Boeing 707s, Douglas DC-8s and de Havilland Comets were incredibly thirsty compared with the pistons these replaced. The speed, higher utilization and greater passenger capacity are what gave jets the operating advantage over the Douglas DC-4s, DC-6s, DC-7s and the grand Lockheed Constellations of the 1950s. The DC-6B was considered the most efficient, reliable piston engine transport ever made. The ungainly Boeing Stratocruiser was considered the worst from an operational standpoint, even if popular with passengers.
The reliability of the jet engines proved, over time, to be so much better than the pistons as well.
It wasn't until the advent of the high bypass turbofans that jet airplane finally matched the efficiency of the pistons, AeroDynamics said, citing a study, "Fuel Efficiency of Commercial Aircraft."
Future regulations
ICAO, the international organization that issues rules and regulations for airlines and aircraft that are internationally recognized, approved a new CO2 standard that has an effect of requiring better fuel efficiency for newly certified aircraft from 2020 and in-production aircraft from 2023.
The following chart is not all-inclusive—the Bombardier CSeries, Embraer EJet-E2 and several other models are not listed. What catches the eye is the Airbus A380 won't be compliant in its present iteration. Presumably an A380Plus would be, since winglets alone will reduce fuel consumption by an estimated 4%. Other aerodynamic improvements will help (remember, this standard is about CO2 reduction, not a per-seat calculation).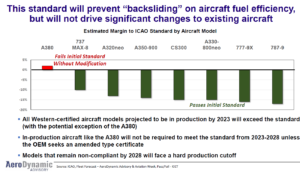 ICAO's paper on the regulations may be found here. The Tables below have the complete aircraft listing ICAO evaluated, including business aircraft, and rated. The "plus" (+) figure means the aircraft fails the new standard. The "minus" (-) figure means the airplane passes the new standard. The greater the minus number, the more "room" the airplane has to the new standard.