Nov. 13, 2017, © Leeham Co.: The Dubai government wants Airbus to guarantee it will keep the A380 in production for 10 years before placing a new order, reports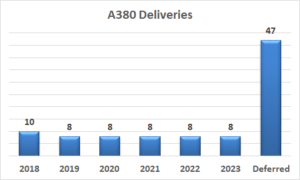 Reuters. Reuters also reported Emirates Airline could order up to 40 A380s plus options.
The 10-year guarantee report comes on the second day of the Dubai Air Show.
Airbus' current production rate, which reduces to 10 next year from 12 and to eight the year after that, extends production through 2023, according to the Ascend data base.
Shrinking backlog, doubtful orders
There are 98 A380s in backlog. Forty-seven aircraft are deferred indefinitely, according to Ascend.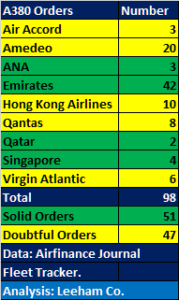 These orders are "doubtful," according to LNC's analysis.
The Emirates order would help extend the backlog well into the 2020 decade, when Airbus hopes its long-predicted demand for the A380 finally materializes. If the order was for 40 aircraft and tagged onto the end of the current backlog at the current production rate, this would fill the backlog through 2028—10 years.
But Airbus projects a loss at rate 8/yr, though it is working to at least break even.
That's our story and we're sticking to it
Airbus has been saying airport congestion will reach a point where the A380 is required to fulfill demand. But this has been the premise since the program was launched.
Despite passenger growth doubling every 15 years, airlines continue to prefer smaller aircraft. They've abandoned the Boeing 747-8; Boeing now doesn't see a future for this iconic airplane, except as a freighter.
Development of the Boeing 777-9, at nominally 425 passengers, replaces the 747-8 (albeit, being somewhat smaller). The long-range and ultra-long-range twin-aisle twin-jets allow direct flights to many destinations that previously went through hubs like New York, London, Paris and Tokyo.
Emirates is currently the only significant customer for the A380.