Nov. 14, 2017, © Leeham Co.: Despite the problems in the US over the Boeing trade complaint, or perhaps because of the resulting tie-up with Airbus, Bombardier has since landed two important deals for its C Series.
The first was an LOI for up to 61 (31 firm 30 option) from an unidentified European operator. Based on the announced list value, these are believed to be CS100s.
The latest comes from today's Dubai Air Show from Egyptair, which announced an LOI for 24 (12+12) CS300s. Delivery dates weren't announced.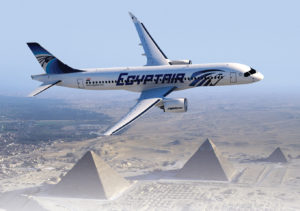 Lengthy negotiations
Market intelligence revealed the negotiations with Egyptair had been underway all year. Despite the financial restructuring of Bombardier last year, which led to the Boeing trade complaint this year, potential customers for the C Series remained uncertain about BBD's long-term viability.
The tie up with Airbus, which will take a 50.01% share of the C Series program, appears to have given sufficient comfort to enable two quick, sizable orders. The Unidentified order should be firmed up by year end.  The companies did not indicate when the Egyptair LOI will be firmed up.
The Unidentified customer has been speculated as the International Airline Group, Air France/KLM or Air Baltic. The latter publicly indicated plans to expand its C Series fleet, but the quantity disclosed is smaller than announced in the LOI. IAG's British Airways has 30 Airbus A319s and one A319.
Other orders
Boeing announced an order for 20 737 MAXes Monday from lessor ALAFCO. Airbus today announced an order for 20 A321neos from Wataniya Airways.