Embraer's improved E-Jet E2
By Bjorn Fehrm
Subscription Required
Introduction
December 07, 2017, © Leeham Co.: Embraer is four months from first service introduction of the new generation E-Jet, the E190-E2, with Norway's Wideroe. Following the smooth E190-E2 program will be the larger E195-E2 in 2019.
Embraer's E2 update of the E-Jet is more elaborate than the Airbus A320neo and Boeing 737 MAX updates. In addition to new engines, the aircraft's wings and systems are changed. In addition, the fuselages are stretched on two of the three models for increased passenger capacity.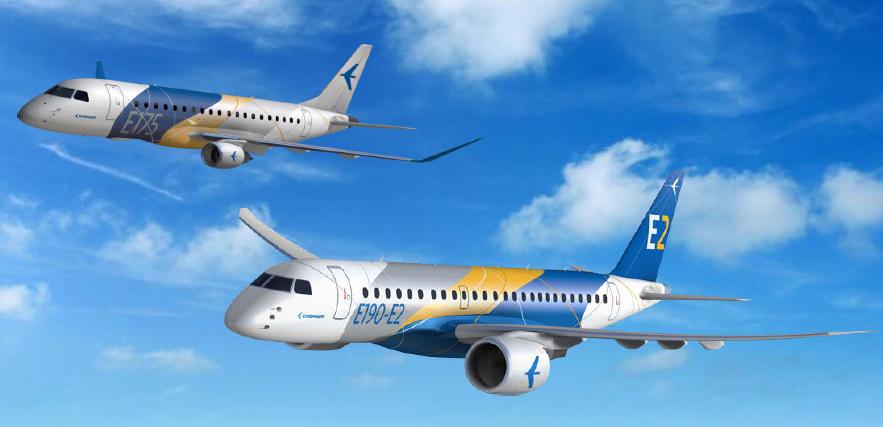 We analyze the areas of change from the original E-Jets and what these mean for the operations and economics of the aircraft.
Summary:
The E-Jet E2 keeps the strong point of the original E-Jet, its comfortable cabin, and improves other areas to keep the family competitive after 2020.
As the only aircraft family in the market (regional or mainline), the E2 models E175, E190 and E195 all get their own optimized wings. The result is good field and range performance paired with low fuel consumption.
The E2 family introduces advanced Digital Fly-By-Wire to allow reduced static stability and by it trim drag. This improves the fuel consumption further.
Other system changes focus lower maintenance costs. The new single-aisle generation (A320neo, 737 MAX) lowers maintenance costs per seat. The regional OEMs must respond.
To read the rest of the article Login or Subscribe today.
Category: Airbus, American Airlines, E-Jet, Embraer, Pratt & Whitney, Premium
Tags: Bombardier, CF34-10E, CF34-8E, CSeries, E190, E190 E2, E195, E195 E2, Embraer, Pratt & Whitney, PW1900G