Sept. 14, 2019, © Leeham News: The World Trade organization Friday concluded that the US may impose up to $10bn in tariffs against the European Union as a final result of the 15-year trade dispute over Airbus subsidies.
Politico first reported the WTO decision, which has not been made public.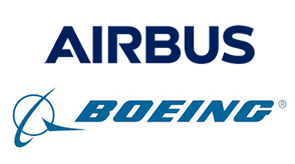 Airbus issued a terse statement.
"The WTO decision is neither public nor authorized for release. We do not comment on rumors on a report that is not public," a spokesman said in an email. "Aviation is a global industry, and no aircraft comes from one single country or zone. Nobody will win — it's a lose-lose for the whole industry if we move to tariffs."
Boeing declined comment.
Targets for tariffs
The US previously listed up to $25bn in potential tariffs, targeting not only Airbus components but a litany of unrelated products and industries.
Airbus assembles the A320 family in Mobile (AL). The US previously said fuselages and wings, among other components, imported could be taxed.
The A220 is also being assembled in Mobile. Wings come from Northern Ireland, which as part of the UK today, remains part of the European Union. If the UK withdraws from the EU under Brexit, it is unclear if the wings will still be potentially subject to tariffs.
Alabama is a solid Republican state, where President Trump's approval ratings are the highest in the nation. It's likely Alabama politicians will lobby Trump to avoid levying tariffs on the locally—produced airplanes.
EU case against Boeing pending
The EU's case against Boeing and the amounts of tariffs that may be levied against continued, illegal subsidies to Boeing is running about six months behind the US-Airbus case. The EU already has listed billions of dollars in tariffs it could impose on Boeing and unrelated goods and industries should the US impose its tariffs now that the WTO has cleared the way to do so.
While there should be no linkage, the grounding of the Boeing 737 MAX and the vow by the EU's safety agency, EASA, to perform its own testing before clearing the MAX for a return to service could become a pawn in the tariff wars, some worry.