Sept. 30, 2019, © Leeham News: An obscure and largely forgotten European win in a previous illegal subsidies case against Boeing and the United States before the World Trade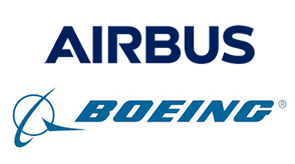 Organization (WTO) opens the door for immediate retaliation against Boeing if the Trump Administration levies tariffs against Airbus.
LNA yesterday revealed the European Union may retaliate immediately against US tariffs on Airbus or EU goods. The US will be free to do so as early as October.
Boeing at risk of immediate EU retaliation
Under WTO rules, tariffs don't have to be levied against the offending company. Tariffs may be levied against other industries.
Previous EU cases before the WTO dating to the early 2000s involved an obscure US law, called Foreign Sales Corp., (FSC) financings, were determined by the WTO to be prohibited subsidies. Congressional action eliminated FSC financings and replaced it with a new mechanism. The EU filed a new complaint and the WTO also ruled this to be prohibited subsidy.
The WTO identified $2.2bn as the amount the EU could slap tariffs on, according to news articles or the era. Wikipedia, which isn't to be taken as gospel, put the amount at more than $5bn.
The EU never levied tariffs are a result of these FSC wins. As reported yesterday, it also has other wins for which no tariffs were levied.
US, Boeing miscalculations
The US and Boeing have refused EU and Airbus suggestions to negotiate a settlement. The current WTO case filed by the EU against the US over Boeing subsidies is at least six months behind the US vs EU case. The US side believes this gives it (and Boeing) the advantage to press its case to eliminate all launch aid to Airbus.
But this position miscalculates the history and the ability to retaliate against Boeing now.
The backlog of orders Airbus and Boeing have in the US and EU may be found here.