By Judson Rollins
Oct. 31, 2019, © Leeham News: One year ago this week, Lion Air flight JT610 went down in the Java Sea near Jakarta. It was the first of two accidents that would expose catastrophic design problems with the 737 MAX – and a regulatory relationship between Boeing and the FAA that had become too close to comfort.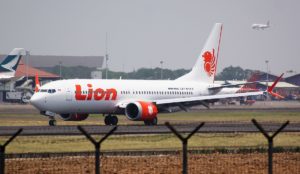 Although much has been written about the US major carriers' orders for the MAX, relatively little has been said about orders from the Eastern Hemisphere. Prior to the MAX's grounding, 136 airplanes had been delivered to the region and another 1,186 were on firm order. This comprises nearly 27% of Boeing's firm MAX orders.
The following table shows the top MAX operators in Asia & Australasia:
Deliveries and Orders
| | |
| --- | --- |
| Airline | Aircraft |
| Lion Air | 245 |
| VietJet Air | 200 |
| SpiceJet | 167 |
| China Southern | 58 |
| Garuda Indonesia | 50 |
| Virgin Australia | 40 |
| Jeju Air | 40 |
| Ruili Airlines | 38 |
| SilkAir | 37 |
| Korean Air | 30 |
Lion Air is Asia's largest MAX customer – even as its CEO, Rusdi Kirana, complained more than once that Boeing treats it as a "piggy bank." Kirana threatened after the accident to cancel the airline's remaining MAX orders, but has since admitted Lion "urgently requires" more MAXes to support its rapid growth. Questions abound over the viability of Lion Air's growth plans, especially as it has twice as many aircraft on order as it currently flies – and nearby competitor AirAsia has an even larger order book.
(Both Lion Air and AirAsia have large orders for the Airbus A320neo family, intended for their leasing units.)
The next largest MAX customer in the region is VietJet, which boasted a nearly 11% pre-tax profit margin in 2018 and 9% in the first half of 2019. Although the airline is an all-Airbus operator at the moment, it has 200 MAXes on order, including 100 of the high-density MAX 200 variant. VietJet also has 111 A321neos on order, making it an obvious "flip" candidate for Airbus – although finding neo delivery slots in the near term may prove a tall order.
Return to service
The MAX's return to service will depend on each country's individual regulator, although it is expected that most smaller jurisdictions in Asia will wait for Japan's JAA, Australia's CASA, or even EASA to approve the MAX again before lifting their own grounding orders. This could well stretch into the second or third quarter of next year, depending on how long regulators outside the US take to complete their analyses.
A more complicated question may be how long it takes for China's CAAC to clear the MAX, as this question could become a political football riding on the country's ongoing trade disputes with America. The CAAC has said little about the MAX since its initial grounding in March. Chinese airlines and lessors have a total of 270 MAXes in their fleets or on order.
It remains to be seen just how well Boeing's long-mooted NMA will sell in Asia, and whether the MAX's issues will impact future Boeing sales in the region. But most discussion around the NMA has centered on European and North American carriers, which leads one to believe that airplane will likely be optimized for transatlantic and US transcontinental missions.