February 13, 2020, © Leeham News in Toulouse: Airbus presented its results for 2019 today in Toulouse. Operationally, the company made a profit of €6.9bn but heavy fines (-€3.6bn) to settle a long-running bribery case and contingencies for A400M development cost coverage brought the net result to a loss of €1.3bn.
The Commercial aircraft division delivered 8% more aircraft 2019 (863 units vs. 800 2018). The mix of aircraft changed towards higher-margin single-aisle types like A321neo and A321LR whereas widebody margins peaked during 2019. The helicopter business is flat in a tough market and the profits of the Defense and Space division declined 40% on flat revenues.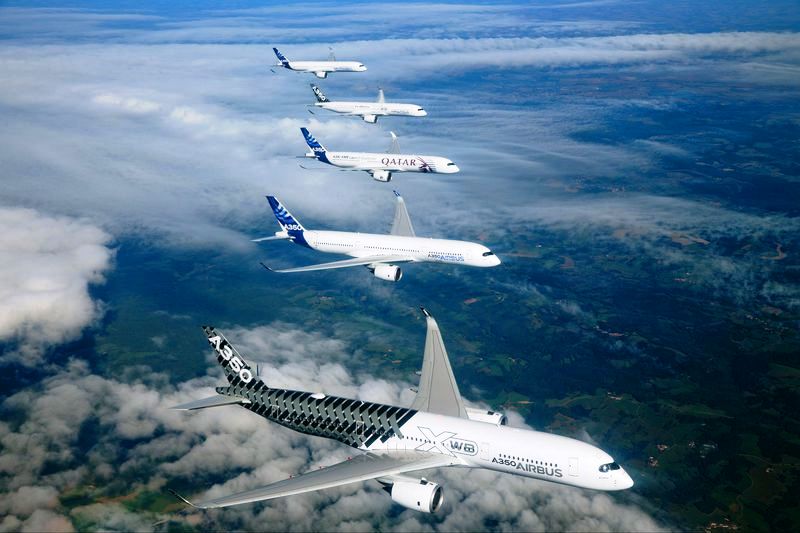 Group-level results
Revenue for 2019 was €70.5bn (€63.7bn 2018), operating profit was €6.9bn (€5.8bn) and net profit was -€1.4bn (€5.8bn) after group write-downs of €5.6bn and financial instruments reevaluations of €2.7bn. Free cash flow for 2019 was €3.5bn (€3.5bn) and the cash position end 2019 was €12.5bn (€13.3bn).
Airbus proposes a dividend for 2019 of €1.80/share (+9% vs. 2018) but no shares buyback program.
Guidance for 2020 is:
Airbus targets around 880 commercial aircraft deliveries for 2020.
Airbus expects to deliver an EBIT Adjusted of approximately €7.5 bn
FCF before M&A and Customer Financing of approximately €4 bn before:

€-3.6bn for the penalty payments and a negative mid to high triple-digit million Euro amount for the consumption of compliance-related provisions for tax and legal disputes
Commercial aircraft
The single-aisle family of A320/A321 now represents 75% of the Commercial aircraft division's deliveries. The A320 family delivers sold margins and the A320neo, A321neo, and A321LR claim premium margins. Unfortunately for Airbus, it can't expand significantly on this success story as the range is now sold out until 2025.
Airbus has probed its supply chain what it can support in delivery rate going forward and it can expand the present 62/month to 63 in 2021, then to 64 to 65 in 2022 and 65 to 67 in 2023. When A320/321 deliveries can't satisfy customer demand it will try to point customers to the A220 line where there are still delivery slots available.
The above is also the reason why Airbus can't gain from the Boeing 737 MAX crisis; it can't make up for any MAX customer delivery shortfalls. "We have to make sure we can serve our own customers, this is tough enough," says Airbus CEO Guillaume Faury.
The A321neo now represents 50% of Airbus deliveries going forward and the many ACF variants delivered to new customers (meaning many new "heads of version" for the new ACF three-door pair variant) meant Airbus presently has a six-month delay in deliveries of A320 aircraft.
These problems shall now be under control after a good second half 2019 for the A321 ACF variant and Airbus expects to be back on its customer delivery schedule within 18 months.
The A220 is gaining traction inside Airbus, as this is a single-aisle line that is not sold out. After buying out Bombardier effective today and controlling a 75% stake in the program with the Government of Quebec as a 25% partner, the focus is now on the delivery ramp and cost down. The program will exit its cash eating initial learning curve by 2025 when deliveries shall be 150 to 160 aircraft per year.
Airbus started making a profit on A350s delivered since the end of 2019 and the program is now running without supplier problems. Widebody demand, in general, has softened and Airbus has decided to keep A350 deliveries at the present rate of 9 to 10 a month for the next years.
It will reduce A330 deliveries from 53 in 2019 to a planned 40 for 2020. In reality, this is a modest reduction in delivery rate as some of the 2019 aircraft were readied in 2018 but lacked engines pushed them to 2019 delivery.
Airbus thinks a delivery rate ~110 A350 (113 in 2019) and ~40 A330neo is the right level for years to come in a widebody market that has weakened.
The A380 is now at its end of production with the last wing set delivered from Broughton. The load on the result will be less than $200m (-€202m in 2019) in 2020 and will decline for subsequent years.
Helicopters
The helicopter market is still soft. With a focus on services, the revenue (€6bn) and profit level (€0.4bn) have been flat between 2018 and 2019.
Defense and Space
This is now the problem child of Airbus. The satellite business has projects which are not closing and the military projects have not picked up. Revenue was flat (€10.9bn) with profits declining 40% (0.6bn).
The cost coverage for the A400M development that was expected from export orders during the time frame of the present multinational OCCAR program was put to zero in a review of the program. This resulted in an additional write-down of €1.2bn for an already troubled program. Losses going forward are estimated to stay at the €0.5bn level for 2020 to 2022 whereafter they shall gradually disappear.