By Judson Rollins
February 13, 2020, © Leeham News: Despite depressed turnout at this year's Singapore Airshow, there was still plenty of conversation around the return to service for Boeing's beleaguered 737 MAX – and potential impacts on the certification of the 777X.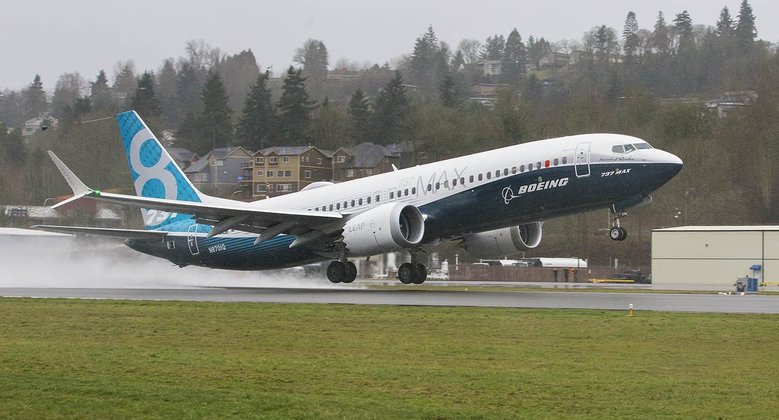 Summary
Ungrounding will take ~30 days from certification flight; operators also have work to do
Every MAX produced to date will require its own validation flight
FAA will gradually hand back some oversight to Boeing
777X, other future certifications will be different; regulators still figuring out how
FAA administrator, deputy taking hands-on role in evaluating new MAX training
At a press briefing on the sidelines of the Singapore Airshow, FAA Administrator Steve Dickson made it clear yet again that the 737 MAX's return to service will not be a hasty one. Dickson said, "I'm committed to honoring the memory of those who lost their lives by working tirelessly each and every day of my tenure to ensure the highest possible margin of safety in our global aviation system."
The next major milestone in the RTS process is a certification flight, the timing of which is not yet firm but is expected within the next few weeks. The flight will be conducted by FAA test pilots and is intended to confirm whether Boeing's software fixes on the MAX bring the airplane within FAA transport aircraft standards.
"When we finally make the decision to return the aircraft to service, it will be the most scrutinized aircraft in history," said Dickson. "I'm also not going to sign off on the aircraft until I fly it myself."
Dickson said that he and Deputy Administrator Dan Elwell, both licensed commercial pilots, will complete the simulator and computer-based training recommended by Boeing. "But we don't want to have our thumb on the scale. We've got international crews and US crews coming into evaluate those [training] proposals, and we'll have to see how they perform and whether any modifications for the building proposal [are required]."
"Once that [flight] is completed," Dickson added, "I think we'll have a good bit more clarity on where the process goes forward from here." Within days after the flight, the FAA and other regulators will begin joint validation of Boeing's training proposal. The results will be forwarded to the flight standardization board, which will issue a final report defining MAX training requirements. That will be subject to a public comment period.
The minimum time from certification flight to potentially ungrounding the MAX is 30 days, Dickson estimated. During that time, a technical advisory board must issue its final findings for aircraft modifications and a minimum master equipment list (MEL) must be approved. The latter has been available for public comment since early December.
Boeing working with customers ahead of final FAA ungrounding order
Once all of these steps are complete, the FAA will issue a notice of pending airworthiness directive to operators and regulators around the world with all of the needed modifications and updated training requirements for the MAX. Within a day or two of this notice, the actual order to unground the MAX will follow.
But carriers will not be able to put the MAX into service until they make all required technical changes, get new training curricula approved by regulators, and put enough pilots through simulator training. In a subsequent briefing, Boeing sales VP Ihssane Mounir told reporters that the manufacturer is already using the training arm of its Boeing Global Services division to help operators develop those curricula while the rest of the process is underway.
Mounir said, "In terms of dialogue with customers, we're keeping them up to speed in terms of progress with regulators." He spoke of "daily fleet calls" between Boeing and MAX customers. "Those conversations are not always easy … it's very difficult to share with a customer that you're not ready to put the airplane back in service." Mounir added that Boeing customer service and engineering staff are looking at every aircraft to determine what maintenance checks, time-limited parts replacement, service bulletins, modifications, and other requirements must be fulfilled before it can be returned to service.
"When the airlines are ready to fly, we will treat every airplane as if it were its first entry into service," said Mounir.
The FAA and other regulators will also require a separate validation flight for each MAX before it can receive a new airworthiness certificate. FAA inspectors, not Boeing employees, will be issuing those certificates for the first few months. This is expected to change over time "if things are working well," said Dickson.
Even with Boeing support, operators will likely need weeks or months after any final FAA action before they can get their MAX fleets into service.
Fallout likely on 777X certification, but details are unclear
When asked about future aircraft certification, Dickson was quick to point out that the level of scrutiny applied to the MAX will not be the template for future certifications. "What we're doing in terms of certification is not a sustainable proposition going forward in my view," he said. "It's not what we would want or desire. You can't pull all these functions into the government. We're just not going to have the ability to really oversee the processes effectively."
"We will certainly take some of the processes that we're using now with the MAX and use them in the 777X."
The decision on whether to certify 777X as a derivative or not that will depend on Boeing proposals, added Dickson. "One of the things that we will do is use a technical advisory board to do an independent crosscheck on the FAA's work, as we've done before. We'll also make a greater use of our chief scientists in the process."
"The lessons learned will ideally lead to a more holistic versus transactional item by item approach to aircraft certification in the future, not only in the US but around the world."
An FAA spokesman provided LNA with some principles already identified as necessary for future aircraft certification:
A more holistic versus transactional, item-by-item approach to certification, with coordinated and flexible information flow throughout the oversight process;
Integrate human factors more effectively throughout the design process, particularly as aircraft become more automated and systems more complex;
Promote an environment of "Just Culture" and safety management systems not only for operators, but for manufacturers and suppliers, regulators, air navigation service providers, and all industries involved in the aerospace system.
At an investor conference Wednesday, Boeing CFO Greg Smith said the company is trying to anticipate process changes ahead of the 777X's expected 2021 entry into service. (Some question if the EIS will slip to 2022.) "We're not assuming business as usual, certify the aircraft, and nor should we," said Smith. "Do we have specifics on what exactly might change? Not specifics, but we're anticipating them. We're taking some of the learnings off the 737 MAX and trying to get ahead of it and apply them on the 777X."