May 25, 2020, © Leeham News: Aircraft lease rates continue to plummet as the virus crisis infects the airline industry.
In an update of its periodic look at rates, the UK advisory firm ISHKA last week looked at 5-year old aircraft. Monthly Rates plunged as much at 26%. Aircraft values dropped as much as 15% (22% for an ATR-72).
Since Jan. 1, the Boeing 777-200F lost only 2% of its value but lease rates dropped 11%, despite high demand for cargo airplanes now. The Airbus A350-900 lost 5% of its value but lease rates were off 17%.
A five year old Boeing 787-8, on which pricing was under pressure before COVID decimated the airline industry beginning in March, now can be leased for $575,000/mo, ISHKA says.
The Airbus A320/321ceo and Boeing 737-800 also show sharp value and lease rate declines.
Setting values and rates
These values and rates are based on what's called half-life aircraft. This means these are half way through their maintenance cycles to heavy MRO. Aircraft with more time to MRO have higher values and rates. Aircraft with less time to MRO are worth less.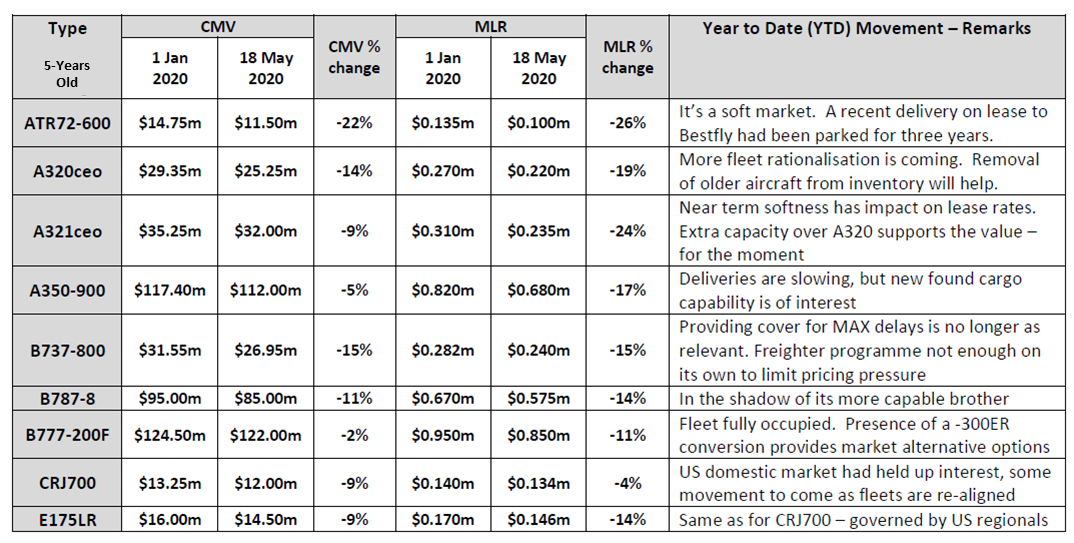 ISHKA said values and lease rates are on a ledge.
"The next round of fleet rationalizations and lease restructurings will guide the intensity of the markets next steps," the advisory firm said.
ISHKA will publish more values and rates in the coming weeks.