June 8, 2020, © Leeham News: Pratt & Whitney struggled since its new Geared Turbo Fan engine entered service in 2016 to fix technical, reliability and operational issues.
Plagued by premature engine removals as parts, other than the gear box, failed, Airbus A320neos stacked up in Toulouse and Hamburg while new engines were diverted to operators with aircraft out of service.
India's regulator issued a grounding order of GTF-powered neos. Shop visits for repairs and modifications overwhelmed PW. The mess cost PW parent United Technologies (now Raytheon Technologies, following a merger) billions of dollars.
Working its way out of this mess was forecast to take into 2021.
Now, with COVID-19 impacts grounding airliners by the thousands, PW is using this as an opportunity to speed replacement and reworked engine deliveries.
---
Related Stories
Performance Improvement Packages (PIPs) will be ready this summer.
"If there is any silver lining in the environment we're in today, it is likely around the GTF and the retrofit," Raytheon CFO Toby O'Brien said during a UBS webcast last week. "We are utilizing available shop capacity to fix the issues in the fleet. Our goal is to have GTF engines with enhancements by the end of the year as the recovery plays out."
Losing money on every engine
PW loses money on each GTF it delivers. This is not unusual in a new engine program with any manufacturer. Because of steep discounts, sometimes up to 80%, it may take 10 years or more for an OEM to make money on the sales. The business model for decades was built around making profits on parts, maintenance and overhauls.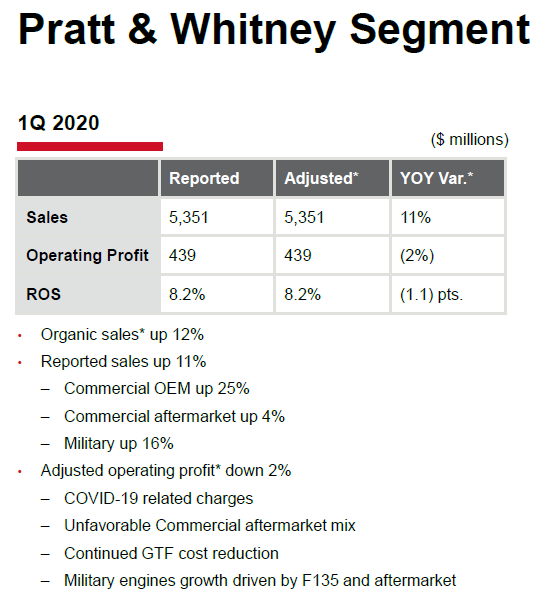 The global fleet grounding and pause in delivering new airplanes reduces the loss.
"We lose money every time we ship an engine, and so there's actually good news from the lower production on the GTF," Raytheon CEO Greg Hayes said on the 1Q2020 earnings call last month. "That is offset somewhat by the lack of absorption [overhead costs], so all of the negative engine margin that we would typically see is not all going to flow to the bottom line. You've got lack of absorption and, importantly, you're coming down the learning curve. You take 5% to 10% of the cost out every year. That's going to be slower as volumes go down.
"Overall, you're probably going to get about $100m of pick-up as a result of the lower volumes in GTF," he said.
Aftermarket revenue hit
GTF engines entering PW's maintenance shops are under warranty, adding to the costs and not producing revenue.
The virus crisis slowed induction of older generation PW engines as airplanes are parked. O'Brien, on the UBS webcast, said original engine and aftermarket revenue is down 50%.
Airlines that need engines or parts for reduced operations can, if desired, simply swap engines and parts from parked airplanes, said an advisory/technical firm that specializes in engines.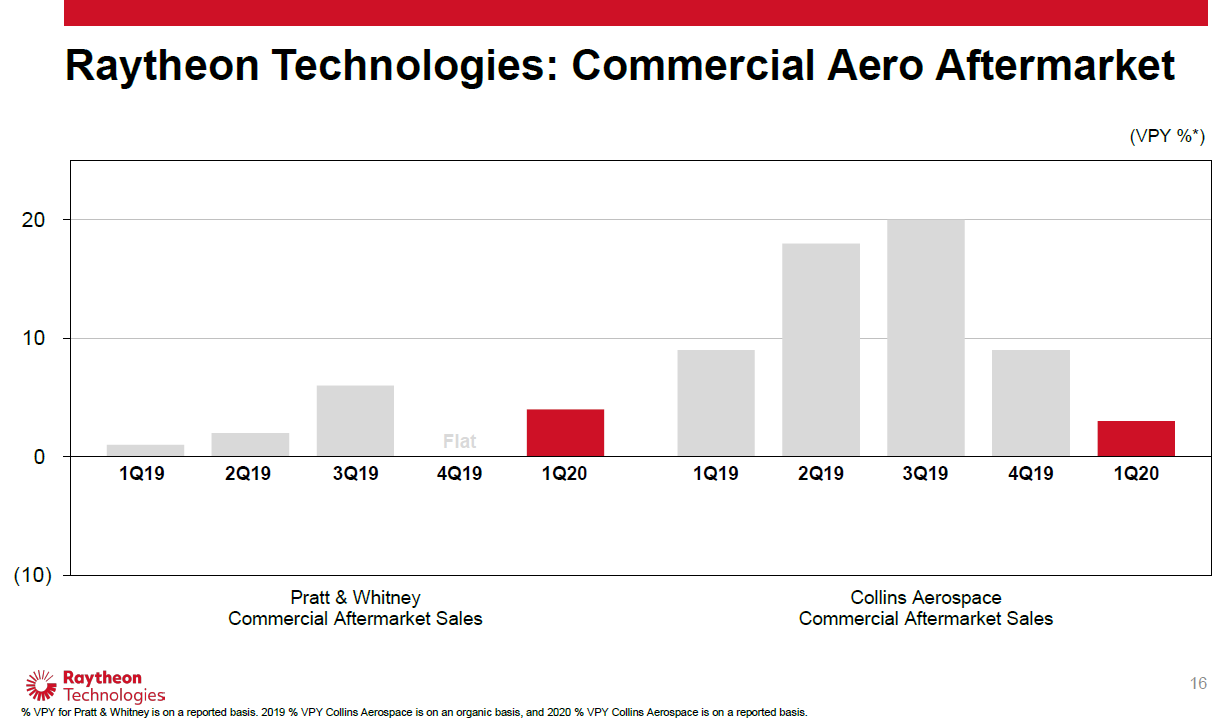 O'Brien said PW's aftermarket is essentially in three pieces: the V2500, which is about half of market, with 6,000 engines and an average life 11 years. One third of fleet hasn't seen first ship visit. The V2500 is principally on the A320ceo family. There are small numbers on the now-retired Boeing MD-90 and fewer still on the new Embraer KC-390.
The second piece of PW's engine aftermarket is from the PW 2000/4000 engines. This represents about 25% of aftermarket. The PW2000 is on Boeing 757s and the PW4000 on a variety of Boeing and Airbus widebodies. O'Brien said there will continue to be accelerated retirements. The average age of the engines is 20-25 years old.
The third piece, the final 25%, is the GP7000, GTF, GTF in retrofit and warranty stage. The GP7000, produced in a joint venture with GE Aviation, powers the Airbus A380. Early A380 retirements pulled forward a year or two the aftermarket business plan for this engine.
Hayes, on the earnings call, said that with fuel prices as low as they are, the need for new aircraft is probably somewhat lessened and airlines will fly some of the older, less efficient aircraft for a few more years to save on the capital of buying new airplanes.
Improving the GTF
PW's Advance 2 improvement is in the works. This may be the project PW VP Rick Deurloo discussed in our March 30 post. He declined then to identify the name of the package; the reveal was planned for the now-canceled Farnborough Air Show. EIS is said to be planned for 2022-23. This parallels the timeline for testing and certification of the Airbus A321XLR.