June 1, 2020, © Leeham News: The new chief executive officer for GE Aviation (GEA) will face huge challenges when he or she succeeds David Joyce when he retires this year, say industry sources. Joyce was named CEO in 2008.
Like other sectors of commercial aviation, the COVID-19 crisis hit GEA hard.
Initially, the workforce was cut by 10% in March. This was deepened to 25% in May. Non-essential spending was cut. A hiring freeze was implemented and other cost-cutting measures were put in place.
Summary
Demand for new airplanes tanked. The Boeing 737 MAX, powered by CFM LEAP engines, has been grounded since March 2019. No return to service is in sight. (GE is a 50% partner in CFM International, which makes the LEAP.)
LEAP engines on the 737 and the competing Airbus A320neo family fall way short of on-wing targets. Shop visits, under warranty, add to GE's cost basis.
The Boeing 777-9, powered by the GE9X, is already a year late. A redesign of some critical parts of the engine was required.
COVID also decimates the engine aftermarket business, which is core to the OEM business model.
No sugar coating
"I'm not going to sugarcoat this, we got hit hard in some of our highest-margin parts of our best-performing businesses," Lawrence Culp, chairman of GE, said April 29 for the March quarter earnings call. "This is especially true at aviation services, where COVID-19 caused a rapid decline in Commercial Aviation demand and even essential travel became difficult in the second half of March.
---
Related article
---
"In Aviation and at GECAS, airlines are conserving cash, not flying the planes they have, limiting maintenance spare spend where they can and all the while, deferring orders in many places. No one can predict when and how leisure and business travel will resume, but the reality is, likely, it's not soon," Culp said.
GE's cash flow was $1bn worse than in 1Q2019, with GE Aviation accounting for the decline. Orders were down 13% for equipment and services. The MAX grounding, coupled with COVID impact, resulted in a 27% decline in the commercial engine business.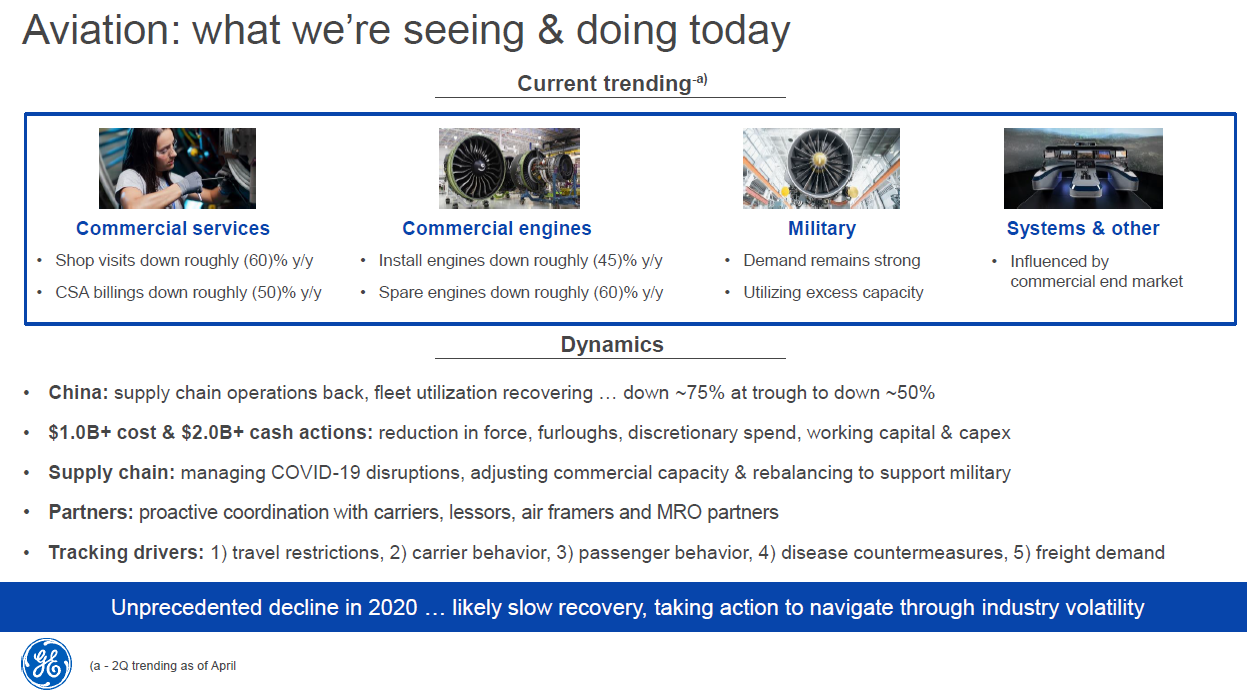 Shop visits declined, negatively impacting GEA financials.
Returning to normal
Gautam J. Khanna, an analyst at Cowen and Company, also on the earnings call, questioned how soon services will return.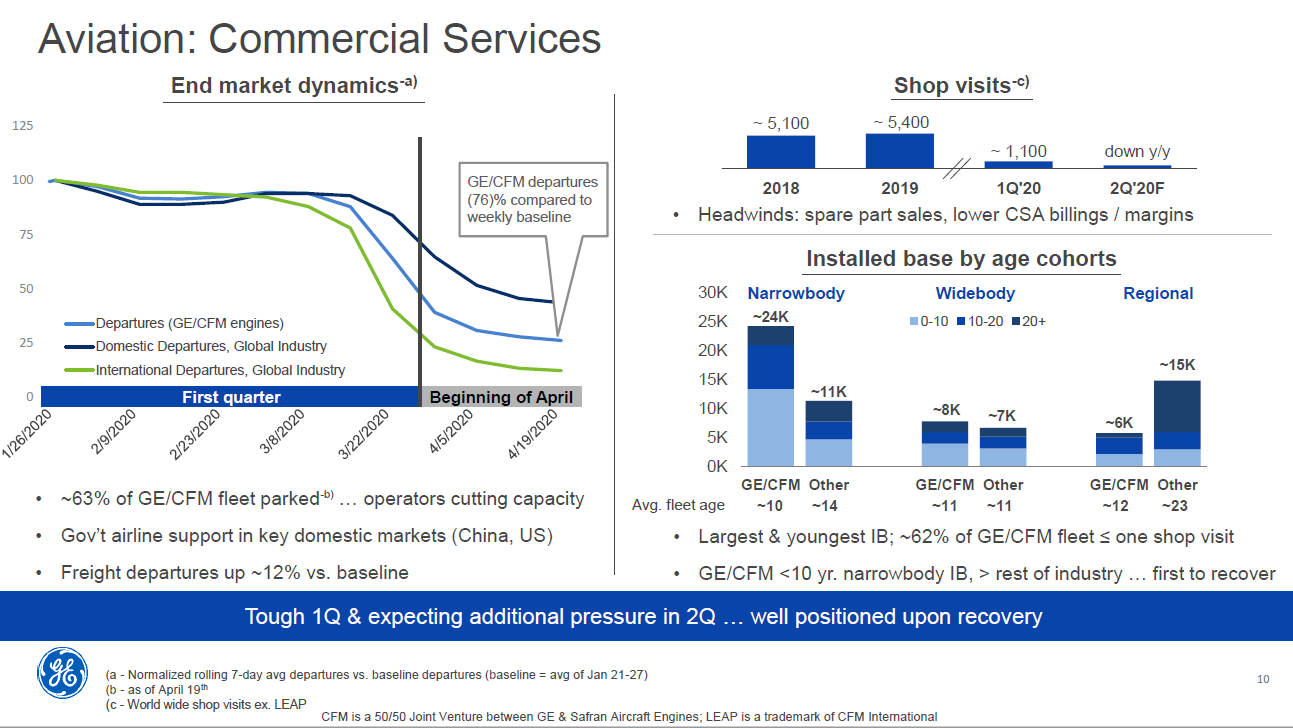 "It sounds like you guys acknowledge that on the way up, the spares business, the aftermarket, the $15bn commercial aftermarket business will lag ASM growth because of a younger fleet emerging, a surge of used serviceable material and the like, part outs. But obviously, lower spares provisioning as the OE rates come down 30% to 50%," he said. "When do you anticipate Aviation free cash flow getting to breakeven? Is it even possible before calendar 2022 in that type of environment?"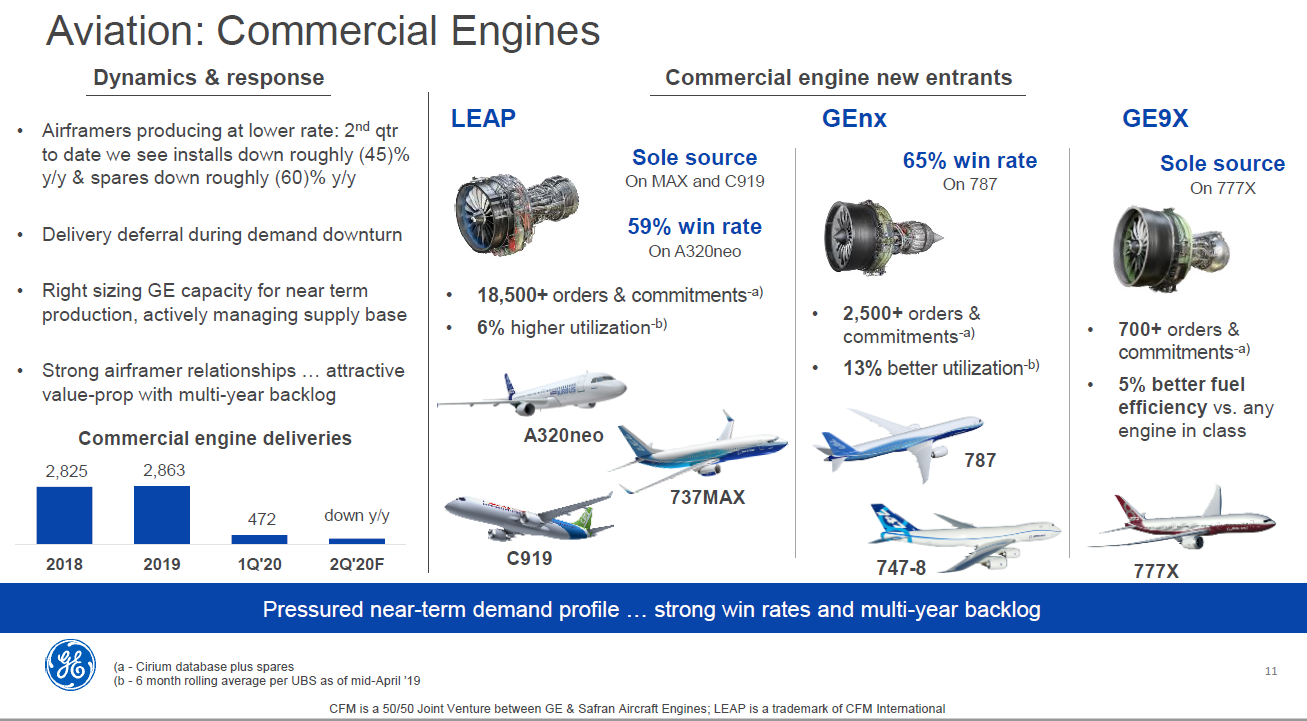 Culp pushed back.
"I'm not sure we would buy into the premise. We are a cycles business, much more so than any other indicator," he said. "Those cycles are going to have to come back before the passengers do. The age of the fleet will help us over time. There could be some short-term headwinds. But we'll see how that plays out."
Seismic drop
The appraisal/advisory firm Ishka sees a huge drop in demand for airframe and engine aftermarket services.
"Covid-19 has caused a 'seismic' drop in demand for aircraft parts as airlines delay all but necessary maintenance in their efforts to conserve cash," Ishka's Laura Thompson write in a note last week. "At the same time, an accelerated rate of aircraft retirements looks set to flood the parts market, pushing up supply at a time when demand is already extremely low.
"Two engine leasing sources and one end-of-life aircraft lessor admit to an 80% to 90% drop in parts sales revenue forecasts 'nearly overnight' as maintenance demand – and therefore parts demand – dried up. MRO sources estimate that lessors across aircraft types will have seen similar reductions in parts sales. Moreover, with demand down, values for parts themselves have "gone off a cliff" in many cases, explains one lessor."
Thompson reported that for engines, major OEMs and MROs "'haven't just decreased buying, they're just not there at all,' said one parts seller."
Engine challenges-CFM LEAP
Before the grounding of the 737 MAX, GE's joint venture partner, CFM International, faced issues with the CFM LEAP that powers the 737 MAX and shares the platform power on the A320neo family.
The LEAP's predecessor, the CFM56, is widely regarded as perhaps the most reliable jet engine ever made. Its on-wing time is about 25,000 hours. The LEAP falls far short. With advanced materials and higher running temperatures to achieve target fuel reduction goals, the LEAP so far faces engine removals in about 6,000 hours cycles. Some of the advanced materials are showing premature wear and tear.
Engine repairs in these cases are done under warranties, a costly expense for CFM. GE owns 50% of CFM, and shares in these costs.
Sources familiar with the situation tell LNA Boeing is or will be making claims against CFM for these issues.
Engine challenges-GE9X
Development of the GE9X for the 777X ran into problems as well. Engines installed on 777X had to be returned to GE to fix technical issues. This delayed the flight testing by about nine months. Costs mounted.
The long-term market demand for the 777X program now is questionable. When the X was launched in 2013, Boeing and GEA publicly said the demand was about 1,200 airplanes. Internally, LNA was told at the time, Boeing's Product Development department saw a demand for the X closer to 700-800.
On its 1Q2020 earnings call, GE touted more than 700 orders and commitment for the X. Most of these are options or letters of intent.
There are 304 orders listed on Boeing's website for the plane. But perhaps more than 100 may be soft, as the changing market and localized customer issues caused several airlines to say they may reduce, cancel or swap orders for the 777F or 787.
COVID exacerbates the uncertainty.
If the demand for the X turns out to be far less than the business plan forecast, GEA's investment in the GE9X becomes another challenge the new CEO will face.