By the Leeham News staff
Aug. 25, 2020, © Leeham News: Lease rates and aircraft values on narrowbody, mainline jets appear to be leveling off, except for the Boeing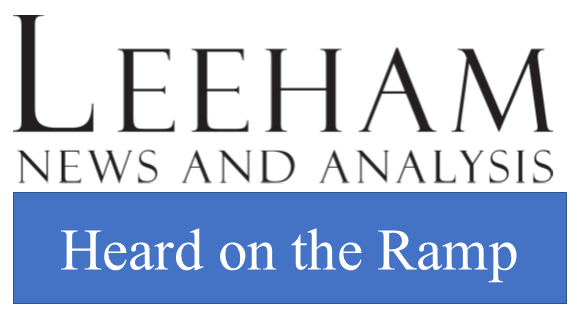 737-700.
Ishka, the UK-based appraisal company, revised its tracking presentation in last week's update. Moving from text to a graphic, it's visually apparent that values for the A320, 737-700, Boeing 737-800 and -900ER began to level off in May. Values for the Airbus A321 began to level off in June.
Lease rates for all airplanes except the 737-700 began to level off in June. Rates for the -700 continue to decline.
These are for off-lease, half-life aircraft that are five years old.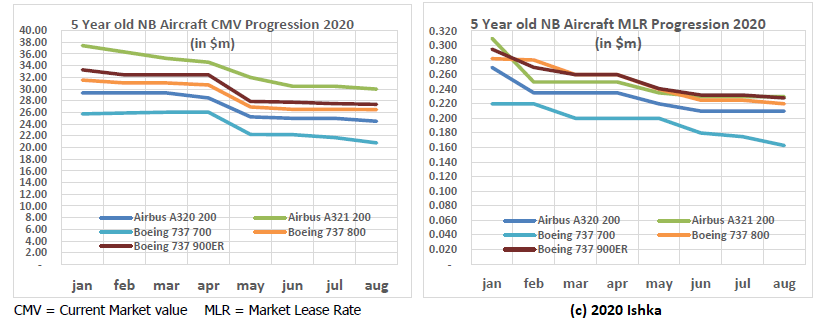 Half-life means an airplane half-way through its maintenance cycle.
Hasta la vista, baby
Bernstein Research yesterday issued a pessimistic outlook about recovery in the demand for airliners.
In a note entitled "Commercial Aircraft Demand: Hasta la vista, baby – The long wait for recovery," Bernstein reiterates its forecast that traffic won't recover until 2023-24. (Others forecast another year to this timetable.)

Bernstein looks at the Chinese market, where coronavirus originated.

"China domestic schedules are now close to 2019 levels," Bernstein writes. "But, load factors are low and fare reductions are being used to stimulate demand. Major Chinese carriers are using low-price "fly anywhere" packages to fill seats. We expect to see this approach in other regions to bring people back on to airplanes, even though little has happened yet. The problem is that low yields impair financial recovery, as it did for US airlines post-9/11. This will limit profits, burn cash and make it more difficult for airlines to take new deliveries or pay for MRO."
Bernstein thinks production plans at Airbus and Boeing are too high.
"Plans at Airbus and Boeing through 2023 are too high relative to deliveries," Bernstein writes. "This is particularly an issue for Airbus, which intends to produce 40 A320neos per month through 2021. Airbus was able to deliver those in July, but we do not believe that rate can be sustained. It is an issue for Boeing and Airbus on widebodies, who are already delivering far fewer airplanes than they are producing."