R&D spending at Boeing plunges; Airbus yet to kick in
Subscription Required
By Scott Hamilton
Introduction
Aug. 24, 2020, © Leeham News: Research and development spending at Boeing Commercial Airplanes declined 21% in the first half this year compared with 2019.
From 2017 through 2019, BCA's R&D spending declined 13%.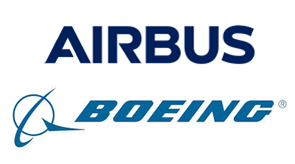 During the first half this year, Airbus Commercial airplanes R&D spending declined 1%. From 2017-2019, R&D spending increased 31%.
Boeing's decline in 2019 vs 2018 and the first half of 2020 vs 2019 clearly reflects the grounding of the 737 MAX.
The flat spending in 2017-2018 reflects Boeing's corporate approach of keeping R&D spending level while returning 100% of free cash flow to shareholders.
Airbus, on the other hand, was aggressively pursuing green aviation R&D, driven by a European Union that is more dedicated to green aviation than the USA is.
Summary
COVID-19 related R&D spending cuts may not be fully seen until the third quarter.
Boeing suspended R&D spending on the New Midmarket Airplane in January. Coupled with MAX grounding pressure, Boeing's spending was already depressed.
Airbus said it was suspending all R&D except for the A321XLR after the global COVID devastation on air passenger demand.
Airbus historically outspends Boeing in R&D.
To read the rest of the article Login or Subscribe today.
Category: Airbus, Boeing, Coronavirus, COVID-19, Dreamliner, Premium
Tags: 737 MAX, 747-8, 777, 777X, 787, A320NEO, A321NEO, A321XLR, A330neo, A350