Aug. 31, 2020, © Leeham News: Elected officials and others in Washington State worry about the "brain drain" as Boeing considers whether to consolidate 787 production from Everett to Charleston.
These people are asleep at the switch and have been for some time. The brain drain is already just around the corner.
Nearly half of the membership of SPEEA, the engineers and technicians union at Boeing, are 50 years or older right now.
Almost two thirds of these are within 55-64 years old. In other words, ready for retirement right now or soon to be.
2018 Alert
LNA first raised this prospect in January 2018. The number of prospective retirements is down. Boeing eliminated jobs and others took early buyouts since then as part of a general cost cutting effort in Puget Sound (the greater Seattle area).
Washington State still doesn't have a dedicated effort to encourage or provide educational opportunities for engineers and technicians. Whatever's been done is piecemeal.
In a consulting project I did for the state Department of Commerce in 2010, I noted the need for this kind of professional education in a dedicated manner—much as there is an Embry-Riddle University. Embry has a campus in Renton and there are some engineering courses and degrees. But the state doesn't seriously promote aerospace engineering in a highly visible way.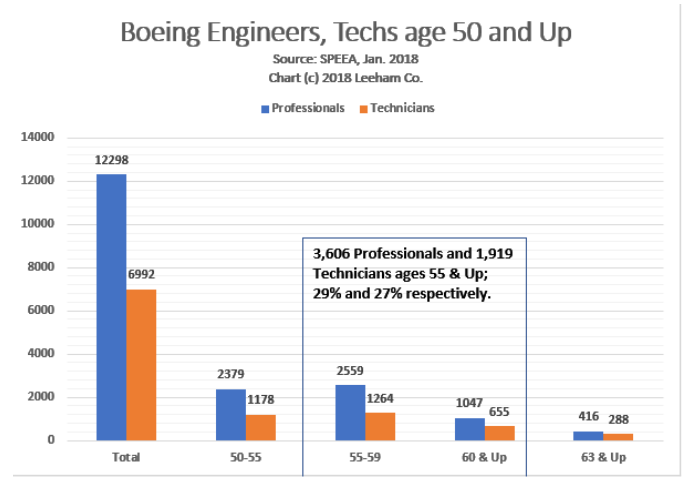 Boeing's proposed joint venture with Embraer had, as its top rationale, access to Embraer's engineering workforce as a partial solution to the aging SPEEA membership. In 2017, when news of the JV first emerged, Boeing seemed on a path to green light the New Midmarket Airplane program. Embraer's engineers were going to be needed for the NMA. They were also going to be needed for a new 100-150 seat single-aisle airplane.
The MAX and COVID crisis ash-canned the NMA, the single-aisle and the JV. But the brain drain doesn't slow.
Washington has very limited training specifically for aerospace engineers. The University of Washington graduates about 125 a year. While you don't necessarily have to have an aerospace engineering degree to be successful at Boeing, and you can go to places like Eastern Washington to study aerospace-specific computer coding, and both Washington State University and Western University have material science degrees. (Western and Central Washington University also teach manufacturing engineering.)
But you need those aerospace engineers to design the planes. Then those other engineers will build it. And right now, Boeing's recruiting hard at Purdue and Kansas to fill those jobs.
IAM outlook
On the other hand, the outlook for the International Association of Machinists District 751, while not especially good, is actually better than it was at the start of 2018.
In 2018, I published this chart below.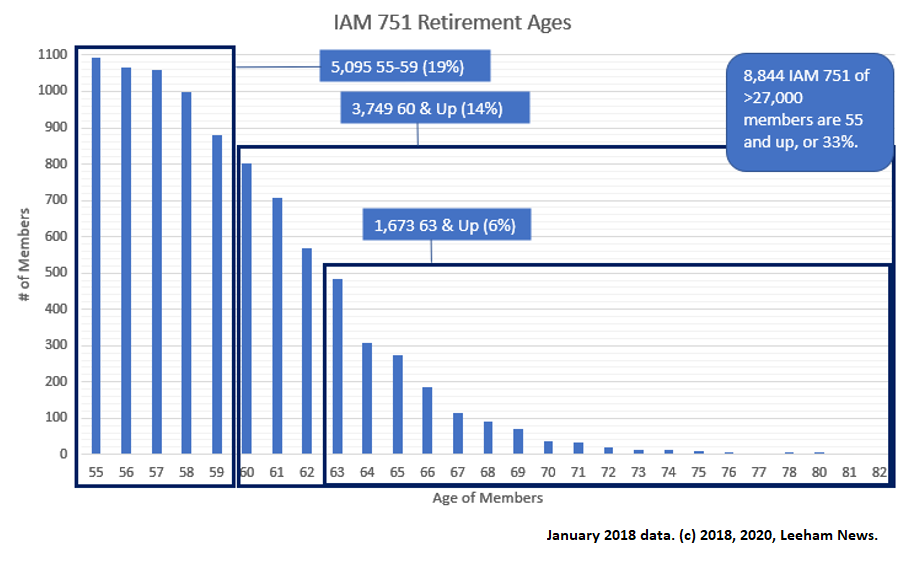 At one point five years ago, 751 had nearly 40 percent of its members older than 50. A lot of these are gone and have been replaced with "kids."
The IAM 751 funds educational programs and is creating a dedicated school.
Edmond Community College in association with the Aerospace Futures Alliance created the Washington Aerospace Training and Research Center (WATR) at Everett Paine Field, near the Boeing widebody plant.
There are community college programs statewide (Big Bend in Moses Lake, for example). There are a couple of multi-district programs teaching high school kids. There's AJAC, which provides training for entry-level workers at the suppliers and preps them to be team leads and shop foremen. There's INWAC in Spokane.
Still falling short
Washington State still falls short in its support for Boeing and the aerospace industry.
We'll talk more about this in a future article.
Bryan Corliss contributed to this article.