By Vincent Valery
Sept. 28, 2020, © Leeham News: The end of September marks the time when airlines in the Northern Hemisphere assess their summer season financial performance. Depending on the outcome, they adjust their capacity and evaluate their cash needs to see through the lower demand winter months.
This summer was significantly different from what airlines envisioned earlier this year. They had to re-arrange schedules on short notice to capitalize on the uptick in passenger demand after the lifting of some travel restrictions put in place during Spring.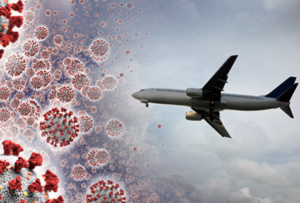 With a resurgent COVID-19 spread in some countries and the re-establishment of movement restrictions, airlines need to, once again, adjust their plans for winter months.
Dealing with the demand shock while hoping for the best
Airlines around the world witnessed a collapse in passenger demand in a matter of weeks. Some airlines, including flag carriers such as Austrian Airlines, stopped flying altogether during most of Spring.
With the disappearance of virtually all revenues, carriers started hemorrhaging cash. To avoid running out of liquidities in a matter of weeks, several governments provided sizable financial aid packages. The healthiest airlines were also able to raise more money from capital markets and other means, such as sale and leaseback transactions.
When airlines and governments sized the amount of financial aid, they envisioned returning to a normalized situation by the end of 2021. Some predicted passenger traffic would return to 2019 levels by 2022 or 2023 at the latest. Others pointed to 2024 as a return to normal (RTN) for domestic operations and 2025 for international traffic to RTN.
There were some encouraging signs during the early summer. After governments in Europe and states in the USA lifted some restrictions, passenger traffic picked up. In some European countries, passenger traffic reached 40% of the previous year in August.
Crushed hopes of a steady return to normal
However, toward the end of the summer, there started being a significant uptick in COVID-19 cases in Europe. Governments imposed again, without coordination, travel restrictions, and more stringent social distancing measures. By September, COVID cases were on the rise in 27 states in the US.
With European restrictions again in place, passenger carriers significantly adjusted capacity downwards for later this year. US airlines dropped some schedules as traffic once again fell.
When airlines envisioned a return to a normalized situation by the end of 2021, they assumed that there would not be significant second waves that would derail a recovery. It is now clear that this is not the case. A return to a normalized situation will require, as LNA outlined before, the widespread distribution of a vaccine.
The unspoken benefit of aid packages
When airlines requested aid packages earlier this year, they had no visibility on how quickly passenger demand would recover. Things are becoming clearer.
Governments will keep restrictive measures, such as quarantine or pre-flight COVID test requirements, for an extended period. The restrictions will turn off the most casual travelers, and an uptick like this summer seems unlikely until a vaccine becomes widely distributed. People will avoid getaways outside the major holidays.
The uncoordinated travel restrictions among countries make an already bad situation for the airline (and travel) industry significantly worse. Willing traveler cannot make plans because of the lack of coordinated travel rules, such as pre-flight COVID-19 tests waiving quarantine requirements. Visa restrictions add wound to injury.
Lufthansa CEO Carsten Spohr stated that demand is currently around 20% of last year. His hopes that demand would recover to 25% by the end of the year look optimistic at this point.
The aid packages gave carriers time to assess the passenger demand situation. While the latest developments amount to a worst-case scenario, airlines now have more clarity. Demand will stay depressed, i.e., significantly below 50% of 2019 levels, until a vaccine becomes widely available.
The only exceptions will be domestic markets where the virus is virtually non-existent, such as China and New Zealand. In case slot waivers are not extended, several airlines will decide to operate flights into congested airports to avoid losing them. But New Zealand banned long haul flights for the indefinite future. Air New Zealand grounded its entire long-haul fleet, except those flying cargo and repatriation.
Hibernating until demand recovers
Airlines have sizable fixed expenses, including aircraft depreciation and leases. Since the beginning of the pandemic, some took the opportunity to retire their older aircraft to save costs. Due to the depressed demand, carriers face the prospect of more aircraft retirements and having to put into long-term storage a significant portion of their fleets.
Airlines already announced significant payroll reductions. US airlines used voluntary employee buyouts to reduce headcounts while under the government payroll support program. With the support likely to expire, airlines will have to furlough more people to limit cash outflows.
However, reducing the workforce proportionally to match the expected depressed demand is not optimal. Retraining crews is time-consuming and expensive. Airlines that excessively reduce payroll would not capitalize on (temporary) increases in passenger demand, whenever they materialize. Passenger traffic would also pick up if governments come to their senses and agree on a global testing framework to waive quarantine requirements.
Some airlines already announced agreements to avoid (or reduce) furloughs in exchange for significantly reduced work hours and pay.
Most passenger carriers will effectively enter a state of hibernation, during which they will operate a fraction of their previous services. Balancing the need to preserve cash and flexibility, crews will work reduced hours.
No one can accurately predict the duration of the period of depressed demand. However, one thing is sure: this winter will feel a lot longer than previous ones.