Coverage of recertification of the Boeing 737 MAX continues with the next post.
Nov. 18, 2020: Boeing issued the following statements in response to the US Federal Aviation Administration recertifying the 737 MAX.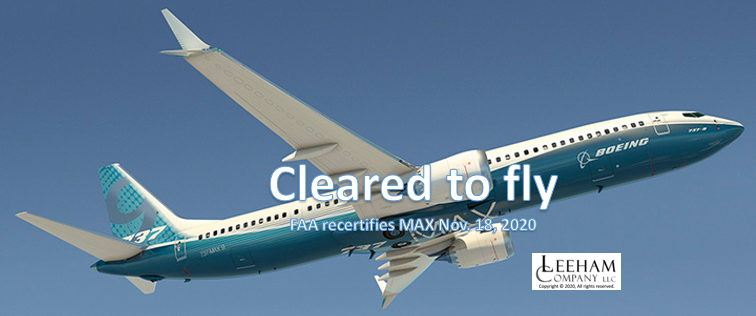 Boeing Responds to FAA Approval to Resume 737 MAX Operations
The U.S. Federal Aviation Administration (FAA) today rescinded the order that halted commercial operations of Boeing 737-8s and 737-9s. The move will allow airlines that are under the FAA's jurisdiction including those in the U.S. to take the steps necessary to resume service and Boeing to begin making deliveries.
"We will never forget the lives lost in the two tragic accidents that led to the decision to suspend operations," said David Calhoun, chief executive officer of The Boeing Company. "These events and the lessons we have learned as a result have reshaped our company and further focused our attention on our core values of safety, quality and integrity."
Throughout the past 20 months, Boeing has worked closely with airlines, providing them with detailed recommendations regarding long-term storage and ensuring their input was part of the effort to safely return the airplanes to service.
An Airworthiness Directive issued by the FAA spells out the requirements that must be met before U.S. carriers can resume service including: installing software enhancements, completing wire separation modifications, conducting pilot training and accomplishing thorough de-preservation activities that will ensure the airplanes are ready for service.
"The FAA's directive is an important milestone," said Stan Deal, president and chief executive officer of Boeing Commercial Airplanes. "We will continue to work with regulators around the world and our customers to return the airplane back into service worldwide."
In addition to changes made to the airplane and pilot training, Boeing has taken three important steps to strengthen its focus on safety and quality.
Organizational Alignment: More than 50,000 engineers have been brought together in a single organization that includes a new Product & Services Safety unit, unifying safety responsibilities across the company.
Cultural Focus: Engineers have been further empowered to improve safety and quality. The company is identifying, diagnosing and resolving issues with a higher level of transparency and immediacy.
Process Enhancements: By adopting next-generation design processes the company is enabling greater levels of first-time quality.
This message was sent to all Boeing employees by Boeing President & CEO, Dave Calhoun.
Team,
Today, the U.S. Federal Aviation Administration (FAA) lifted the order that suspended operation of 737-8s and 737-9s. The FAA validated that once new software is loaded and other defined steps are completed, the airplanes are safe and ready to fly again. This announcement comes after a comprehensive, robust and transparent certification process over the past 20 months.
We will never forget the 346 victims of the Li​on Air Fli​ght 610 and Ethiopian Airlines Flight 302 accidents. We will honor them by holding close the hard lessons learned from this chapter in our history to ensure accidents like these never happen again.
We have implemented a series of meaningful changes to strengthen the safety practices and culture of our company. These include strengthening the Engineering function, establishing a Product & Services Safety organization, and implementing an enterprise-wide Safety Management System, among others.
We have also undertaken a thorough assessment to ensure that our systems meet all regulatory standards, reflect industry best practices, and also incorporate learnings from independent reviews. As we have throughout our history, we will keep learning and evolving, because lives depend on the work we do.
Our values define us and guide our every action. In simple terms, we live them. We will always step up and do what is right — holding ourselves to the highest standards of safety, quality and integrity, and speaking up when we see behavior that goes against these values.
We are on the right path, thanks to your tireless effort and dedication. We have more work ahead of us as we begin to again deliver 737s and return the airplane to service worldwide, which will continue to be paced by the timing of other global regulators.
Every next plane we deliver is an opportunity to rebuild our brand and regain trust. Let's continue moving forward, focusing on one detail at a time.
Dave Calhoun, CEO