By the Leeham News Staff
Sept. 15, 2020, © Leeham News: Boeing has removed hundreds of 737 MAX orders from its order book. While some were direct cancellations from customers, most came through ASC 606 adjustments.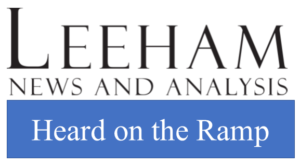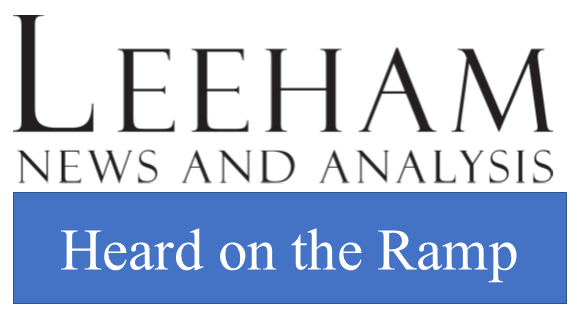 Airbus does not publish such order adjustments by aircraft program in its monthly order and deliveries report. The European OEM publishes a total outstanding amount of contracts for commercial aircraft in its annual reports. However, the figure does not have a breakdown by program.
As a result, Airbus and Boeing order books aren't an apple to apple comparison. The COVID-induced traffic slump has had a significant impact on airlines' financial situation. Therefore, adjusting order books is necessary to assess an aircraft program's backlog situation.
The below is an attempt by LNA to perform such a comparison for all commercial aircraft programs at Airbus and Boeing. We include freighter, VIP, and government aircraft.
Single-Aisle

Twin-Aisle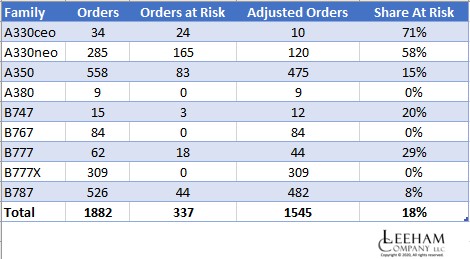 Several older programs (777 Classic, A320ceo, and A330neo) have a higher portion of orders that won't likely convert into deliveries. The higher figure is because neither OEM has yet fully "cleaned-up" their order books.
A significant portion of the A330neo order book is at risk. LNA recently wrote a story on the topic.
Note that we do not take into account cases where the airline is in discussions about conversions or cancellations while being evaluated as financially sound. An example is Emirates' ongoing discussions with Boeing to convert a portion of its 777X order to Dreamliners.
High environmental taxes on the table in France
As part of an effort to reduce carbon emissions, a convention mandated by the French government proposed new taxes for the aviation industry. Those include:
A ban on domestic flights where a low-carbon alternative exists to reach the destination in less than four hours. This would, for example, ban flights between Paris and Marseille.
New taxes estimated at 30 Euros for a domestic flight in Economy Class, and more than 200 Euros for a long-haul flight in Business Class each way.
A study commissioned by the government estimated that traffic would slump between 14% and 19% as a result of those measures, causing 120,000 to 150,000 job losses.