Aug. 9, 2021, © Leeham News: Boeing's 737 MAX market share vs Airbus is in a deeper hole than may be generally realized.
Aviation Week last week complied a list of the top seven low-cost carrier airlines in Asia with orders for 90 or more A320s or 737 family members.
The data illustrates just how deep a hole Boeing is in.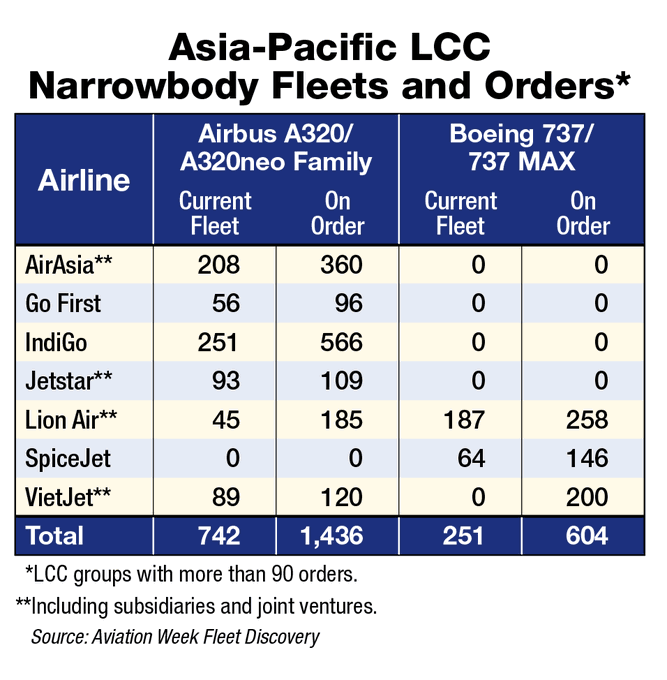 LNA created market-share pie charts based on the numbers above to better illustrate the challenge. It's not a pretty picture for Boeing.
Sliver of a share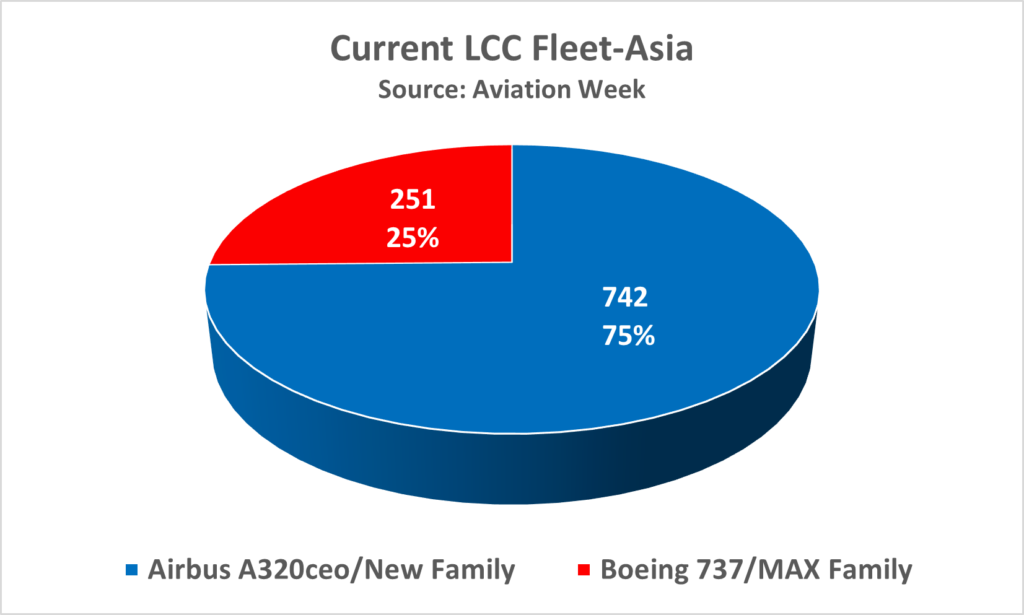 A major driver of this Asia gap is Boeing backing the wrong horses in India. It thought SpiceJet and Jet Airways would be the big winners, while IndiGo was dismissed as a too-cheap, slow-growth player. Jet Airways collapsed, removing its capacity from the Current Fleet—and its orders from the backlog. There are several 737-8s that were produced for Jet that joined the 450 MAXes produced but stored during the 21-month grounding.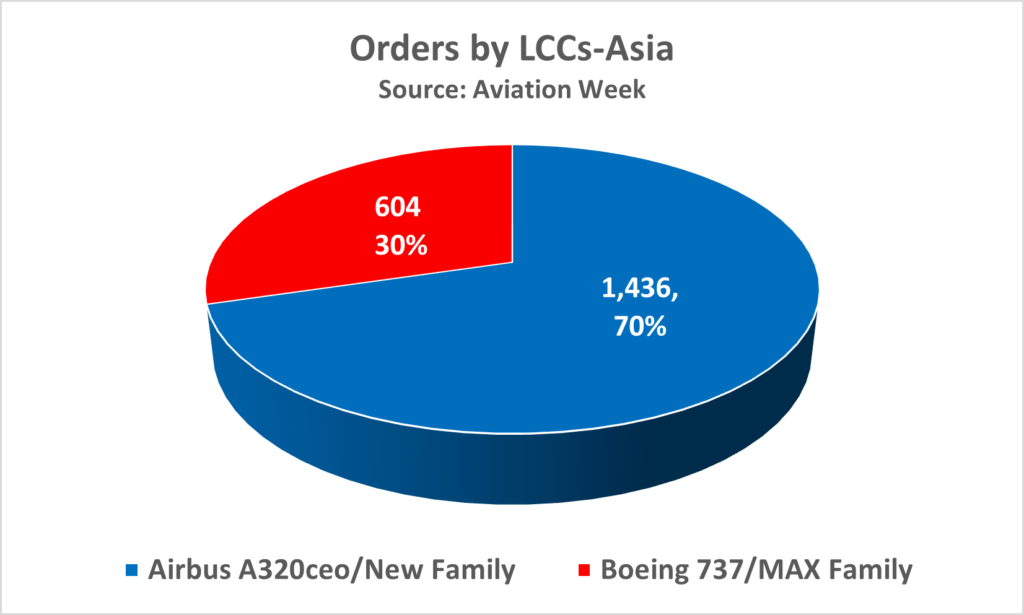 Another factor: Boeing tries to back what it thinks will be the "winning" players in high-growth markets, with Boeing Capital often providing financing (or at least backing export credit guarantees). "They've been repeatedly seduced by overambitious growth plans like Norwegian, Lion, and VietJet – and are shocked every time a supposed protégé morphs into a rival arms dealer," a former Boeing employee says.
Airbus was far more willing to place bets on start-ups and low-cost carriers than Boeing at crucial times. In my forthcoming book, Air Wars: The Global Combat Between Airbus and Boeing (due out next month), I describe how Airbus's John Leahy was far more aggressive in placing large bets on emerging markets than Boeing. Boeing Commercial Airplanes CEO Ray Conner, now (like Leahy) retired, agreed this was the case.
No MAX replacement on the horizon
Despite Boeing's dramatic loss of market share that pre-dates the MAX crisis, don't look for any replacement airplane soon.
In recent months, Boeing CEO David Calhoun suggested a new airplane would rely on production cost reduction more than engine advances to give customers a less-expensive aircraft. Engine technology could only achieve 10% better economy today.
Some press coverage suggested the new airplane would be a single-aisle, two-member family roughly the size of the 757-200 and 757-300. But LNA understands that today, the prospects of any new airplane (1) appear to be taking a back seat to the more immediate need to respond to the Airbus A350F threat; and (2) Boeing may well be leaning toward waiting on a step-change in engine technology after all.
The recent announcement by CFM and Safran that the development of an open rotor engine, called RISE, suggests Boeing may be finding new interest in this powerplant. RISE stands for Revolutionary Innovation for Sustainable Engines. While Boeing's legendary designer Joe Sutter once said an Open Rotor will never appear on a Boeing airplane, there may be little choice. Electrically- and hydrogen-powered airplanes are years away for mainline jets. The only way to make a step-change in fuel economy and reduced emissions seems to be an Open Rotor.
Airbus seems much more amenable to an Open Rotor than Boeing has been. Christian Scherer, now the chief commercial officer, previously served in a strategic planning position. He liked the Open Rotor as far back as 2010 when Airbus was debating the re-engining of the A320.
No move until 2023-2024
Boeing was unlikely to launch a new airplane until 2023-24 at the earliest. The timing is driven by clearing the MAX inventory, returning to a high rate of production, and recovery of its cash flow. By most forecasts, full recovery in the wide-body market isn't expected until 2024-2025. But even then, the added flexibility of the service mission by the 737-8 and A321LR/XLR cuts into the lower end of long-haul routes. Demand for twin-aisle, long-haul airplanes will suffer as a result.
With the need to defend its freighter position, launching a 777-XF may be Boeing's more pressing need. Boeing's Calhoun thinks the MAX can recover market share going forward. (If Airbus boosts A320 family production to 70 or more a month, this may be wishful thinking.) But a moon shot is needed for Boeing to return to its glory days as the world's leading airplane provider.