By Scott Hamilton
Jan. 6, 2022, © Leeham News: Allegiant Airlines CEO Maury Gallagher said Boeing was "hungry" and the carrier "got a good deal all the way around" with its first order from the manufacturer.
In an interview with LNA yesterday, Gallagher confirmed that early delivery positions from Boeing were also important in placing an order for 30 737-7 and 20 737-8-200 MAXes. Deliveries begin in 2023 and continue through 2025.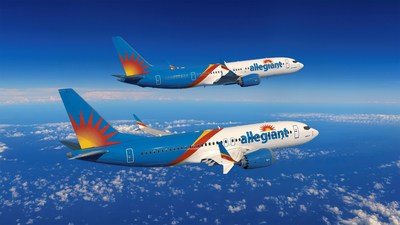 Allegiant currently is exclusively operating Airbus A319ceos and A320ceos. Airbus didn't have enough delivery slots for the A220-300 to cover the smaller end of Allegiant's needs. Additionally, the A220-300 hasn't yet been certified for its maximum potential capacity of 160 passengers. Nor was Airbus willing to provide any assurances that a larger A220-500 would be launched. The A220-300 also has a shorter time to maintenance checks than the 737, reflecting the new aircraft type vs the 737-7's derivative status.
There were no slots for the larger A320neo family until 2026-2038, Gallagher said.
Fleet transition support from Boeing also was a key element of the order, which includes options for 50 more airplanes.
Good deals are a key component
"A key component is we get good deals," Gallagher said. "Boeing was hungry. Overall, we did a very fair deal for ourselves, and Boeing was cooperative."
Allegiant's new aircraft will fly with the carrier until retirement in 25 or more years, he said. Acquiring used aircraft that are 10 to 15 years old have a much less useful life for Allegiant. Integrating them into the fleet means the airline must reconfigure them, run them through maintenance and sometimes lease them. The supply chain and MRO companies have been adversely impacted by the COVID pandemic.
Buying a new aircraft allowed Allegiant to negotiate better engine prices than had it bought used aircraft and negotiated MRO contracts separately. The Boeing deal includes a wide range of support from Boeing Global Services.
Airbus remains in the fleet
But, Gallagher said, the Airbus aircraft will remain in the fleet for years to come. Allegiant will continue to source used A320s in the market. However, A320ceos are aging and there are few A320neos yet in the used market. Gallagher said that pricing, despite used aircraft, may not be as attractive as buying new.
The carrier's stock fell $17.05 (8.83%) to $176.12 yesterday on the news of the deal. Airline analysts worried that introducing a new fleet type will add costs. Boeing's fleet transition support will mitigate some of these costs. Long-term, two fleets mean training for two sets of flight and cabin crews, complexity for mechanics expertise, parts, and other costs.
Even so, Gallagher said now Airbus and Boeing will compete for follow-on orders, driving capital costs down.
Investors call
Allegiant has an investor call today at noon Eastern time to explain the deal to analysts. The call will be a webcast here.