March 21, 2022, © Leeham News: Eyes are focused on Ukraine and the Russian War. In our corner of the world, commercial aviation, the stakeholders follow the fallout from the war: sanctions placed on Russia which affect overflights, supply chains, oil to Europe (fuel), and Russia's confiscation of about $10bn worth of airliners from Western lessors and lenders.
But there is another drama playing out on the other side of the world, too. This one involves China and one of its commercial aviation companies, AVIC.
AVIC is a major aerospace company in China. It also has a variety of none-aerospace companies. It's one of these that caught our eye last week.
The Wall Street Journal on March 14 reported that AVIC subsidiaries involved in solar energy filed for bankruptcy to avoid an $85m judgment after allegedly absconding with intellectual property from two US companies. The firm had to settle for 30 cents on the dollar.
It's another example of China companies simply ignoring international IP laws.
The AVIC case
"After years of litigation and under some duress, the Americans agreed to walk away with less than a third of the more than $85 million they were owed under an arbitrator's judgment," The Journal wrote.
"The story begins in 2008, when AVIC International USA, one of many AVIC subsidiaries, teamed up with Texas entrepreneur Patrick Jenevein, his company Tang Energy Group, and a handful of other American investors. Under a joint venture known as Soaring Wind, they agreed to work together on wind energy. But the relationship soured. Tang said it learned that AVIC USA's sister subsidiaries were competing against Soaring Wind," The Journal wrote.
More IP theft
In June 2021, another Chinese company–Pudong Science and Technology Investment Inc. (PDSTI)–was alleged to steal IP from a US general aviation airplane company. This one included former Boeing CEO Phil Condit, who was on the board of the US firm. Condit and other plaintiffs in a lawsuit alleged PDSTI stripped the firm, called ICON, of technology, value, and sabotaged investment by Japan's Yamaha.
China's aerospace industry
China's aerospace industry (the government, really) has been well known for decades to require foreign companies to share technology as the price of doing business. Western companies, including Airbus and Boeing, were well aware of the ulterior motives—and tactics—of China. They also knew what was not shared voluntarily was subject to industrial espionage.
As far back as 2008-2009, I attended a suppliers business event held by the Washington State Department of Commerce. The purpose was to provide guidance to the state's supply chain about doing business in China. It was part of a strategy to diversify the state's aerospace supply chain from Boeing. At the time. Boeing was making a lot of noise about leaving Puget Sound to get away from its militant labor union, the IAM 751, and what it perceived as indifference by state politicians. In October 2009, Boeing announced that its second assembly line for the 787 would be in Charleston (SC).
The suppliers were told about the technology sharing policy required by China. The solution, it was said, was to transfer "yesterday's" technology while working on "tomorrow's" technology. All well and good, but China, of course, wasn't fooled. Cyber-attacks became routine.
China's aviation progress
China's commercial aviation progress has been excruciatingly slow. Its first effort, back in the Boeing 707 days, produced the Y-10, the cliché-ridden Chinese copy of the 707. It never flew. Over the coming decades, Embraer located an E145 final assembly line in Harbin. McDonnell Douglas established an MD-80/90 FAL in Shanghai. Bombardier built fuselage sections for the Q400 turboprop and C Series in Shenyang. China built copies of Russian turboprops, which unlike the Y-10 entered service.
But none of these ventures were successful for the "other guy." The Shenyang operation for the C Series was so deficient that Bombardier—in anticipation—established a backup fuselage center in Canada, which it relied upon for the early airplanes.
Airbus was successful with its Tianjin A320 FAL because it retained control. The Chinese acted more as a subcontractor than the lead.
The difference is seen with AVIC's development of the ARJ21 regional jet. Obviously derived from the old Shanghai MD-80 knowledge, the ARJ21 carries up to 90 passengers. As one acerbic US consultant once remarked, AVIC reinvented the DC-9-10. The ARJ21 was eight years late. Development was rife with design, assembly, and technical issues. It's economically a horrible airplane. But commercial success wasn't the point.
The C919, developed by COMAC (of which AVIC is now a part) unsurprisingly looks an awful lot like the A320. But despite the A320 FAL experience at integration, the ARJ21 lessons learned, and everything else, the development of the C919 has been every bit as bad as the ARJ21. The C919 was supposed to enter service in 2016. Now, COMAC says EIS will happen this year. Don't bet on it. Next year is more likely, or even 2024.
China and Russia
So, now we get to the CR929, a jet the size of the Boeing 787 and Airbus A330. This twin-aisle airplane is being developed by a joint venture between China and Russia. The EIS target was 2027—another pie-in-the-sky goal set by China's infant commercial aviation industry.
With the sanctions placed on Russia because of its invasion into Ukraine, the development of the CR929 is going to be problematic at best.
---
Air Wars
Air Wars is available in paperback and eBook form at Amazon and in paperback at Barnes & Noble.
I write about commercial aviation development in China in my book, Air Wars, The Global Combat Between Airbus and Boeing.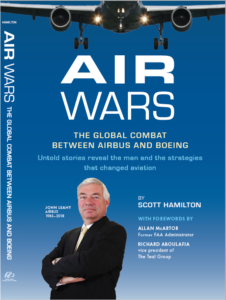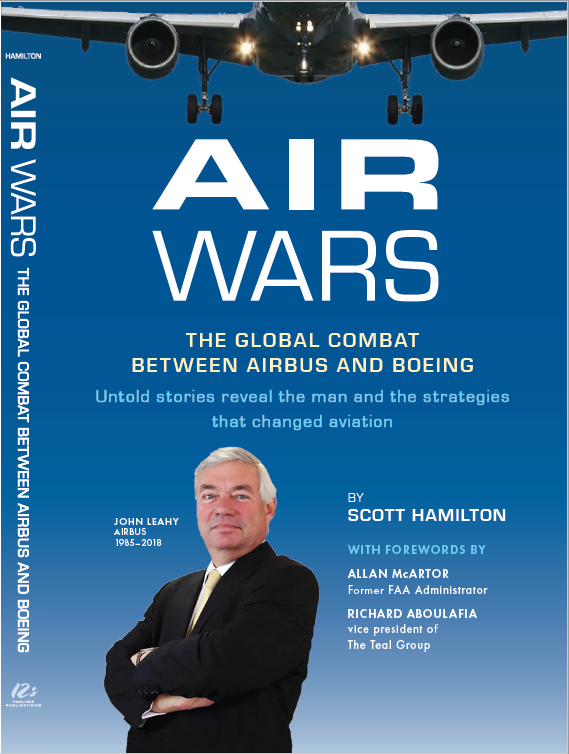 I related the story about Airbus opening its A320 final assembly line in Tianjin. During a press briefing, I asked then-CEO Tom Enders about China's propensity even then to hack companies to obtain IP. Enders said Airbus had protections in place but in any case, this was just an FAL from which not much in the way of IP could be obtained. But within the first 12 months of the FAL's opening, the plant was the target of between 6-9 cyber-attacks.
Air Wars also covers labor wars and the 787 line 2 battle. This was followed by Boeing threatening to move the 737 line from Renton for assembly of the 737 MAX and the 777 line from Everett for the 777X unless IAM 751 granted concessions.
Royal Aeronautical Society
Named to the Top 10 List of Aerospace Books for Christmas Choices, 2021
Puget Sound Business Journal
(Seattle area.) No. 1 on the Christmas list of aerospace books for 2021.
BookAuthority
No. 1 on its list of Best New Aerospace eBooks to read in 2022.
Chris Sloan, The Airchive
"A worthy successor to 'The Sporty Game,'" the 1982 book by John Newhouse, considered at the time to be the definitive book about the competition between Boeing, McDonnell Douglas, and the emerging Airbus.
Jim Sheehan, Aviation Industry Consultant
There is so much model and OEM information that it is for sure going to become required reading for anyone who wants to understand the last fifty or so years of commercial aviation.
Loved all the quotes and stories.