July 11, 2022, © Leeham News: The July 1 announcement by Airbus that it won orders for 292 airplanes from China, for the Big Three carriers, was treated as a shocker by some.
Boeing, which has been frozen out of the Chinese market since 2017, blamed geopolitical issues for its dry spell. To be blunter, blame it on former President Donald Trump, who began a trade war with China that inexplicably continues well into the first term of the Biden Administration.
Trump's shoot-from-the-lip foreign policy routinely failed to consider geopolitical issues. Joe Biden is more thoughtful, but 18 months into his presidency has done little to repair relations with China. To be sure, there must be a balance when dealing with China and trade.
The country routinely engages in cyber-based industrial espionage, and this must be stopped. Honoring intellectual property rights is mere rhetoric by Beijing. But about a third of orders for Airbus and Boeing historically come from China. Boeing has about 140 737 MAXes in long-term storage destined for China. Despite global air traffic recovery, China's zero-tolerance policy toward COVID continues to suppress domestic demand, another factor in Boeing's storage problem.
But geopolitics is a real issue. Here's what Boeing said following the Airbus order:
Reaction to the Airbus deal
[The] announcement is an example of how constructive dialogue between governments encourages job creation and the other benefits that result from open aerospace markets. As a top US exporter with a 50-year relationship with China's aviation industry, it is disappointing that geopolitical differences continue to constrain US aircraft exports. We continue to urge a productive dialogue between the governments given the mutual economic benefits of a thriving aviation industry. Boeing aircraft sales to China historically support tens of thousands of American jobs, and we are hopeful orders and deliveries will resume promptly.
Boeing is standing by to deliver more than $10bn worth of fuel-efficient aircraft that have been produced and are sitting on the tarmac, ready for customers in the Chinese market. There has been a delivery bias (2021: 150 Airbus deliveries, three Boeing deliveries; 2022: 47 Airbus deliveries, one Boeing delivery) and order disparity.
Airbus' work in China
Yet there is another reason Airbus is doing better than Boeing in China. Airbus was more aggressive than Boeing since the 1990s to place work in China. As I write in my book, Air Wars, The Global Combat Between Airbus and Boeing, Airbus concluded that opening an A320 final assembly line would boost sales. The factory is a duplicate of the Hamburg A320 FAL. There are several major component centers in China, including one for A320 wings. An A330 finishing center was opened shortly before the pandemic.
Boeing opened a 737 finishing center in China only a few years ago. Contracted work from Boeing preceded that of Airbus, but the latter has since been more willing to put work in China. Boeing declined to contract with China for substantial 787 work, fearing IP theft. Airbus was certainly cognizant of this risk when planning the A320 FAL, but claimed good protections were in place. Nevertheless, within the first year of operation, the plant was the target of a half dozen cyber-attacks. Boeing considered opening a 737 FAL in China. But the powerful labor union, the IAM 751, nixed the idea.
Outstanding orders
In addition to the 140 MAXes in storage, there are some 787s that have been built and awaiting delivery. (The technical issues with the 787 preclude delivery anyway.) There are 142 identified unfilled orders destined for China. This includes 21 777Xs for Cathay Pacific Airways, six 777Fs for Hong Kong Aviation, and 11 787s. It's believed there are more orders in Boeing's Unidentified Customers listing. (We don't know how many of the MAX and 787 orders have been built and are in storage compared with this list.)
LNA already has Cathay's 21 777Xs on our "orders at risk" analysis. (We think the entire airline is at risk of future viability, too.) Should all the China orders be placed on our "at-risk" list? LNA's Vincent Valery thinks so. I don't. I still think that eventually China will take all the MAXes and 787s in storage and resume placing orders. Airbus, and China's COMAC, can't possibly fulfill future demand. China needs Boeing as much as Boeing needs China.
In the meantime, it's yet one more challenge Boeing faces on its long climb out of a deep hole for recovery.
Air Wars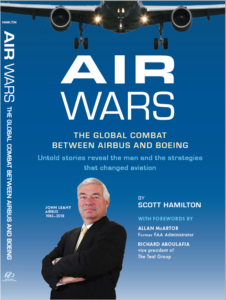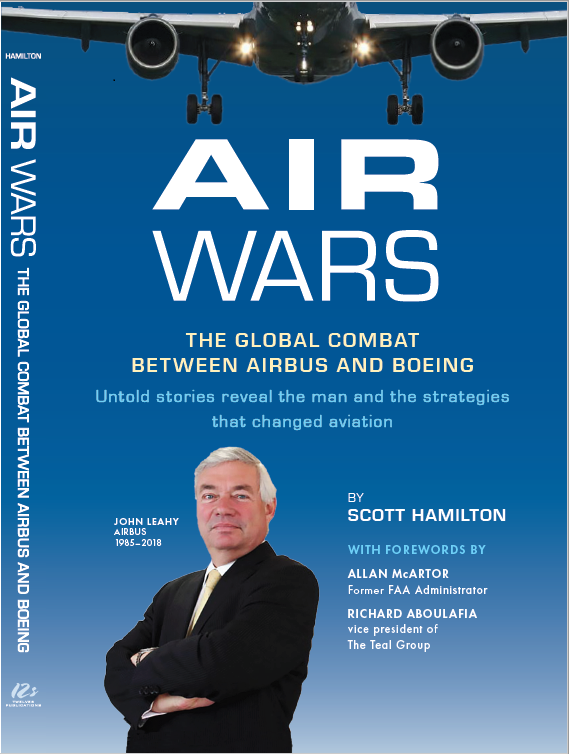 Royal Aeronautical Society
Named to the Top 10 List of Aerospace Books for Christmas Choices, 2021
Puget Sound Business Journal
(Seattle area.) No. 1 on the Christmas list of aerospace books for 2021.
BookAuthority
No. 1 on its list of Best New Aerospace eBooks to read in 2022.
Chris Sloan, The Airchive
"A worthy successor to 'The Sporty Game,'" the 1982 book by John Newhouse, considered at the time to be the definitive book about the competition between Boeing, McDonnell Douglas, and the emerging Airbus.
Jim Sheehan, Aviation Industry Consultant
There is so much model and OEM information that it is for sure going to become required reading for anyone who wants to understand the last fifty or so years of commercial aviation.
Loved all of the quotes and stories.
Dan Catchpole, Aviation Writer
Air Wars is a tour de force look behind the curtain of Boeing and Airbus' global competition and, in part, a biography of Airbus' head salesman, John Leahy, the man who forced Boeing's hand to re-engine the 737. Longtime aerospace analyst and journalist Scott Hamilton takes readers through the twists and turns of the decades-long battle between the two companies.
Dan Reed, Aviation Writer
Using John Leahy's long and monumental career as a vehicle for telling readers about the 51-year battle between Airbus and Boeing is both an interesting and inspired choice by the author.
Air Wars is available in paperback and eBook form at Amazon and in paperback at Barnes & Noble.