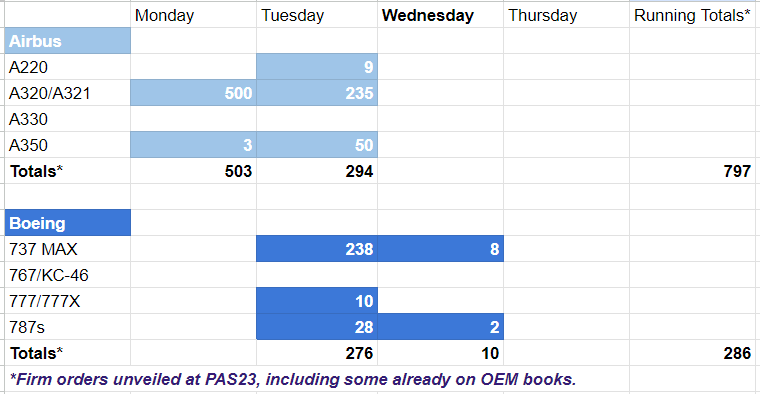 By Bryan Corliss

June 21, 2023, © Leeham News – After the flurry of news surrounding the blockbuster orders from IndiGo and Air India earlier in the week, Wednesday's Paris Air Show news was relatively subdued, with Boeing announcing a handful of smaller orders from airlines and leasing companies.
Airbus had announcements of an MOU for a potential widebody order, successful trials of a hydrogen-fuel concept, an update on global hiring – and the winner of a design-the-livery content for its proposed A350F cargo jet.
We'll need to see a major flurry of orders on Thursday, if we're to get to the 2,000-plus orders some analysts projected for this year's air show.
Indian start up adds 737s
Air Lease Corp adds 787s
Airbus halfway to 2023 hiring goal
First A350F will look like a packing tube
Indian start-up Akasa Air adds four more 737s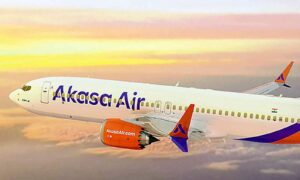 Mumbai-based Akasa Air ordered an additional four 737-8s on Wednesday, as it tries to ramp up to take on market leaders IndiGo and Air India.
The deal means the airline, which launched in 2022, now has 76 planes on order through Boeing: 23 737-8s and 53 high-capacity 737-8-200s. (The -200s come with narrower 28-inch-pitch seats, which allows the operator to squeeze in up to 200 passengers in a single class; the configuration requires an extra pair of exit doors.) 
Akasa is a low-cost carrier that currently serves 16 cities in India with an all-Boeing fleet of 19 737 MAX jets.
The airline is aggressively expanding to compete with IndiGo and Air India. It said Wednesday it plans to use the 737's range to expand into international markets in Asia. Indian media reports say Akasa is evaluating adding routes to Singapore and Middle Eastern and Gulf State cities later this year.
AirLease Corp adds two 787s to portfolio
Boeing announced a deal to sell two more 787s to global jet-leasing company Air Lease Corp.
According to its most-recent annual report, ALC had 33 787s, either -9s and -10s, in its portfolio at the end of 2022. 
Luxembourg airline to be first Euro customer for 737-7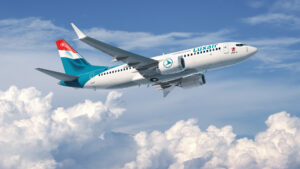 Luxair ordered four of Boeing's yet-to-be-certified 737-7s Wednesday. 
The airline currently operates a fleet of eight 737 NGs (and 11 de Havilland Dash 8s). It previously had ordered six 737-8s as it starts to replace the older models. It will take the first deliveries of those 737-8s this summer. 
Jet lessor Avolon signs MOU for A330neos
A day after it placed firm orders for 40 737s and a sale-leaseback agreement for Embraer jets, Irish jet-leasing company Avolon was back with an MOU for the potential purchase of 20 A330-900neos from Airbus.
Avolon said it was acting to secure the earliest available slots to take advantage of  growing widebody demand around the world.
Including owned, managed and committed aircraft, Avolon currently has a total fleet of 616 Airbus aircraft, including 55 A330neos. 
Airbus says it's halfway to 2023 hiring goal
Airbus said it has added 7,000 workers so far this year, despite what it called a "challenging labor market." 
The hiring is "instrumental in supporting Airbus' production ramp-up and decarbonization ambitions," the company said. It's goal still is to hire 13,000 people worldwide this year.
A global shortage of skilled labor is an issue facing all OEMs and MRO providers. In our view, it has the potential to be a stumbling block preventing Airbus and Boeing from hitting their ambitious delivery targets, particularly if fourth- and fifth-tier suppliers aren't able to find the workers they need to deliver components on time. 
Airbus said a third of this year's new hires will be new college graduates. As part of that, it announced it has extended its partnership with Georgia Tech for engineering talent, and it was expanding its collaboration with 42 business schools worldwide.
Airbus announces successful hydrogen fuel test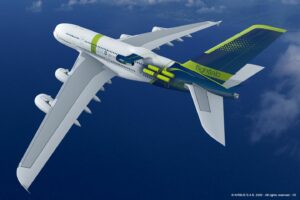 Airbus announced Wednesday that ArianeGroup – its joint venture with Safran – had conducted a successful proof-of-concept test of a liquid hydrogen fuel system for airliners that modifies liquid fuel systems Ariane builds for its rockets.
The tests – which included temperature and pressure controls and looks at how the fuel interacts with metals – were conducted last month. Airbus said the joint venture is working to bring a hydrogen fuel system to market by 2035.
Boeing, JAL announce maintenance agreements
Boeing and Japan Airlines announced a pair of deals Wednesday: one for a predictive maintenance tool to help the airline reduce unscheduled maintenance, and a deal to upgrade the interiors of JAL's 787 fleet. Boeing will do the engineering work and provide component kits for the reconfigured interiors. 
Boeing had previously announced it was working with All Nippon Airways to enhance that airline's 787 interiors. 
Embraer signs letter for pax-to-freight conversions
Embraer said Wednesday it had signed a letter of agreement with China's Lanzhou Aviation Industry Development Group for Lanzhou to convert 20 E190 and E195 passenger jets to freighters for use in China.
The Brazilian OEM said it sees a significant opportunity in China  "It is a market with increasing demand for cargo aircraft to accommodate the tremendous growth of E-commerce trade and the consequent evolution of the logistics industry," President and CEO Arjan Meier said.
Airbus announces winners of A350F livery contest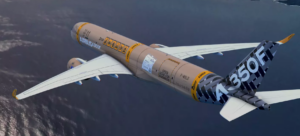 Airbus declared an Irish man and two Canadian boys winners of its contest to design the livery for its first A350F cargo jet. 
The company combined elements of both entries into its final design. Both envisioned the jet's fuselage as a tube wrapped in brown packing paper with shipping labels applied. 
Airbus envisions an 2025-26 EIS for the cargo plane. As of February, it had sold 39. Air Lease Corp., Etihad and Singapore Airlines each have ordered seven apiece.