Oct. 10, 2023, © Leeham News: For aviation geeks—and there are plenty of us—and historians, a resource that is the best single place I've seen is Chris Sloan's TheAirchive.Net – The Hub of Air Transport History. Sloan—who joined LNA yesterday as a writer—started The Airchive 20 years ago. It's a compilation of just about everything a geek or historian could imagine: timetables, route maps, brochures, information about airport terminals, cabins, cockpits and so much more.
Sloan's data of course includes photos of airplanes, memorabilia, safety cards, boneyards, and even menus. He also has a section highlighting museums. This section includes many well-known museums and also some I'd never heard of.
Timetables stir memories
The Timetables section is filled with data from airlines that no longer exist. Of course, few if any airlines today publish timetables, so this is truly historical stuff.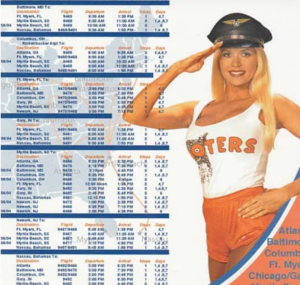 One timetable example was from the original Braniff Inc. during its last years, citing the slogan, "We better be better. We're Braniff." At the time, Braniff was in its final death spiral. The slogan, which I remember, could be read two ways. One way was that the airline was better, and needed to stay this way, than others because it was Braniff. The other, more acceptable reading then, was the airline needed to be better because it was Braniff, with its spotty-to-poor reputation.
Another timetable that stirs memories is that of American International Airways, or AIA. I know this airline well; I worked for it, and it was a terrible airline. On-time performance sucked. Seat pitch was as little as 29 inches in an era long before slim-line seats. Complaints rolled in by the score. Sometimes AIA was confused by the passenger with American Airlines, which dutifully forwarded the complaints to AIA. AIA's founder and some executives also were indicted and tried for securities fraud. A few pled guilty but the founder was acquitted. He went on to form one of the first "976" Dial-a-Porn pay-per-minute phone number companies, joining with an ex-AIA officer to create the company. They both later were indicted for securities fraud, convicted, and sent to jail. (None of this is in Sloan's archive.)
There was an airline called Hooters (no kidding), created by the founder of the restaurant chain of the same name.
The Airchives is a great resource.
The Next Boeing Airplane
I've previously discussed the Next Boeing Airplane (NBA) as the moonshot of CEO David Calhoun and the moonshot required for the next step-change engine.
Yet some long-time critics continue to harp on the need for Boeing to develop a new airplane. I don't disagree. But let's face a couple of realities. Boeing isn't going to dump billions of dollars prematurely into a new airplane program.
Calhoun says he's holding off because the engine technology isn't up to a step-change task yet. He's right about this. He also claims that the transonic truss brace wing (TTBW) technology needs to be tested first. Boeing has a contract with NASA to modify a Boeing MD-90 into a TTBW configuration for flight testing, which won't begin until 2028. Okay, fine.
But let's look at some other realities that prevent Boeing from moving sooner.
Fixing the house first
Boeing's house is simply not in order yet. There are still some 200 737 MAXes and around 80 787s in inventory. These inventories won't be cleared until the end of 2024 (Boeing hopes). LNA does not believe Boeing will move to another airplane until these airplanes are nearly all delivered. Doing so is needed to obtain the cash that comes from these deliveries.
Boeing's financial house isn't in order, either. The company still isn't making consistent profits, for reasons not entirely of its own doing (see: Spirit AeroSystems). Brian West, the CFO, said recently the issues at Spirit mean Boeing will post another loss in the current quarter. Financial results will be announced on Oct. 25.
The Defense side of the business is losing money, too. Billions of dollars in write-offs in various space programs, the T-7 jet trainer, MQ-25 unmanned aircraft, and losses in old programs are responsible.
LNA just doesn't see Boeing's Board of Directors approving a new airplane program until the inventories are essentially cleared, cash flow recovers, and the corporation returns to consistent profits.
Notice I don't point to the big debt load that was incurred during the MAX grounding and the two-year impact of the COVID pandemic. Boeing needs to pay this down, but if the other elements of the financial house are put in order, then LNA and others believe Boeing can manage the debt and develop a new airplane.
Supply chain
But even these fixes aren't enough. The aerospace supply chain feeding Boeing (and Airbus and Embraer) remains stressed big time. The engine makers' deliveries remain delayed as their own suppliers struggle to meet demand. Today's engines continue to have technical and durability issues that must be solved before moving to the next generation of engines.
For Boeing, the serial quality issues at Spirit AeroSystems are especially critical. Spirit produces the nose sections for the 767, 777 and 787 and the entire fuselage for the 737. Production disruption and rework at Spirit means Boeing can't boost rates on the 737 to 57/mo and the 787 to 5/mo on its desired timetable. This is needed for the all-important cash flow, too, which is needed to fund research and development.
The betting is that Boeing will either assume principal work for the NBA or farm it out to someone other than Spirit. Either way, this decision must be made and then the arrangements completed.
LNA doesn't believe Boeing will remotely be prepared to move until 2025 at the earliest, to get its own house in order, to see the supply chain get its house in order and to get a few more years of new technology R&D completed.
And then there's Calhoun's design-and-production moonshot, intended to cut costs dramatically and to dramatically shorten program launch-to-entry into service (EIS) time to four or five years. LNA doubts the latter is achievable, not the least of which because of the new regulatory and oversight environment.
Launching the NBA
Calhoun sees the introduction of a new airplane by about 2035. Backing off seven years of launch to EIS, you get 2028 as the launch year. We think Calhoun would like to do so as his last legacy with Boeing (the first being saving the company). He turns 70 in 2027, likely his last year as CEO. So, we see the NBA program launch in 2027—though it could come a year or, at the outside, two earlier. By 2027, Boeing's research work with NASA should be far enough along (even without flight testing) that the company's product development should have a good idea of the feasibility of the TTBW.
In the meantime, those high-profile consultants and analysts who year after year urge Boeing to develop a new airplane are wasting their time complaining that Boeing needs to launch a new airplane. Few if any will disagree. Realities simply indicate that the next two years for sure and perhaps the next two after that means Boeing and the supply chain won't be ready. As these consultants and analysts prepare for the new conference season that begins in January, they should focus on something we don't know rather than pissing into the wind about something we do know.