Boeing's airplane strategy has shifted its focus to twin-aisle aircraft with the decision to proceed with the 737 MAX, says Nicole Piasecki, vice president of Business Development & Strategic Integration for Boeing Commercial Airplanes.
BCA has some critical tasks and choices ahead:
Complete the design and get into production the 787-9;
Launch the 787-10; and
Decide what to do to enhance the 777 to compete with the Airbus A350-1000.
Although launching the 787-10 is considered by most to be a foregone conclusion, it hasn't happened yet. And although Boeing has been showing some reasonably detailed concepts around about the 777-8X, a 350-passenger replacement for the 777-300ER, and the 777-9X, a 407 passenger aircraft, neither concept is firm—and, according to one airline fleet planner, it's not even clear Boeing will do much more than simply re-engine the current 777-300ER.
Nonetheless, Piasecki showed a group of reporters the Boeing product planning in a pre-Farnborough Air Show briefing that clearly demonstrates Boeing has better market segment coverage than Airbus today or potentially in the future. (Click to enlarge.)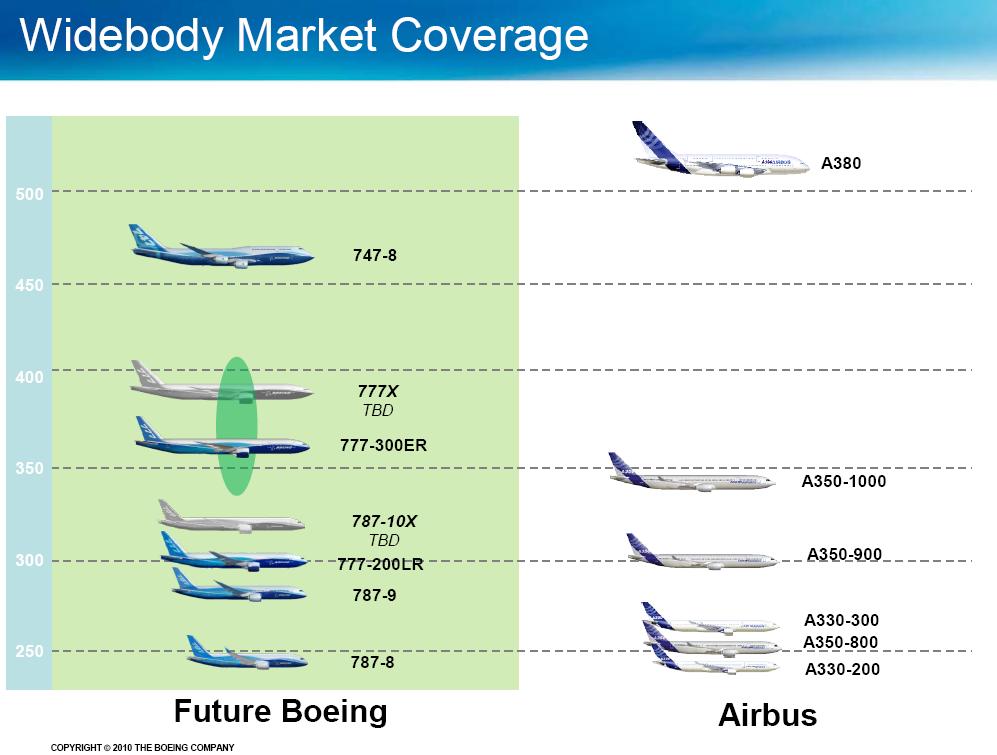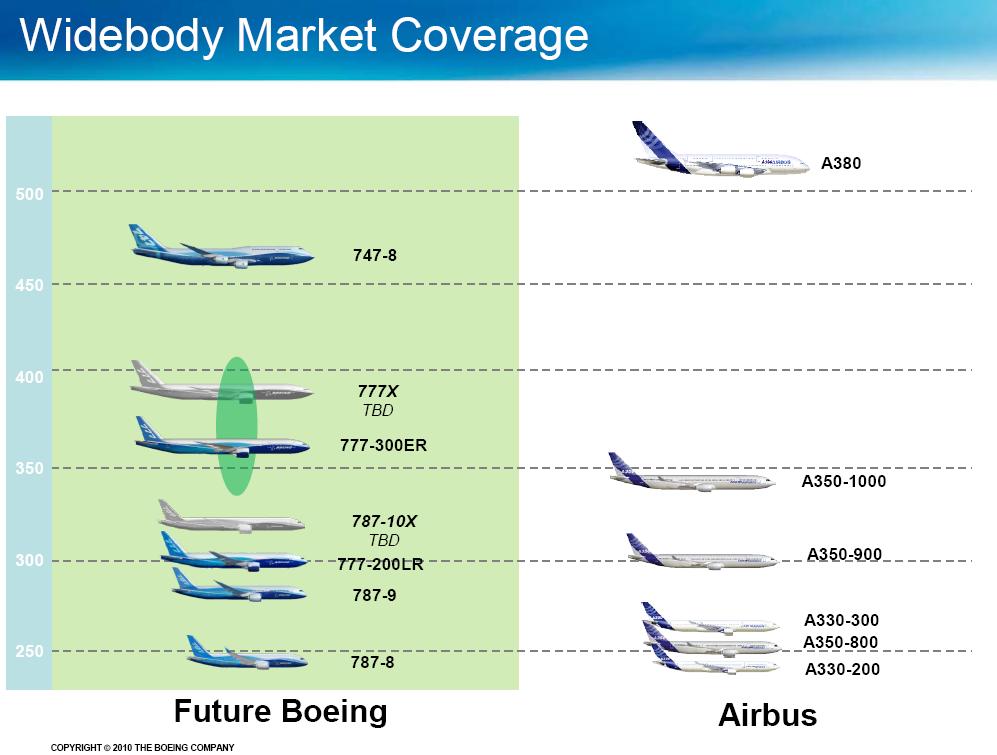 "We are very happy with this line-up on the left, which very strongly leverages three families of products. When we go to market our ability to offer this product," Piasecki said. "Customers are looking for airplanes that fit their route network."
This has led Boeing to somewhat modify its wide-body strategy.
"If they don't have to carry around so much fuel because they are only flying 5,000 miles, they no longer want that airplane [with more capability]. A year ago…I said all our wide-body airplanes were going to line up at 8,000-8,200nm. Our thinking has shifted…to offering twin aisle airplanes that have 10-15% seat capacity increments because that's generally where an airline will decide to up-gauge. There is up-gauging going on it the market. We begin to think about difference in ranges within the family. We have a mid-range…and a longer-haul wide-body market. Both are very viable."
This is the basis on which the 787-10 is currently going to have a range of about 6,900nm. It's also the strategy Airbus outlined as it promoted the A330-300 as an airline ideally suited for intra-Asia, mid-range trans-ocean and mid-range European routes. Once an aircraft with a modest, intermediate range, the A333 has been improved to a range of not quite 6,000nm. This is well short of the planned range for the 787-10, but it is more than enough for most routes.
Boeing's illustration above clearly shows the Airbus gaps, one of which is particularly acute between the 350-seat A350-1000 and the 525-seat A380. (It should be noted that airlines often configure the A380 in the high 400s and one, Korean, even as low as about 410. Likewise, Lufthansa–so far the only operator of the 747-8I–configured the airplane for about 380 passengers.)
The 777-9X, if it proceeds as currently being shown to airlines, has a three-class capacity of 407, thrusting it into the lowest end of the Very Large Airplane (VLA) category (>400 seats) that currently is occupied by the 747-8I and the A380.