The flurry of orders in September and this month from Lufthansa Airlines and Japan Air Lines tightens the wide body race between Airbus and Boeing.
Airbus and JAL on Monday announced a firm order for 31 A350s and options for 25 more. Last month, Lufthansa announced a firm order for 34 777-9Xs and 25 A350-900s.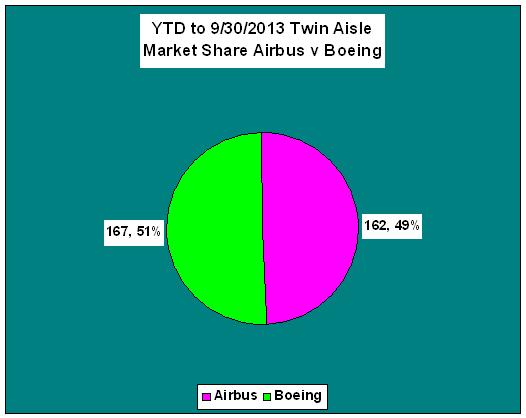 Sources: Airbus and Boeing
Airbus traditionally has significantly trailed Boeing in the twin-aisle sector, but so far this year the race is running about even through September. The Lufthansa orders for the Boeing 777-9X and the Airbus A350-900, announced in September, are not reflected yet, nor is the Japan Air Lines order for A350-900s and -1000s. None of these orders has been booked yet by either OEM. Airbus would take the lead.
Adding the new orders, Airbus has 218 twin-aisle orders and Boeing 201, essentially reversing the market share (below) from the chart above.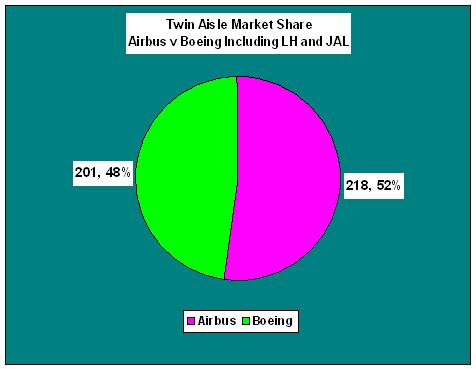 By equipment type (Bar Chart, below), sales of the A330 and 777 have slowed from the previous two years, while orders for the A350 and 787 continue to pick up despite meaningful quantities of production slots being unavailable until 2020.
Sources: Airbus, Boeing data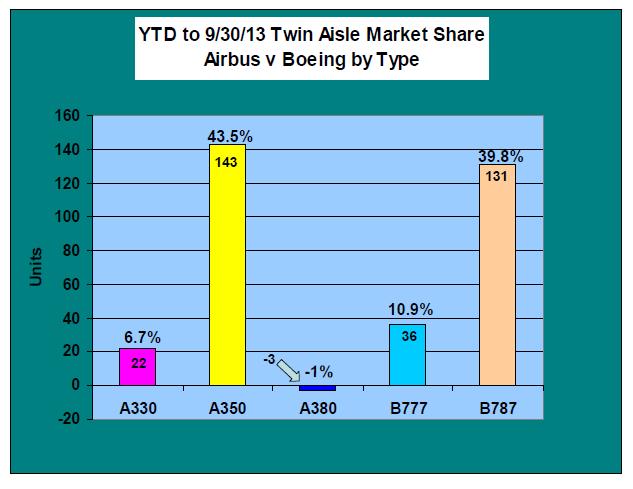 Sources: Airbus, Boeing data. Excludes Lufthansa and Japan Air Lines orders, not yet booked through 9/30/13. There were no orders for the Boeing 767 during the first nine months of the year and a net change of zero for the 747-8, following five orders and five cancellations.

This suggests why Boeing is trying to figure out how to take 787 production to 14/mo by the time the 787-10 enters service in 2018; and why Airbus is evaluating the creation of another A350 production line to add to the currently planned capacity of 10-13/mo.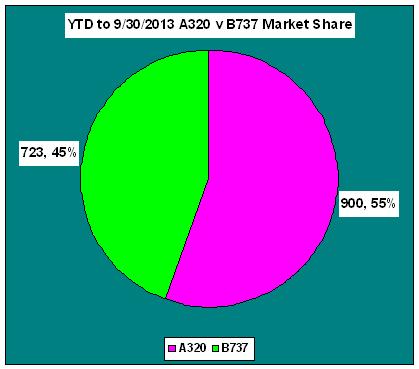 In the Single-Aisle sector, Airbus continues to maintain its market share lead. This chart reflects all single-aisle sub-types, including the current generation of A320s and 737NGs and their re-engined siblings.
Sources: Airbus and Boeing
Odds and Ends
Stretch or no stretch for A350-1000? John Leahy, COO Customers said Airbus is studying whether to stretch the largest member of the A350 family to offer a plane closer in size to the forthcoming Boeing 777-9. But then he takes it back again. See this Aviation Week story.
Afterlife for A340s: Aviation Week reports that Airbus sees an active secondary market for the A340 family. Low capital costs and lease rates certainly can extend the life of airplanes, as history demonstrates. Airbus might not be wrong.
LIghting up: In another story we did for APEX, a German company has come up with a new lighting system that has been certified for the Airbus A320 family. This doesn't sound exciting, but we found it more interesting than we thought when we stopped by the booth at the Aircraft Interiors show last week in Seattle. There is a composite photo showing the before-and-after and there really is quite a difference.
Silver lining in Delays: Seems hard to believe, but Aviation Week's story on the Mitsubishi MRJ suggests there might be one.