With the increasing possibility that Airbus will defer or even drop the A350-800, the case for an A330neo becomes much stronger. Absent the A358, Airbus has no effective competition to the Boeing 787-8. The current A330, which we will call the A330 Classic, is a very good airplane but it is not as fuel efficient as the 788. The Airbus argument that the A330 Classic is competitive is based on the most favorable of assumptions and rests in part on the key capital cost assumption and moderate fuel prices.
In a story on Friday Reuters confirmed our December 23 e-newsletter report (which subsequently was published at Leeham News and Comment December 29) that Airbus is seriously considering an A330neo. This certainly clears the air on this score.

 Source: Airbus

Airbus argues that the lower capital cost offsets the higher operating costs of its A330s vs Boeing's 787-8 and forthcoming 787-9.
The following table includes Airbus' assumption as well as 2013 lease rates reported by the appraisal firm Collateral Verifications (CV). Airbus assumes a higher lease rate for the 787-8 than CV reports. CV does not yet have an estimated lease rate for the 787-9.
Current Market Value is the price an airplane can be expected to sell for in today's environment. Current Base Value is the theoretical price in a stable supply-and-demand market.
 

Current Market Value

(2013)

Current Base Value

(2013)

Appraiser-reported Lease Rate

Airbus assumed Lease Rate

 

(Millions)

(Millions)

(000)

(000)

A330-200

 $   90.38

 $ 110.90

$850

$850

787-8

 $ 115.28

 $ 123.30

$920

$1,150

 

 

 

 

 

A330-300

 $   97.72

 $ 113.62

$905

$900

787-9

 N/A

N/A 

N/A

$1,250

 

 

 

 

 
.
.
Source: CMV, CBV and Appraiser Lease rates from Collateral Verifications, May 2013, reference book.
The difference between Airbus' estimate of the 787-8 lease and CV's published lease rate is $230,000/mo, or $2.76m a year. Airbus assumes a 1% lease rate the CMV of the 787-8 but a .94% lease rate for its A330-200.
This $230,000/mo lease rate delta may well be the difference between advantage to Airbus or advantage to Boeing under the Airbus scenario.
Furthermore, we know of A330-300 lease rates of $1m, or $100,000 higher than the Airbus assumption vs its estimated lease rate of $1.25m for the 787-9.
Airbus is also making its assumptions over 2,000nm (routes intra-Asia, for example) and at $3/gal fuel. Fuel prices fluctuate, of course.
Our affiliate, Leeham Co EU in Europe, prepared the following analysis that is for fuel consumption only and does not evaluate other operating costs or capital costs. This analysis demonstrates that the A330 Classic falls well short of the 787-8/9 and the A350.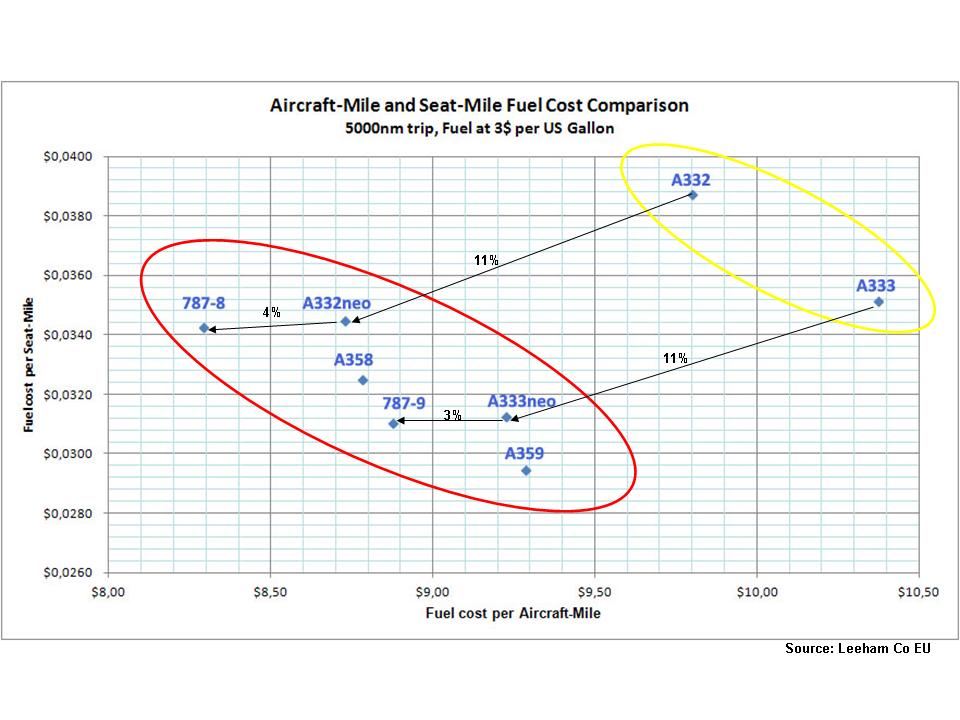 Thus, given the favorable capital cost variable Airbus uses to promote the current A330 family, it may be seen that this variable alone makes-or-breaks its argument.
The backlog for the A330 currently is only two years at present production rates. Airbus officials have said they expect the A330 to remain in production into the 2020 decade, but with a backlog at November 30 of just 251 and a production rate of 10/mo, Airbus currently has enough orders only through early 2016. If Airbus is to maintain production for another 10-15 years (i.e., 2013-2018), more than just creating a "regional" airliner option is required. This means NEO and/or reduced production rates.
In some respects, the A350 XWB and 787 are "too much airplane," offering far more range than most carriers require. The 6,000nm A330-300 covers must trans-Atlantic and trans-Pacific missions. The A330-200, at 7,200nm, has been evolving into a niche airplane; sales have tapered off in favor of the larger A333 with better seat mile costs.
Although some suggest that the A330neo is the original A350 concept that was rejected by the market, it is not. A350 V 1.0 included a new wing and new systems. We believe the A330neo would follow the example of the A320neo, with minimal changes required related to the engine and related structures. We also expect sharkets would be part of the package.

We expect activity to increase at Airbus and the engine makers as they evaluate the prospects of producing a neo.