ATR presses Airbus: ATR, the world's leading maker of turbo-prop airliners, is pressing Airbus Group to green-light its proposed 90-seat, clearn-sheet turbo-prop, Bloomberg News reports.
Airbus Group owns 50% of ATR; Alenia owns the other 50%. ATR's CEO wants to change this legal structure, reports The Wall Street Journal.
According to the news reports, Airbus is concerned about the diversion of engineering resources. Maybe this is why. Airbus is studying a "mega-twin" concept, reports Aviation Week. Of particular note is the reference that Airbus doesn't plan to launch a new airplane in the next 10 years. We think these plans are going to have to change when Boeing launches a replacement for the 757, followed by the 737RS, which we have for the end of this decade.
But let's get back to ATR.
Bombardier, the world's #2 turbo-prop airliner producer, launched a high-density, 86-seat version of its venerable Q400 last year. China is going forward with a 90-seat turbo-prop and India is also interested in joining the fray.
ATR currently holds a 59% share of the future orders, options and Letters of Intents backlog.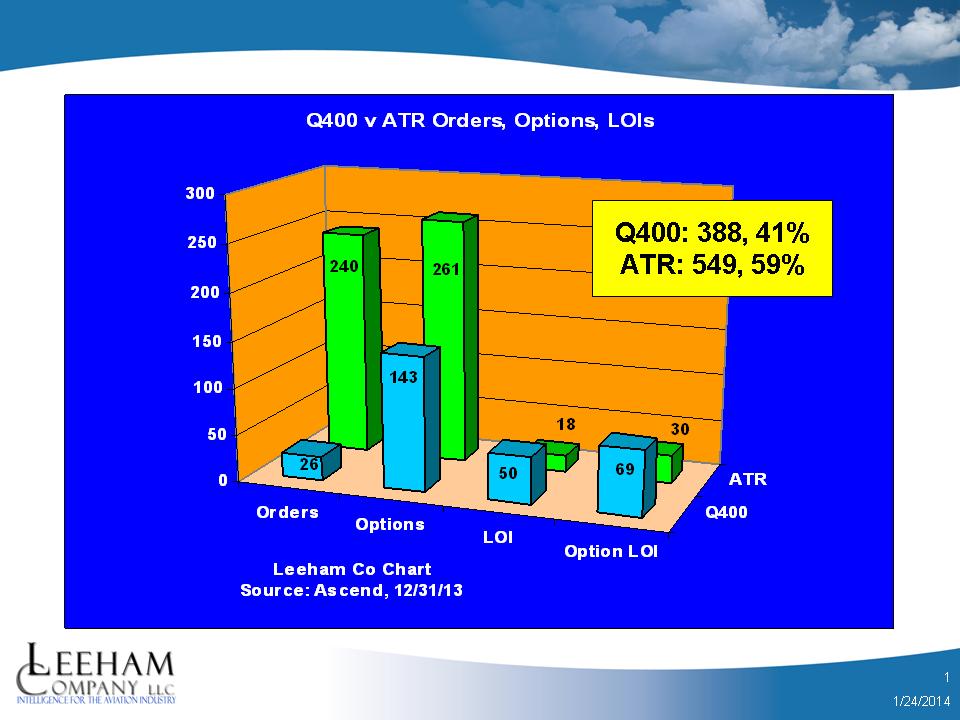 Bombardier made some significant progress last year, signing large LOIs with Russia for 100 and with China. These should be converted to firm orders this year, but even so, ATR has a lopsided market lead.
Boeing Stratoliner: Boeing has a short profile of the B307 Stratoliner, the first pressurized airliner. It's the 75th anniversary of this important airliner. The last surviving example is on display at the Steven Udvar-Hazy Museum at Washington Dulles Airport.
Boeing 777 model: It's been over the Internet already but in case you've missed this, a 1/60th, highly detailed model of the Boeing 777 was carved out of manila folders. This is an amazing piece of artistry.