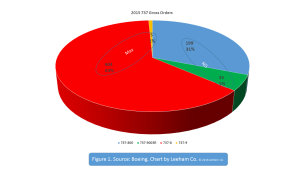 Jan. 12, 2016, © Leeham Co. Boeing announced its year-end 2015 orders tally, with 768 net orders and 878 gross orders. It is becoming increasingly clear the 737 MAX is essentially a one-aircraft family.
As expected, 737NG orders are declining, but Boeing won an important order from Delta Air Lines for the 737-900ER. There were no orders for the 737-700 and the 737-800 remains the backbone of the NG family.
There were no orders last year for the 7 MAX. There were four commercial orders for the 9 MAX plus one -9 BBJ. There were 400 orders for the commercial -8 MAX and four -8 BBJs. This means 99% of the MAX sales were for the -8 MAX and just 1% for the -9 MAX (Figure 1).
The -9 MAX nonetheless currently accounts for about 9% of the MAX backlog (Figure 2.)
The aging 737-900ER did better last year than its upgraded successor, though this model still represents a small percentage of sales. There were 199 737-800s sold last year (85% of the total NGs) and just 35 -900ERS (15%). The -900ER currently accounts for slightly less than 8% of the NG sales. It represents 12% of the current NG backlog, with the -800 accounting for 85% and the -700 just 3%.
The 787 is becoming increasingly a two-member family. There were only eight sales of the 787-8 and six of these are known to be the Terrible Teens, built early in the production line. These are for Ethiopian Airlines. Two 787-8 BBJs were sold and two for Air Austral. We don't know if any of these were from the Terrible Teens.
There are now just 162 787-8s in backlog, a number now matched by the 787-10. There are 455 787-9s in backlog, for a total of 779. Fifty-eight percent of the backlog is for the 787-9, 21% for the -8 and 21% for the -10. (Figure 3.)
The 777 Classic sales did not meet the low-end threshold Boeing has identified as necessary to successfully bridge the gap between the Classic and the 777X without reducing the production rate beyond the previously announced 7/mo, down from the current 8.3/mo.
Boeing sold 38 Classics last year, comprised of 22 -300ERs and 16 freighters. Boeing also sold 20 777Xs. (Figure 4.)
Airbus announced its year-end order details today. LNC will have a similar analysis breakdown later this week.