April 20, 2016: Airbus and Boeing will report their first quarter earnings April 28 and 27 respectively.
Year-to-date, Boeing is clobbering Airbus in orders and deliveries. It should be noted that last year, Boeing jumped to an early lead in orders and Airbus came roaring back by mid-year and year-end to outsell Boeing by a wide margin. Each company has guided at least 1:1 book-to-bill. This suggests Boeing would outsell Airbus this year because of a higher production rate: more than 740 compared with fewer than 700. Given Airbus' propensity to have a stronger second half sales than first half, the outcome of the sales race is anything but iffy to call at this early juncture.
Airbus deliveries are well down this year. A320neos and A350s are piling up at Toulouse and Hamburg due to engine issues with the Pratt & Whitney GTF for the A320s and seat shortages for the A350s.
PW says it will have the teething issues for the GTFs worked out by June. There is no information immediately available about the seat shortages. It's likely Airbus will address both on the earnings call.
Reuters reports there are at least 12 A320neos parked at Toulouse, and likely a similar number at Hamburg, awaiting engines. Both locations assemble and deliver A320s. There are at least six A350s parked at Toulouse, according to Reuters. The underlying production of each airplane is sound, the news service says.
Boeing's quarter
Boeing previously reported its first quarter deliveries, at 176 airplanes, were down somewhat year-over-year. Officials already said deliveries overall will be down this year as the 737 line transitions to the MAX and fewer deliveries of the 747-8 are made. The 777 Classic line is fully sold and the 787 line is humming along. The Terrible Teen 787s are going through the Everett Modification Center for delivery to customers later this year.
As is the case with every quarter, Boeing will no doubt get cash flow and deferred production cost questions on the earnings call.
There might be a question of the probe by the Securities and Exchange Commission over whether the program accounting for the 787 and 747-8 were intentionally misrepresented to investors. We believe this to be without merit, as previously described. If asked, Boeing would be expected to say the probe and lawsuit are without merit.
Between now and then, the Wall Street analysts will be issuing preview notes. If there's anything of particular interest, we'll pick them up. (We only rarely see European notes on Airbus.)
Stock performance
Boeing's stock has been volatile this year. Lower than expected guidance given on the January year end 2015 earnings call, which announced the lower delivery rates this year, followed by news of the SEC probe, took their toll on the stock price. Boeing's share repurchase program boosted the stock from its low point, according to analysts.
Here is the most recent three month stock history.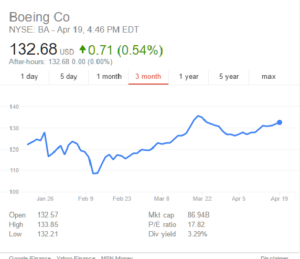 The dip in January correlates with the 2015 earnings call. The February dip marks the SEC probe news.
Airbus' three month stock price, in Euros, follows a similar overall trend line.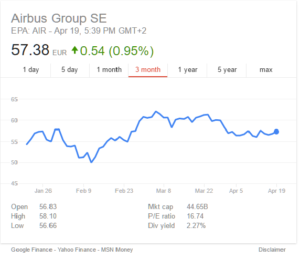 Boeing overall remains the better performing stock.