By Bjorn Fehrm
Introduction
February 8, 2017, ©. Leeham Co: When SAS (Scandinavian Airlines Systems) canceled Norwegian Air Shuttle's (NAS) contract to feed its Norwegian network 2002, it had no idea the former feeder would almost run it out of business 10 years later.
The cancellation forced NAS to change tack. Subcontracting as a feeder to a mainline was no longer possible; SAS was the only mainline in Norway after buying Braathens (NAS' original contractor). NAS decided to become a Low Cost Carrier (LCC).
Ten years later, Norwegian (as we call NAS from now) had taken over a large part of SAS' European business. SAS was fighting for its life. Another five years and Norwegian's expansion on LCC long-haul is forcing IAG (BA, IBERIA, Air Lingus, Vueling), Air France-KLM and Lufthansa to react.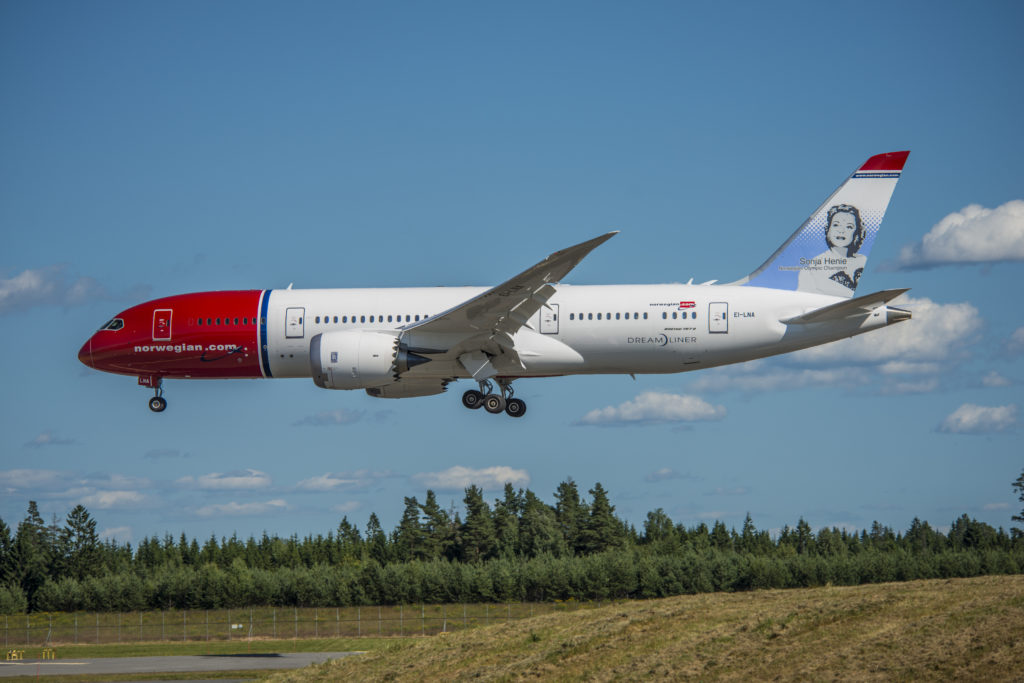 How strong a threat to other LCCs and the majors' long haul operation is Norwegian? We will answer the questions in a series of future articles. We start with Norwegian's roots and its development til now.
Discussion
Norwegian's journey
Norwegian's expansion from a regional airline in Norway to a top three European LCC and the leading long haul LCC world-wide is described in Figures 1 and 2.
Figure 1 shows the overall fleet expansion from the formation of the LCC from 2002 to the last year's expansion with Boeing 737-800s and 787s. Norwegian goes from six aircraft to 118 in the time.
Figure 2 shows the expansion of Available Seat Kilometers (ASK) and the cabin load factor over the last 10 years. The offered passenger capacity has expanded eight times in these years. Load factors of 88% are typical for an LCC but about 3%-5% below the larger easyJet and Ryanair.
Figure 3 shows where Norwegian's main markets are (right hand side) and where the growth is focused (left hand side). After a start to bring Scandinavians to more sunny places, the expansion focused on flying tourists to Spain and long haul to USA from Scandinavia, the UK and France in recent years.
Figure 4 shows the growing long haul network. Focus is US and Caribbean destinations from Scandinavia, London/Gatwick, Paris and, during 2017, Barcelona.
Figure 5 gives an understanding of the proportions of the short/mid-haul European network, operated with 737-800 (Red bars), and the long haul network (Orange, Grey and Black bars). Note that the Grey and Black bars contain aircraft with almost double the seating capacity (296 seat 787-8 and 344 seat 787-9) versus the 186 seat 737 MAX 8 and 737-800 fleet.
The fast expansion of Norwegian's long haul made several players in the market take notice. All competing LCCs must decide if they will join Norwegian and launch long-haul operations, or, like Ryanair, feed the Norwegian network.
Legacy carriers must also react. Their long-haul operation is often the profit generator. Carriers like IAG, Air France-KLM and Lufthansa all announced that they will launch competing operations.
Low costs the key
A key metric for an LCC is the cost level. Norwegian's cost composition and development is shown in Figure 6 and the cost level compared with its competition in Figure 7.
The Figures show the dramatic shift in fuel costs as proportion of total operating expenses. It also shows how the young expanding fleet has increased depreciation and leasing costs in recent years.
Figure 7 shows Norwegian's Cost per Available Seat Kilometer (CASK) compared with direct competitors (in NOK. There are 8.25NOK to a US $). Norwegian expects to get the CASK to NOK 0.38-0.39 during 2017. The cost base is competitive, with only Ryanair and Wizz air (which operates east Europe) with a lower cost base.
Rocky start
The move to LCC long-haul started badly with several problems with the 787-based fleet during 2013 and 2014. The operating results for 2014 suffered as a result, Figure 8.
The 2014 losses of 5% of turnover (1070 million NOK) halved the balance sheets equity ratio to 11%, a low ratio. EasyJet's ratio is close to 50% and Ryanair's is still higher.  Figure 9 shows the composition of the balance sheet in 3Q of 2015 and 2016.
The strength of the balance sheet is a key factor in weathering any headwinds going forward. Norwegian's large aircraft orders (Figure 10) makes them sensitive to any weakening in the air travel market.
Affiliated lessor
Norwegian is holding the aircraft fleet in a special asset company (Arctic Aviation Assets Ltd) which is leasing the aircraft to Norwegian and other operators, Figure 11.
The incoming aircraft which are't needed in Norwegian's own operations are leased to other operators. All A320neos, the first two which arrived 2016 and a further six in 2017, will be leased to the airline HongKong Express.
While the arrangement cares for excess aircraft in a growing market it does not solve the problem should the market turn. Should the demand for air travel go down, the placement of aircraft with other carriers will be more difficult at a time when its own operation doesn't need the aircraft.