Oct. 9, 2017, © Leeham Co.: Recent weeks have been dominated by the news of the Boeing-Bombardier trade complaint. More is to come before and after the end of the year.
It's time to catch up on some other news.
Embraer's E175 SC
Embraer recently announced an order with SkyWest Airlines of the USA for the E175 SC, or Special Configuration.
As described, it's a 70-seat version of the 76-seat E175. The Special Configuration gives the flexibility of beginning service at 70 seats, with greater leg room in the coach section, and later going to the normal 76-seat configuration.
This may provide legacy airlines with some flexibility with Scope Clauses.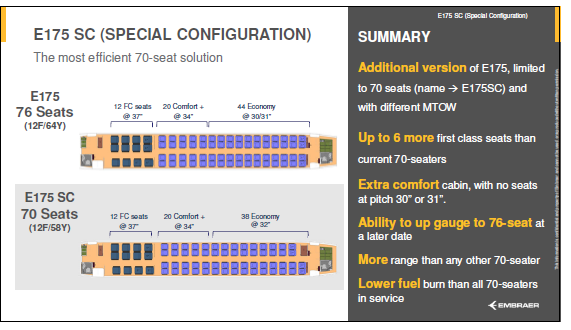 United offering
This is conceptually similar to what Bombardier offered United in the competition for 100-seats in the form of the CS100 "Lite."
This came out in the testimony in the Boeing complaint (drat, I can't stay away from this after all). Some took the characterization of a CS100 Lite to mean a shrink. Officials later clarified that shrinking the CS100 (itself a shrink of the CS300) wasn't what they meant.
What was offered to United was a reconfigured cabin seating fewer passengers.
Embraer competed for the UAL business, as did Boeing. Boeing won, with the 737-700 (which wasn't even in the initial RFP) by undercutting Bombardier's low-price offer. Boeing openly said this deal was a blocking move to Bombardier. It also became part of the Boeing trade complaint.
Embraer later said it could not offer the E190/195 E2 at the prices Bombardier offered. This laid the foundation of Brazil's complaint before the World Trade Organization.
Regardless, the E175 SC and CS100 Lite demonstrate creativity by the OEMs to sell their airplanes. (Bombardier sold its CS100 to Delta Air Lines as a 1,000-mile airplane with the proviso that if Delta began using the plane on routes of more than 1,000 miles, additional payments were due.)
Ten longest routes
A recent article (one of many and not all in agreement) had a list of the 10 longest airline routes in the world.
I plotted these on Great Circle Mapper to come up with the following visual. Pretty impressive. Most originate in the Middle East.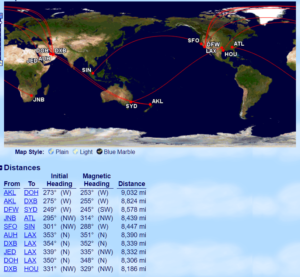 I've done some 15-hour flights and that was plenty, thank you. But at least I was in lie-flat business or first. I can't image the poor snooks in coach/economy with inadequate leg room and seat backs that recline only two inches.
On recent flights on Delta Air Lines and American Airlines, with modern seating but not the most slim-line seats that can be had, 30-31 inches was tight (and I'm only 6 ft tall).
But what was really annoying: I could open my Netbook fully to work on it when the seat in front was reclined (all of two inches) and mine likewise was reclined (all of two inches).
Being unable to work on a laptop in coach is well-known. It's pretty bad when even a Netbook is borderline.
On Delta, I had to detach my keyboard and use the electronic touch pad (which I hate). On American, the keyboard stayed but the screen was vertical, not angled back to normal position.
I don't care what the claims are about slim line seating (I've been a vocal critic of Recaro, by the way): when a businessman can't work at his seat, it's time for the airlines to rethink.