March 19, 2018, © Leeham News: Boeing faces thousands of retirements in its engineering and touch-labor force ranks over the next five to 10 years, with a limited worker pool for replacements.
A national economy with a low unemployment rate of about 4.1% exacerbates the challenges of finding talent.
These numbers are important to Boeing's current higher production rate ambitions.
They are even more important as Boeing looks to develop the New Midrange Airplane (NMA, aka 797).
LNC first discussed the looming shortage of engineers in connection with the potential creation of a new company with Embraer.
Engineers and technicians
There are 3,823 engineers and technicians ages 55-59 and 1,702 ages 60 and up, according to SPEEA, the engineers' union. These numbers represent 29% and 27% of the total employment of the two professions who are 55 and older.
This means more than 1,700 will reach retirement age within five years—a critical time when Boeing is beginning to ramp up its engineering work on the NMA, should the program be launched next year—which is when market intelligence suggests is the target date.
(CEO Dennis Muilenburg recently said program launch could be within the next year or so.)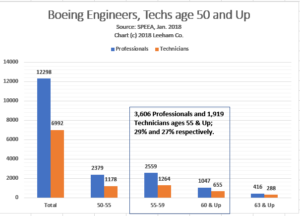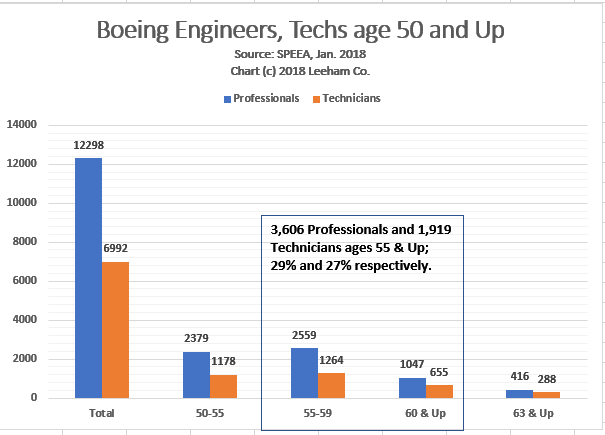 IAM 751 retirements
The IAM 751 district represents the touch-labor skilled workers here in Puget Sound. A large number of 751 members are approaching retirement age, too.
More than 5,000 of the 27,000 union members are ages 55-59 (19%) and more than 3,700 are ages 60 and up (14%). Of the latter, nearly 1,700 are ages 63 and up.
This means nearly 3,800 are eligible for retirement within five years, or through 2023. This is a critical time when the 737 production is ramping up to 57/mo (2019) and Boeing is studying whether to ramp up to 63 or even 70 airplanes per month.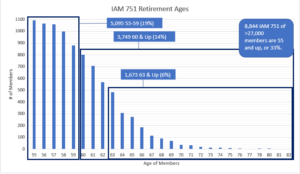 The 787 ramps up to 14/mo in 2019. The 777X production, which is declining during the transition between the 777 Classic and the X through 2020, begins to ramp back up in 2021.
Then there's the NMA. If Boeing launches the program with an entry-into-service in 2024-25, production begins in earnest during this period—when more of the 751 members become eligible for retirement.
Automation required
These figures illustrate, in part, why Boeing is transforming its production into more automation. (There are, of course, a whole host of other reasons.)
The up-and-coming workers pool is not as plentiful as it used to be. Boeing, and others, reach down into the high schools and middle schools to encourage STEM education, but this takes years to reach a point where the students graduate from college to join the aerospace industry—if they are so inclined.
Workers for touch-labor work are also difficult to nurture. Society encourages white-collar worker. Trade skills don't have the same support that these did a generation or two ago.
I'll have more about the labor workforce challenges in the coming weeks.
List prices
It took a while, but I have the answer why Airbus list prices are higher than Boeing's.
Airbus list prices include IFE and Buyer Furnished Equipment (BFE). Boeing list prices are only the airframe and engines.