April 9, 2018, © Leeham News: This fall, the Seattle area will get a second passenger airport: three airlines will begin service at Paine Field, in Everett, which is also home to Boeing's massive wide-body production plant.
Alaska, Southwest and United airlines will offer 24 fights out of two gates that are under construction.
It's the first passenger service from Paine Field.
It's not hardly enough.
Bitter fight
After a long, bitter fight that lasted the better part of a decade, highly limited airline operations at Paine Field were approved.
The cities filed lawsuits, fought the Federal Aviation Administration (which had to approve commercial operations), challenged the adequacy of the environmental impact statement and otherwise engaged in what most believed would be an inevitably losing battle.
Proponents of the service argued that 24 flights a day would hardly make a dent into the operations of the airport, which is dominated by test flights by Boeing for wide-body aircraft (all much larger than the single-aisle airplanes that would be used by airline operations).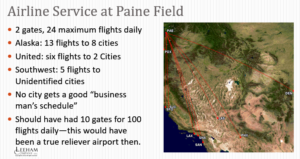 Boeing also flies its 747 Dreamlifter fleet into Paine Field for 787 production. Occasionally, the giant Antonov cargo jet flies into Paine to support Boeing.
The airport is also home to a maintenance base that services Airbus and Boeing airliners.
Limited operations
Just two gates and a maximum of 24 flights were approved. The effort was prompted by a plan by ultra-low-cost carrier Allegiant Airlines to offer service at Paine.
Allegiant's business model focuses on small cities or unused airports to popular leisure destinations such as Las Vegas, Phoenix and Orlando. Allegiant serves Bellingham, an hour's drive north of Everett and two hours from Seat-Tac, Seattle's commercial airport.
Allegiant was likely to offer only four or five flights a week from Paine, but the proposal caused an uproar with the adjacent town governments of Mukilteo and Edmonds. The city councils and airport opponents feared that approving Allegiant would be the camel's nose under the tent for more commercial service.
The fears weren't unfounded, as events proved. Although Allegiant, ironically, did not seek to provide service once it was cleared by Snohomish County, which owns and operates the airport, Alaska, Southwest and United did.
Alaska will offer 13 flights to eight cities: Portland, San Jose, San Francisco, Los Angeles, San Diego, Orange County, Las Vegas and Phoenix.
United will connect Paine to its hubs in Denver and San Francisco with six flights. Southwest will offer five flights to as-yet unidentified cities, though its Oakland hub will probably be one of them.
Limited flights mean poor service
The limited number of flights to more than 10 cities means poor service.
Business people, who make up 80% of the travelers, like frequency. The fragmented, announced operations means there won't be much frequency.
Alaska's service to Las Vegas probably will be one trip. So might Phoenix, a popular vacation destination. Orange County, the nearest airport to Disneyland, may also be a one-trip destination.
This leaves 10 trips for five business cities, or two flights a day. This isn't a decent businessman's schedule.
United's less-ambitious plans could provide three daily round trips to its hubs. This is probably the bare minimum for business travelers.
Southwest's plans are a mystery since it hasn't announced cities to be served. Southwest typically, but not always, likes frequency.
The other problem with this limited schedule is what happens with a flight cancellation?
With a lack of frequency, the three airlines naturally would accommodate passengers on the Seattle service.
Now the passenger's car is at Paine Field while he's as Sea-Tac.
Bad idea.
What should have happened
The Paine Field service should have, from the get-go, been a 10-gate facility that could serve 100 flights. This would provide frequency, broaden the cities served and more likely ensure success. This, of course, is precisely the camel the opponents fear.
But such a plan would mean a solid number of direct and indirect jobs.
It would also mean more noise. But there is little sympathy for those who move under the flight path or near an airport and then complain about the noise.
The success of the fragmented service proposed and the lack of frequency raises serious questions whether the Paine Field service will be successful.