By Bjorn Fehrm 
April 18, 2018, ©. Leeham News: Indigo started its operation 2006, offering low-cost air travel to the masses in India. The year after, Air India and Indian Airlines, the state-owned flag International and Domestic carrier, merged to form India's largest airline at the time, Air India.
By the end of 2010, Indigo passed Air India and by 2013 Jet Airways for domestic passenger market share, a position it has kept since.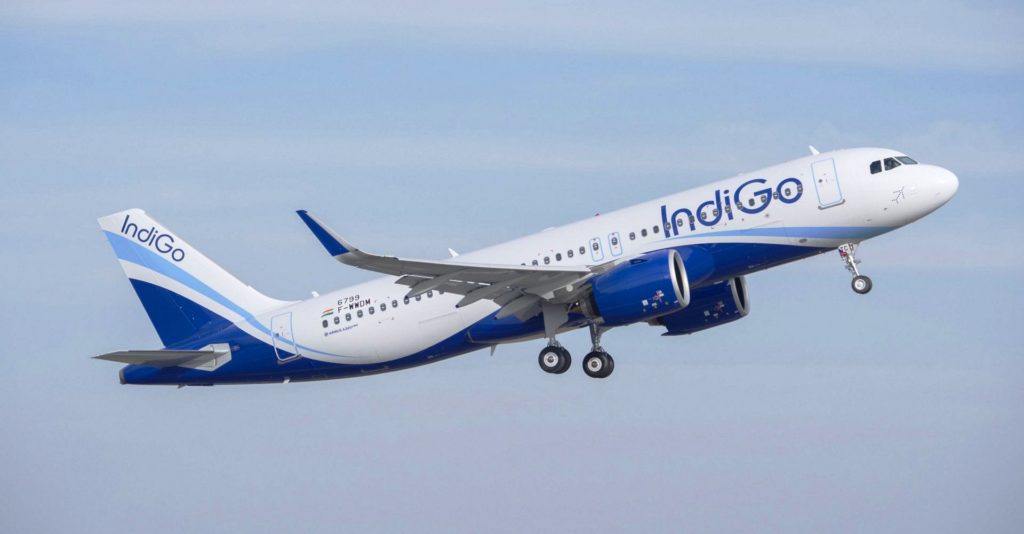 Indigo of today
Indigo has had a fast growth, even for an LCC. From the start in 2006, it has grown to India's largest airline, with a 40% market share for domestic traffic by the spring 2018, Figure 1.
The secret to the success is focusing on the basics. Here its explained in the airline's "About us:"
"IndiGo is India's largest passenger airline with a market share of 39.9% as of February, 2018. We primarily operate in India's domestic air travel market as a low-cost carrier with focus on our three pillars – offering low fares, being on-time and delivering a courteous and hassle-free experience. IndiGo has become synonymous with being on-time."
Indigo focuses on the base product and to make its most important parts solid, a reliable service with departure and arrival on time.
The airline presently flies to 39 domestic destinations and seven international destinations which are close to India, Figure 2.
After having built a reputation for being on on-schedule and on-time, Indigo is no longer selling the cheapest flights. They are priced the same as the main competitors, Jet Airways and SpiceJet, but not lower.
The airline is known for being profitable since the start, an abnormal state in the Indian market, Figure 3. We will cover the special case of Air India in a future article.
A key part of the profitability has been operating costs which have been lower than the costs of the direct competitors, Figure 4. 
Fleet
A key part of the low costs has been a standardized fleet. Indigo has until last year had a single aircraft type, A320 (Figure 5). In 2017, the Turboprop ATR-72-600 was added for operations to smaller cities.
The airline has introduced Pratt & Whitney GTF based A320neos since 2016. The fleet has suffered from all the common GTF problems, with 11 Indigo aircraft grounded during February-March 2018. Of the 14 Grounded aircraft (11 Indigo, three GoAir), all but three should be flying again after engine changes, as of last week.