April 21, 2018 © Leeham News: On the eve of the Boeing first quarter earnings call Wednesday, the company faces a slow-down in 787 deliveries at a time when it is gearing to ramp up production to 14/mo next year.
The engine issues with Rolls-Royce, resulting in grounded 787s across the globe, has had the knock-on effect of new production 787s emerging from the Everett and Charleston assembly plants without powerplants. Huge, yellow weight blocks are hung where the engines should be to keep the airplanes from sitting on their tails.
Delayed deliveries
At least five 787s in airline colors are on the Everett flight line awaiting engines, airplane spotters tell LNC. At least one in colors and two more without airline liveries are on the flight line at Charleston, a local reporter tells LNC. (Update: a sixth 787, this one for Gulf Air, rolled out of the Everett factory Friday night without engines.)

Engines from new production airplanes are being diverted to Aircraft on Ground (AOG), sources tell LNC.
As of April 18, there are 45 RR-powered 787s scheduled for delivery this year, according to the Ascend data base. The number rises to 57 next year.
Production isn't expected to slow, but deliveries are already being affected, LNC is told—with physical evidence clear from the Gliders now parked at Everett and Charleston.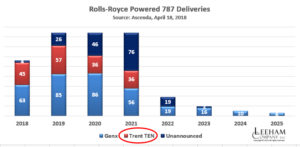 AOG and other choices
There are about 30 787s that have been grounded for up to several months. Other 787s have been redeployed, taken off trans-ocean routes and assigned to overland service where ETOPS isn't required. Japan's ANA, for example, is now flying the 787 domestically while its older 767s are covering trans-ocean routes.
Airlines affected include Air New Zealand, ANA, Avianca, British Airways, Ethiopian, LATAM, Norwegian Air Shuttle, Scoot, Thai and Virgin Atlantic.
Some of these airlines already arranged for replacement aircraft through wet leases (with crew) or dry leases (to be staffed by their own crews).
Related articles
But these and other airlines are scouring the market for more aircraft in anticipation that mandatory inspections and severely reduced ETOPS (reduced to 140 minutes under some parameters and down to 60 minutes under others) will ground more aircraft. Industry officials predict the number of grounded aircraft could double.
LNC understands that the airlines identified above are look for between 30-40 aircraft from lessors and wet-lease operators.
Impact to Boeing
The impact to Boeing remains unclear. Although its leasing arm, Boeing Capital Corp., is working to source airplanes for the affected airlines, any financial impact to BCC isn't known outside the company and may not yet be known inside.
Although it's Boeing's name on the side of the 787, financial penalties flow to Rolls-Royce, which announced a $500m charge related to the problem. This is only the tip of the iceberg, industry sources say. Some compare this to the development problems of the RB211 engine to power the Lockheed L-1011 in the 1960s-70s that drove RR into bankruptcy and a government bailout.
The pressing impact to Boeing—and the one relevant to aerospace analysts for Wednesday's earnings call—is how deliveries of the new production 787s will be affected.
Observers say 787 deliveries are already running weeks, and in some cases, a few months behind schedule. The evolution into Gliders only exacerbates the problem. And observers predict the number of Gliders is going to increase.
It's a question for Boeing CEO Dennis Muilenburg and CFO Greg Smith to address on Wednesday.