April 14, 2018, © Leeham News: An airworthiness directive from the US Federal Aviation Administration is expected as early as Tuesday that could severely restrict flight operations some of Rolls-Royce-powered Boeing 787s.
The AD is expected to require inspections and a reduction in the ETOPS long-range operation to 140 minutes from the nearest airport from 330 minutes, sources say. Inspections have to be made by May 20, according to preliminary information. If inspections fail, ETOPS may be reduced to 60, two airlines tell LNC. A third source didn't have the numbers but said the AD is expected to be "onerous."
Until the AD is issued and published, the numbers and conditions could change, one source tells LNC on background.
EASA, the European safety agency, issued its AD yesterday, with an April 20 effective date.
About 25% of the 787s are powered by Rolls-Royce engines, but not all engines are affected.
Scrambling for replacements
Affected airlines and the Boeing sales force are calling lessors, scrambling for any available aircraft, regardless of equipment type, to cover grounded aircraft or those anticipated to be grounded, the sources tell LNC.
There are about 30 787s already ground and perhaps as many as 50, sources say.
LATAM has a reported six airplanes on the ground at Victorville (CA).
One airline tells LNC that Rolls-Royce warned it to expect a 40%-50% failure rate of the affected RR-powered 787 fleet. This will almost certainly result in grounding the planes, multiple sources tell LNC.
The failed inspections may result in doubling the current groundings in the coming weeks, aviation industry sources say.
"Boeing continues to work closely with Rolls-Royce to ensure we deliver 787s and support our customers' needs," Boeing wrote in an email to LNC.
Several airlines, including Air New Zealand, LatAm, Norwegian and Virgin Atlantic, leased in aircraft to cover their current groundings. Some of these are wet leases (with crews) and others are dry leases (no crew, operated by the airline's staff).
Etihad and Emirates airlines are said to be offering to wet lease some airplanes. Etihad is in contraction mode, downsizing significantly as it tries to work through huge losses. Emirates also has surplus capacity due to market conditions.
787 RR operators
There are 269 RR-powered 787s in service, according to the Airfinance Journal Fleet Tracker. Japan's ANA is the largest operator, with 64, followed by Norwegian Air Shuttle with 27 and LAN/LATAM with 24.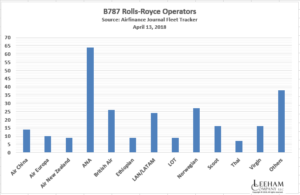 Scoot and Virgin Atlantic each have 16.
Diverting engines
Initially, Boeing wasn't diverting engines from the production lines to airlines with aircraft on the ground (AOG), airlines complained to LNC. One airline contrasted Boeing's action to Airbus, which directed Pratt & Whitney to divert new production Geared Turbo Fan engines to customers with AOG instead of to the production lines. A320neos litter the Toulouse (and probably Hamburg) airport with engineless A320neos.
This appears to have changed.
Pictures circulated on Friday on Twitter of four 787s without engines on the ramp at Everett (WA), home to one of the two 787 production sites: one each for British Airways, Ethiopian, LOT and Royal Brunei.
Additionally one airplane for Scoot is at Boeing's Charleston factory parked outside without engines. Two more, unpainted, are also without engines.
This action pre-dates the anticipated AD. At least one airline with 787s in production wants the engines diverted to its AOG.
"The current issue applies to the Trent 1000 Package C engine variant, which is not the variant powering new production 787s," Boeing wrote in an email to LNC. "The airplanes on the field you cited will have new engines hung prior to delivery."
Air New Zealand
Air New Zealand has been vocal about the impact of the Rolls-Royce issues on its operations. It released the following statement April 14 (Auckland time):
"Last month Rolls-Royce, in conjunction with European regulator EASA, issued a directive requiring operators of a type of Trent 1000 engine known as 'Package C' to carry out earlier than usual maintenance checks on a specific part of the engine compressor.
"This check was already required prior to the engine reaching a flying threshold of 2000 cycles (one way journeys). The directive reduces that timeframe to 300 cycles. Rolls-Royce advises 380 engines globally are impacted by the directive, including nine in the Air New Zealand 787 fleet.
"Trent 1000 Package C engines that have operated fewer than 300 cycles are unaffected by this directive. Air New Zealand also has Trent 1000 TEN model engines in its 787 fleet and these are unaffected."