April 13, 2018, © Leeham News: Go Air of India is the fourth-ranked low-cost carrier by market share, with big ambitions.
The airline had only 32 airplanes at the end of last year but had more than 140 on order as of last month, presaging expansion domestically and internationally.
This compares with rival Indigo Airlines, the leading LCC, with a current fleet of 153 aircraft and orders for 380; Jet Airways (115 and 75) and SpiceJet (57 and 155). Subsequent to the end of last year, Jet place an order for 75 more 737 MAXes.
Background
Go Air is a privately held company, wholly owned by the Wadia Group. Wadia was founded in 1732 as a maritime company, building a total of 355 ships. Today, its interests span real estate, plantations, consumer products and chemicals.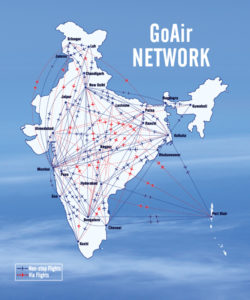 Go Air was founded in 2005. It currently has 150 daily flights to 23 cities and a market share of 8.6%.
An Airbus A320 operator, the airline currently has 32 aircraft and huge ambitions: at year-end, Go Air had 131 Airbuses on order, increasing to 144 since then, including the A320neo with Pratt & Whitney GTF engines. Along with Indigo, another A320neo GTF customer, Go Air has been affected by India's aggressive approach toward the GTF-powered airplanes, suffering a temporary grounding.
Go plans to expand beyond domestic service soon.
Finances
The FY2016 results showed a drop in profits, according to India's Financial Express newspaper. Profits for FY2017 rebounded. The Fiscal 2017 (to March 31) financials are here.
FY2018 ended March 31 and no financial data is available for the year yet.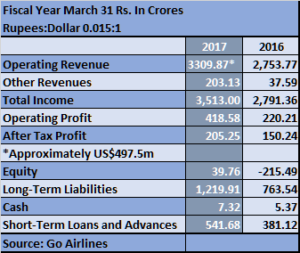 But the airlines was highly leveraged in FY2017 and FY2016 and had little cash on hand, the financials for the two years indicated. Operating capital appeared to be supplied by short-term loans and advances.
Financial results may be impacted by the government's ground of Airbus A320neos operated by Go (and Indigo Airlines), a fallout of the continuing problems with the Pratt & Whitney Geared Turbo Fan engines powering the carrier's neos. Initially, Go cancelled about 140 flights upon the grounding.