May 16, 2018, © Leeham News: There is "intense" price competition between Airbus and Boeing on the A330neo and 787, says an industry leader.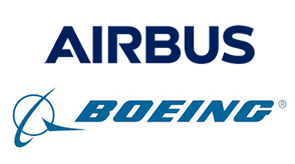 Sales of the A330neo are "off to a slow start," says Steven Udvar-Hazy, executive chairman of Air Lease Corp. Hazy expressed confidence in the neo, which ALC has ordered, seeing it as a "natural replacement" for the aging A330ceo, the Airbus A340 and the Boeing 767.
Hazy made his remarks at the 38th annual Airfinance Journal conference yesterday in Miami.
All-out war
Airbus and Boeing are engaged in an all-out war between the two models.
Sales of the A330neo have been slow and the customer base is highly concentrated. The program suffered a blow when American Airlines elected to order the 787 vs the A330neo as it sought to cancel its A350 order.
The loss was not unexpected. The campaign was an uphill effort for Airbus because the 787 was already in service with American—35 of an order for 42 already had been delivered. The A330neo would have added fleet complexity while sticking with the 787 allowed American to plan retirements of the A330ceo, 767 and some 777-200ERs, simplifying the fleet.
The American loss came on the heels of Hawaiian Airlines dropping the only order for the A330-800 and flipping to the 787, a move also expected but a PR black eye nevertheless.
Related stories:
Then, a large A330-900 order with Iran Air now has disappeared following the withdrawal from the Iran Nuclear deal by President Trump. The amount of US content in the A330neo requires US approval, and the US said it would block the deal. A Boeing MOU also was blocked.
Boeing is aggressively campaigning to win sales for the 787 vs the A330neo, trying to kill the program and clear the way for the 787 and the prospective New Midrange Airplane.
Airbus complains that Boeing is pricing the 787 below its cost for the A330neo.
Still, Hazy (and Airbus) point to the large customer base for the A330ceo why the A330neo's day is coming.