March 6, 2018: Airbus is ramping up the messaging for the slow-selling A330neo, reiterating its view that a wave of retirements is coming from current A330 operators that will support new sales.
LNC first reported the message Dec. 6.
Jeff Knittel, the new president of Airbus Americas, reinforced this message yesterday at an industry conference.
Retirements are the key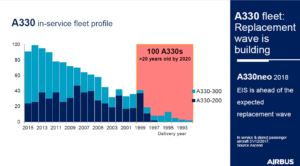 As noted in LNC's December interview with the program chief, Airbus believes the tide on sales will turn with a coming wave of retirements beginning in 2020.
The crux of Airbus' strategy is that as the A330ceo ages, the current large number of operators will want replacements. The A330neo has close economics to the Boeing 787, for up to $30m less in capital cost.
Airbus also sees the growing long-haul, low-cost carrier sector as a natural for the A330neo.
But the A330neo was launched long before the Middle of the Market airplane was a gleam in Boeing's eye. The A330neo has far more range than the prospective Boeing New Midrange Aircraft will have, giving the long-haul advantage to Airbus. But for routes of 4,500nm to 5,000nm, the NMA will have a significant economic advantage over the A330neo, based on LNC's analysis. If Boeing can keep the price to the airlines in the $70m-range–a tall order, to be sure–Airbus' sales hopes for the A330neo will be severely tested.
LCC penetration
Knittel recapped the sales success of the A320neo. The following illustration is noteworthy with the list of low-cost carriers and its market penetration into what was once an area dominated by Boeing's 737.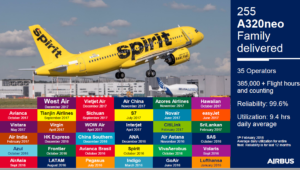 A little history
Finally, Knittel took a dive into Airbus' market presence in the US and worldwide.
The first transaction was with Eastern Airlines in a deal in which Airbus leased four A300B2s to EAL for six months as a "test drive," charging $1. The deal led to Eastern eventually ordering 34 A300s.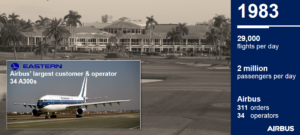 Today, Airbus' worldwide market penetration is just a tad higher.