Oct. 15, 2018, © Leeham News: "With your help, we will develop actionable plans to develop the supply chain."
This was the leading message from the 5th Annual South Carolina Aerospace Conference and Expo, held Tuesday and Wednesday last week in Columbia (SC).
Conference officials also said they are "exploring a national aerospace coalition."
SAVE THE DATE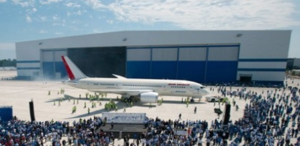 Second Annual Southeast Aerospace & Defence Conference
Organized by Leeham Co. and Airfinance Journal
April 14-16, 2019
Francis Marion Hotel
Charleston, SC
The South Carolina Council on Competitive/SC Aerospace already have a Letter of Intent with Washington State's Aerospace Futures Alliance "for the purpose of advancing the aerospace industry across the US. The LOI will serve as the platform for exploring the creation of a national aerospace Coalition (Coalition) with the objective of strengthening and growing commercial aviation, space, and unmanned aerial systems in the US through a variety of activities."
Counter-intuitive
The LOI seems counter-intuitive. South Carolina competes with Washington State for Boeing Final Assembly Lines and other work. The first 787 FAL is in Everett (WA) The second was located in Charleston (SC), after a bitter dispute with labor serving the Everett and Renton plants.
Charleston was in the running for the 777X FAL. Work for the 737 MAX was located in Charleston.
But there is logic to it. Kelly Maloney, president and CEO of AFA, tells me:
"There are a number of federal, national and regional issues and opportunities that transcend state-specific interests that a united national Coalition could work on.
"Each of us is committed to continuing our in-state work independent of the Coalition and recognize that we may be competing with one another on some opportunities, but we also realize that competitors can also be collaborators for specific initiatives. The vision is to bring together associations, businesses and economic development entities from across the United States that have an interest in advancing the aerospace industry (commercial aviation, space, UAS) through federal advocacy, and national and regional efforts. (e.g., Workforce is an issue that has many state-specific solutions that will remain in each state. There is also the opportunity to work on federal solutions and possibly to work nationally and regionally to develop strategies and tactics to address the issue.)," she says.
"We intend for our work to complement that of other national aerospace associations. One differentiator, though, will be that we intend for membership to be accessible to all sizes and types of businesses and associations by keeping membership fees relatively low. The work we do will be national in scope for those issues that sweep across the U.S., and regional in scope for those issues that affect individual regions."
Workforce development
The Conference had a bit more emphasis on workforce development than most events. Over the two days, there were about 900 middle and high school students in attendance. The first day was for high schoolers, the second for middle schoolers. The high schoolers attended the first day's presentation by the former NASA administrator. Then they retreated to the 70+ exhibitors to speak with these company and agency representatives. The second day's middle schoolers were exclusively with the exhibitors.
Given Boeing's clear and deep interest in STEM education and workforce development, this was a pretty impressive display.
Washington State officials, take note: In the 22 years I've lived in this state and have gone to scores of conferences, I've never seen this kind of effort. South Carolina's effort at this conference along this line was highly impressive. (The Aerospace Futures Alliance in Washington schedule its first Jobs Fair next year.)
Boeing NMA
Wendy Sowers, director of market analysis for Boeing, provided the standard Boeing market overview that readers of this blog and those of us attending many conferences know so well. Therefore, I won't repeat these elements.
Given that this conference was in South Carolina, I asked the obvious question: what criteria will Boeing use for site selection for the NMA? Charleston, where Boeing has Line 2 for assembly of the 787, is clear contender for landing the NMA Final Assembly Line (FAL).
South Carolina, Charleston, the Aerospace Alliance (Louisiana, Mississippi, Alabama and Florida), Salt Lake City (UT) and San Antonio (TX) are all expected to compete for the FAL with Washington State's Puget Sound region where the 787 Line 1 FAL and all other widebodies are assembled. Puget Sound already is in active, open campaigning for the NMA FAL.
Sowers gave the obvious answer at this stage: No decision has been made to launch the program and therefore it's too soon to talk about criteria.
Boeing's forecast for the Middle of the Market sector, which the NMA is to address, has been a moving target. When Airbus first launched the A321neo LR at the lower end of the sector, Boeing sniffed there was little demand.
The officials put a figure of 1,000, then 2,000, then 4,000, then 5,000 and now between 4,000-5,000 over 20 years.
So I asked Sowers about this moving target and what drives the forecast.
Sowers said she couldn't speak to old figures. But the forecast is drive by three things: growth in traffic and growth in the size of airplanes, moving up from single- to twin-aisles; more market fragmentation and opening new markets, such as those opened by the 787 in which 210 new routes have been created since 2011, when the airplane went into service; and overall new markets driven by Low Cost Carriers.