April 9, 2019 (c) Leeham News: Boeing stock price has been remarkably resilient since the Lion Air crash.
The 737-8 MAX was five months old and the type had been in service only since May 2017.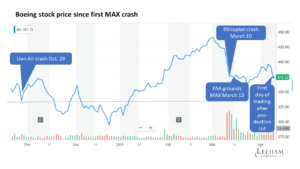 It took a big hit on Oct. 29, when Lion Air JT610 crashed, closing at $357 per share.
By early January, the stock price not only recovered its losses, it climbed back to $440 by Feb. 25, a record high.
Ethiopian crash
Then, on March 10, another MAX crashed.
Ethiopian Airlines ET302 crashed under similar circumstances. China grounded the airplane within a day. BY March 13, the Federal Aviation Administration finally followed the lead of countries worldwide.
Yet the stock remained well above the closing price after the Lion Air crash.
Even after Friday's after-market announcement that Boeing will cut MAX production by 10 airplanes a month, the stock yesterday closed at $374, well above the Lion Air low.