Sept. 5, 2019, © Leeham News: Nashville—Mitsubishi Aircraft Corp (MITAC) won a large commitment for up to 100 of its new M100 SpaceJet from US regional carrier Mesa Airlines.
The Memorandum of Understanding was announced today at the Regional Airline Assn. annual US conference. The MOU is for 50 firm orders and purchase rights for 50 more. Mesa is a new MITAC customer. Deliveries begin in 2024. Entry into service is planned for 2023.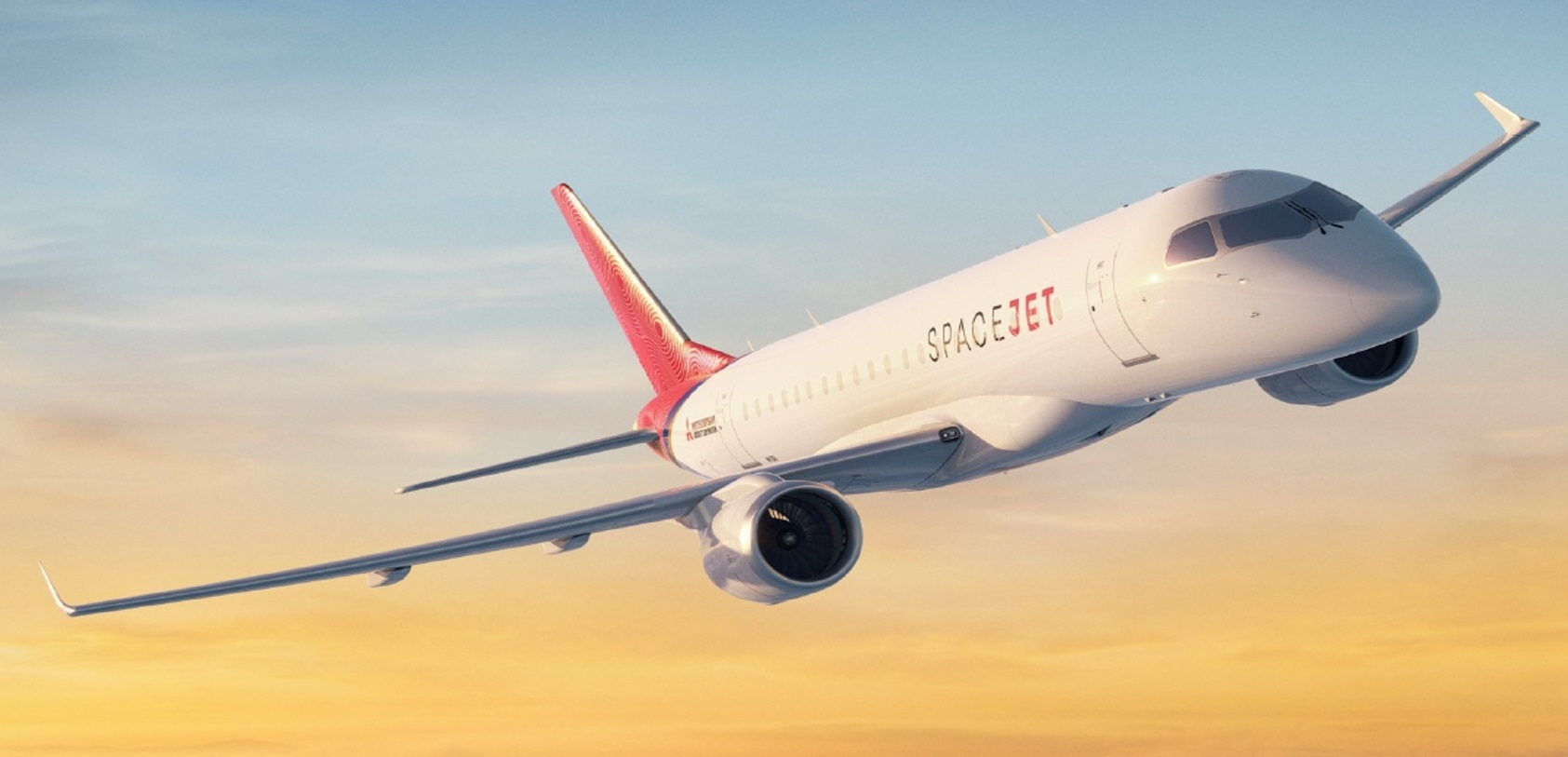 The M100 is compliant with the US pilot contract Scope Clauses, which (among other things) limit the weight of the airplane and seating configuration.
A Letter of Intent for 15 M100s was announced at the Paris Air Show. This customer has yet to be identified.
Final contract needed
A final contract must be negotiated. Brad Rich, EVP and COO of Mesa, said the order is conditional on Mesa placing the airplanes with its partner legacy airlines. Current partners are American and United.
Mesa flies the Bombardier CRJ900 for American and the Embraer E175-E1 and Bombardier CRJ700 for United.
Rich, who signed the MOU for Mesa at the RAA show, said the spacious interior design and airplane economics were major attractions of the airplane.
The Mesa COO is intimately familiar with regional jets. He worked for nearly 25 years at SkyWest Airlines, a major CRJ and E175 operator. SkyWest also has a conditional order for 100 MRJ90s, the precursor to the SpaceJet. He was a competitor to Mesa while at SkyWest.
Rich worked at United Airlines from 2015 until March before joining Mesa. He oversaw regional partner relations at United, including Mesa.
SkyWest orders
SkyWest's orders for the MRJ90, which has been renamed the M90, are conditioned on Scope Clause relief and partner airplane placements.
The MRJ90/M90 exceeds the weight limit, as does the Embraer E175-E2. SkyWest also has a conditional order for 100 of these airplanes.
In a separate event at RAA, SkyWest CEO Chip Childs said no decision has been made yet to swap the M90 order to the M100, or the E175-E2 order to the Scope-compliant but current technology E175-E1. SkyWest operates the E175-E1 for its partners as well as a huge fleet of CRJs.
"We're going to watch and see what happens with Scope," Childs said. "Our orders can go pretty fungible from E1 to E2. Our strategy is to be prepared both ways. If we get Scope, we're ready. If we don't get Scope, we continue to make some adjustments."
Childs called the Mitsubishi Heavy Industries (MHI) planned acquisition of the CRJ program and product support system "outstanding."
"We like the reasons why they bought it. We look forward to hopefully they enhancing the program and services [Bombardier] is providing for us now," he said.