Sept. 18, 2019, © Leeham News: Embraer passed a milestone last week with the delivery of the first E195-E2, to Azul Airlines of Brazil.
The airplane is the largest Embraer has designed. It's bigger than the KC-390 tanker-transport. It's longer than the Boeing 737-8 but shorter than the Boeing 737-9. It carries 146 passengers in high density configuration.

The marketing head for Embraer's US offices says the E195-E2 will be the sales leader while the CEO of Embraer Commercial Aviation, John Slattery, said it will account for a third of program sales.
Either way, LNA's Bjorn Fehrm was on site for the delivery and tomorrow will begin a series of articles analyzing the design of the E195-E2 and its economics compared with its nearest competitor, the Airbus A220.
Current skyline
Embraer's firm order skyline remains dominated by the E175-E1, according to an analysis of data by LNA.
The E195-E2 has a larger firm order backlog than the E190-E2. There are no firm orders for the E175-E2, though Slattery expects some outside US by year-end.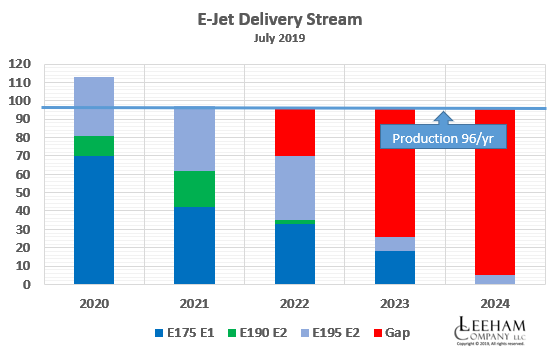 The current firm backlog shows Embraer's production line sold out through 2021, at a rate of 96/yr, its historical output. A small gap appears in 2022, followed by major gaps in 2023 and 2024.
However, it's important to note that E-Jet sales tend to be close-in.
Furthermore, the E175-E2 doesn't currently comply with US Scope restrictions because its empty weight leaves to little range under the Scope Clause contracts with American, Delta and United airlines.
No weight relief is expected this year or next. The next round of negotiations is in 2023/24, coinciding with the production gaps currently illustrated with the firm orders.
Options, LOIs
But Embraer has hundred of options and Letters of Intent for the E2 family, with 300 for the E175-E2 alone.
Embraer reserved delivery positions for this model in the 2023-2025 period, which not only fill the 96/yr production rate but coupled with the larger models, exceed the rate.
Production gaps appear from 2026 under this scenario.