By Scott Hamilton
July 30, 2020 © Leeham News: Airbus and Boeing refined their COVID production schedules this week slightly downward in some cases.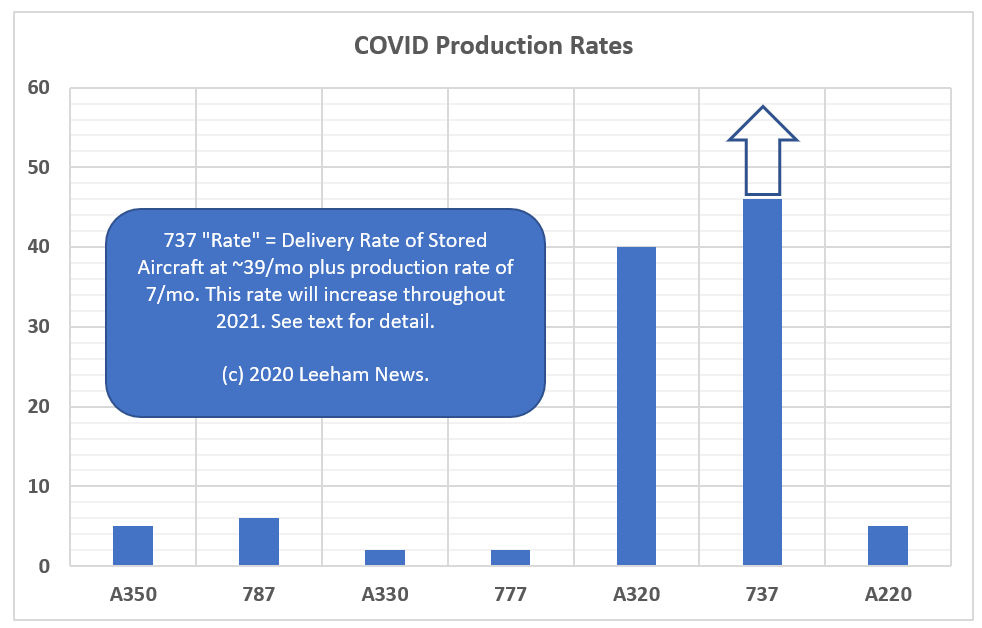 Airbus largely held to its previously announced production schedule. It dropped the A350 rate by one, to 5/mo from six. The A320 rate remained at 40/mo, as did the A330 rate at 2/mo. The A220 rate is returning to 4/mo in Montreal and 1-2/mo in Mobile.
Boeing rates
Boeing will drop rates for the 787 and 777 to six and two/mo from the previously announced 7 and 3/mo.
The 737 is muddled. Boeing will slow the ramp to 31/mo in 2022. The 450-470 stored 737s (the number varies depending on who is talking) must be delivered on top of the initial low-rate production. Based on information, the 737 is currently being produced at a rate of about 7/mo. Boeing expects to increase the production rate gradually in 2021.
Boeing said it hopes to deliver the inventory within about a year. This equates to about 39/mo with 470 stored aircraft. This seems optimistic. Some of the storied aircraft are now white tails following canceled orders and the collapse of some airlines.
Demand also doesn't seem to support this delivery rate.  Nor does it seem to support the delivery rate for the A320. Airbus has 145 airplanes in inventory now, produced for customers that can't accept them.