By the Leeham News Team
July 14, 2021, © Leeham News: Six months into 2021, Boeing is delivering 737 MAXes, clearing MAX inventory, and taking orders.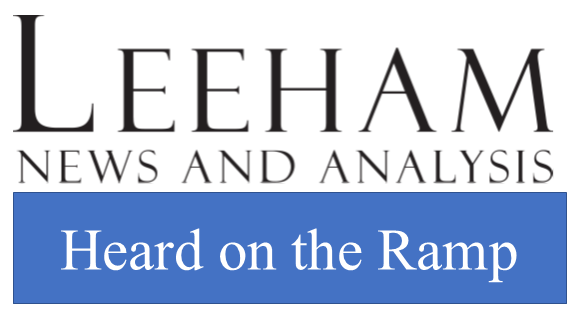 Airbus isn't matching Boeing orders for the A320 family, so far. But as the industry struggles to return to normal, it's worth taking a six month look at how Airbus and Boeing compare.
In terms of total backlog, Airbus has a 62% market share vs. Boeing's 38% share.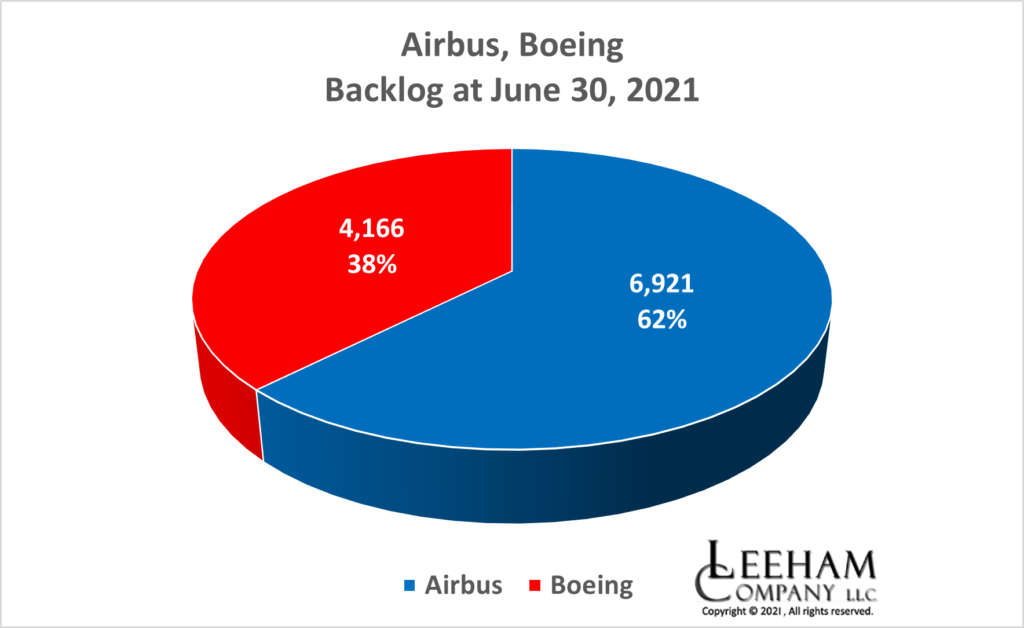 This includes all single- and twin-aisle aircraft. It also includes freighters—a Boeing exclusive right now—and air force tankers, where Boeing also has an advantage.
Airbus has a 65% share of the single-aisle backlog vs Boeing's 35% share. Airbus includes the A220 and A320 families.
Boeing has a slim lead in the wide-body sector, boosted by its exclusive backlog in freighters and the larger backlog for the KC-46A tanker vs the A330 MRTT: 52% to 48%.
Boeing's backlog is adjusted for the accounting rule ASC 606, which eliminates orders no longer considered firm but which aren't canceled. Airbus doesn't publish the European equivalent of iffy orders, so the market share is somewhat skewed. Regardless, it isn't an encouraging picture for Boeing.
A reversal for Boeing
Thirty years ago, Boeing held a 60% market share over its competitors, McDonnell Douglas, and Airbus. Today, there is no McDonnell Douglas and Airbus has the 60%+ lead over Boeing.
The reversal of fortune for Boeing is stunning when one thinks about it. And the slide long pre-dates the 737 MAX crisis, which hasn't helped Boeing's position in the market.
Boeing CEO David Calhoun says he can't make up lost ground that's tied to the MAX grounding. He hopes to return to parity going forward, though.
But Boeing lost market share to Airbus before the grounding. The A321neo, especially the LR and XLR models, provided a boost to Airbus that Boeing can't match with the 737-9 or 737-10.
A new airplane that offers a step change is needed for Boeing. Simply reinventing a 757 won't bring Boeing's glory days back.
FlyDubai cancels 65 737 MAXes
FlyDubai, the low cost carrier that has a close relationship with Emirates Airline, canceled 65 orders for the Boeing 737 MAX last month.
Boeing recorded, as expected, the order for 200 737 MAXes from United Airlines in June 2021. However, the OEM also recorded the cancellation of 65 737 MAXes from flyDubai. The below table details Boeing's gross orders during June 2021:

ICBC and Jackson square effectively took over five orders from BOC Aviation during the month.
Boeing increased its tally of ASC 606 orders on the 737 program from 723 to 772 (an increase of 49) and from 48 to 55 on the 787 program.