April 4, 2022, © Leeham News: Returning the 737 MAX production rate to pre-grounding levels, and beyond, is a key element to positioning Boeing to launch a new airplane program.
So far, Boeing hasn't provided any guidance to Wall Street aerospace analysts beyond reaching a rate of 31/month this year.
A month ago, LNA reported that hints of new rates came from Boeing suppliers ATI and Spirit Aerosystems during their investor day presentations. The two days were a week apart. ATI is a parts supplier. Spirit builds entire fuselages for the 737. The investor days suggested that Boeing will return to rate 52, the pre-ground MAX rate, by 2024.
LNA has learned more specific information from its sourcing in the supply chain. Boeing notifies the chain when to expect rate breaks to higher or lower rates for planning purposes.
According to LNA's latest information, Boeing is planning to achieve a rate of 38 by January 2023 and boost it to a rate of 47 by the summer of 2023. Another rate break would boost production to 52 a month early in 1Q24. When regulators grounded the MAX in March 2019, Boeing was geared up to boost production to 57 a month by year-end.
So far, Boeing apparently hasn't given guidance to its supply chain beyond rate 52. But if the pattern holds up, rate 57 could be in the cards by the end of 2024. Orders for the MAX, especially for the MAX 10, have picked up nicely.
Piece of the chessboard toward a new airplane
Boeing officials have said repeatedly that there will be a new airplane. Just what the design will be remains a mystery. The twin-aisle New Midmarket Airplane (NMA) was taken off the table by David Calhoun in January 2020 when he became CEO of The Boeing Co. The NMA concept unfolded even before Boeing launched the MAX program. Then, it was called the New Light Twin (NLT). Envisioned as a three-member family of airplanes beginning at about 180 seats in a two-class configuration and ending at about 250 passengers, the concept evolved after the MAX to become a replacement for the 767-200/300. The business case was hard to close at this size and limited market, but Dennis Muilenburg—Calhoun's predecessor—seemed ready to gain Board approval to proceed when the MAX was grounded. Muilenburg was fired in December.
Since then, little has been done to move toward a new airplane. The grounding dragged on until November 2020. Even then, a few regulators—including the all-important Chinese CAAC—have not returned the MAX to service. But Boeing nevertheless discussed a single-aisle concept with the market, reverting to the 757 replacement concept envisioned by Ray Connor, the former CEO of Boeing Commercial Airplanes.
The COVID pandemic and delivery suspension of the 787 added new delays to any plans to launch another airplane.
Restoring the MAX production to previous levels revitalizes the necessary cash flow to proceed. Resuming deliveries of the 787 is another element, also with cash flow implications. Paying down $41bn in debt is another not-so-insignificant move on the chessboard.
Boeing also needs to complete certification of the 737-7, 737-10, and 777-9. A recent article from the Seattle Times indicates further certification delays are coming. Without their certification, the cash flows associated with deliveries of 737-7s (notably to Southwest Airlines) and 737-10s (notably to United Airlines) won't materialize, delaying production ramp-ups in the process. Lingering certification delays also tie engineering resources that would otherwise be available for a new program.
Timing
When does Boeing make its move? Consultants like Richard Aboulafia and Kevin Michaels, and aerospace analyst Ron Epstein see 2023 or 2024 as the likely period in which Boeing "must" launch an airplane to avoid further market share erosion to Airbus. They made their observations at the February conference of the Pacific Northwest Aerospace Association. LNA agrees with this thesis. But the practicalities of ramping up MAX production, clearing the legacy inventory from the grounding (probably by early 2024), resuming 787 deliveries and paying down some of the debt are big issues.
Then there are two others that are a coincidence in timing but now which are also relevant. The 10-year labor contracts with Boeing's militant union, IAM 751, and the engineers-technicians union, SPEEA, are up in 2024 and 2026, respectively. The IAM last struck in 2009, having done so in two previous contract negotiations. Two extensions from the three-year 2009 contract, to 2024, were approved under threats to move MAX and 777X production out of Washington State. Bitterness at the give-backs continues to this day. Shortly before the MAX grounding, the IAM leadership urged members to begin saving in anticipation of a 2024 strike.
SPEEA is far less prone to strikes and extended its contract in an amenable negotiation to 2026 at a time when doing so wasn't necessary.
LNA believes that it will be a given Boeing will use the new airplane, whatever it is, as a cudgel over 751 for favorable (to Boeing) contract provisions in the 2024 negotiations. Hence, movement on a new airplane needs to emerge next year.
Competition: Airbus considers production rate of 80/mo
If Aboulafia, Epstein, and Michaels are concerned about Boeing's losing market share, it's with good reason. The MAX already was down to about 40% vs 60% vs the Airbus A320neo. During the MAX grounding, and despite the negative impact on orders due to the pandemic, Airbus picked up two percentage points. And Airbus is aggressively upping its production rate. The firm plan is to take production to 65 a month next year. But Airbus altered the supply chain months ago to "protect" for rate 70 shortly after and even rate 75 by 2025. Now, LNA learned that Airbus is thinking about an A320 rate of 80 per month. Rates of 57 a month for Boeing and 75 a month for Airbus in 2025 represent a 43%-57% production share.
---
Air Wars
Read about the plethora of Boeing studies for a new airplane to follow the MAX in Air Wars, The Global Combat Between Airbus and Boeing. The "alphabet soup" of new airplane ideas is in Chapter 23, The Alphabet Airplane.
Air Wars is available in paperback and eBook form at Amazon and in paperback at Barnes & Noble.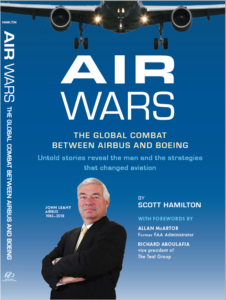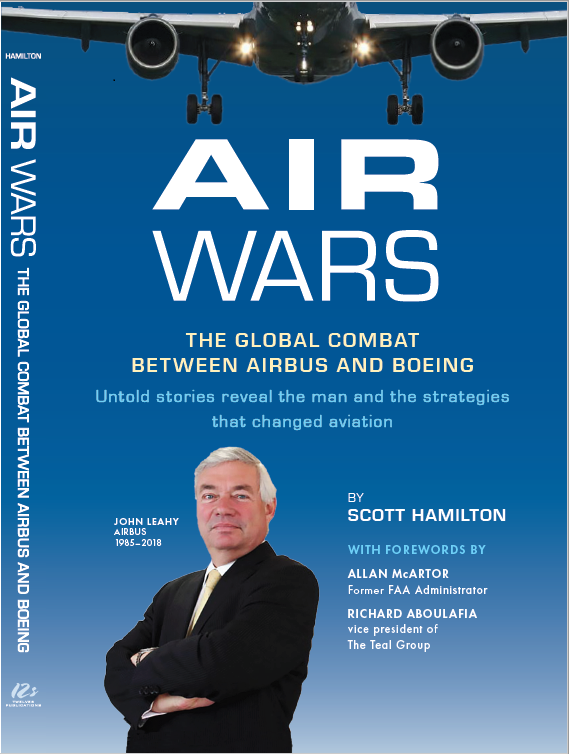 Chapters
1 THE MULTI-BILLION DOLLAR GAMBLE
2 FLYING CARGO
3 PIPER
4 EARLY YEARS AT AIRBUS
5 HIGH RISK, HIGH REWARD
6 FACING OFF
7 THE DEATH OF McDONNELL DOUGLAS
8 WAKE-UP CALL
9 LAUNCHING THE A380
10 MOONSHOT
11 TROUBLE IN TOULOUSE
12 TRY, TRY AGAIN
13 FALLING APART
14 LABOR WARS
15 UPSTART AND DISRUPTOR
16 CREATING NEO
17 LAUNCHING MAX
18 GROUNDING
19 THE X-FACTOR
20 SMASHING A BUG WITH A SLEDGEHAMMER
21 THE BOEING-EMBRAER JOINT VENTURE
22 LAST GASP
23 THE ALPHABET AIRPLANE
24 GROUNDING
25 SCANDALS
26 CORONAVIRUS
27 RETIREMENT