Dec. 19, 2022, © Leeham News: Nope. Not convinced.
Boom's CEO Blake Scholl last week announced that he's put together a group of three companies to work with his firm to design an engine for his Overture supersonic transport.
None of the companies—including Boom—has designed a big jet engine, let alone one for a commercial airliner or an SST.
Yet Scholl said Overture's first flight will slip only a year, from 2026 to 2027, and entry into service is still set for 2029.
No way will this happen.
---
Related Article
---
The three companies are Florida Turbine Technologies, which will design the engines; GE Additive, which will consult on ways to fabricate engine parts through additive manufacturing technology; and StandardAero, which will be Boom's MRO partner and will consult on making the engines easy to maintain.
Florida Turbine is a subsidiary of Kratos Defense & Security Solutions. It has designed small jet engines for drones and cruise missiles. But not for big jets or SSTs.
---
Leeham News in addition to Twitter, Facebook and Linkedin, may now be found on Post.news here and on Mastodon here.
---
First flight in 2026?
Scholl claimed last week the first flight of Overture will be in 2026. Not a chance. Not for a prototype pre-production airplane. It takes years to develop an engine, sometimes decades. Just ask GE/Safran/CFM, Rolls-Royce, and Pratt & Whitney—those that know their business when it comes to airliner engines and military supersonic fighter engines.
Pratt & Whitney fiddled with the geared turbofan concept for more than 20 years before having a commercially viable design now used on the Airbus A220, Airbus A320, and Embraer E2 Jet. (The GTF was launched for the Mitsubishi MRJ70/90, but as we know, Mitsubishi killed this program with the change of CEOs in 2020. The GTF also was slated to go on the Irkut MC-21, but this is dead with Russian sanctions due to its invasion of Ukraine.) Even so, the engine had serious teething problems (though not with the gearbox) since entering service in 2016.
CFM, which is owned by GE and Safran, developed the new technology for the LEAP engine used on the A320 and Boeing 737 MAX. R&D predated the launch of the A320neo in December 2010 and the MAX in July 2011. The A320 EIS was in December of 2016 and the MAX in May 2017. Years of development to official program launch to EIS. The LEAP, like GTF, has annoying durability issues with some of its ceramic coatings and parts even today.
GE developed the giant GE9X for the Boeing 777X. Development issues delayed the first flight by about nine months, to January 2020. Since then, design issues arose that set back the program some more.
How can Scholl claim with a straight face that these new entrants into large jet/SST engines will have an engine ready in three years and EIS will be on schedule in six years?
Regulatory oversight
It's worth remembering that GE, Safran, P&W, and RR all passed on developing an engine for Overture. And it costs billions of dollars to develop and engine. Where is Boom getting this money?
But aside from the money, development skills, and R&D required to develop new engines, regulatory oversight is an entirely new arena following the Boeing 737 MAX crisis. With Boom being a new entrant, Overture a new design, new entrants into engine development for an airliner, and for SST operations, one can only shudder at what the regulatory oversight is going to be like. And how long it will take? Plus, what special conditions may be required?
Oversight is going to be a slog that could make the MAX and 777X oversight by the Federal Aviation Administration look efficient and speedy by comparison.
Additionally, Boom's own track record of meeting schedules is poor.
Infrastructure
As Mitsubishi learned, getting ready for a global product support system is needed. Mitsubishi solved this problem by buying Bombardier's CRJ program and global product support system. Boom needs an instant global system, too. Then there's the learning curve for the production line. And aircraft operating cost economics.
There's still too much uncertainty to take this program to the finish line. Way too much uncertainty.
Ranges
Finally, few have focused on the claims of 4,250nm in range. However, reserves for hold time and diverting to alternates and considering headwinds can shave 15% to 20% off the advertised range. This sharply reduces the utility of the aircraft.
---
Subscription Rate Adjustment
Effective Jan. 1, 2023, the following subscription rates will be in effect (US dollars):
Monthly Rate: $59.95. This is for individuals and not corporate employees.
Annual Individual Rate: $652. This is for individuals and not corporate employees.
Annual Single User Corporate Rate: $1,632. This is for an individual corporate user.
Enterprise corporate subscriptions begin with Enterprise 3 (three users) and are available for up to 500 users. Please contact us at info@leeham.net for more information.
This is the first rate adjustment since 2017.
---
Air Wars, The Global Combat Between Airbus and Boeing
With Boeing's announcement that it won't introduce a new airplane till the mid-2030 decade, Airbus's position as the leading aircraft manufacturer is cemented well into the 2040 decade. Read how Airbus came from nowhere to surpass Boeing in Air Wars, the Global Combat Between Airbus and Boeing. Air Wars looks at 35 years of sales and product strategy moves by the duopoly. It follows the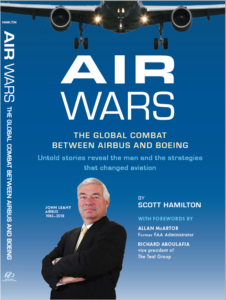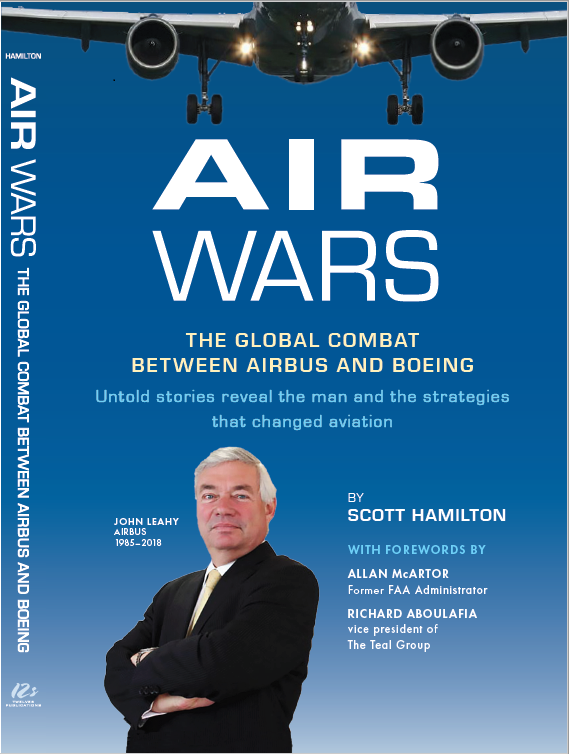 career of John Leahy, who was in Airbus sales for 33 years and the head of sales for more than two decades. Leahy was credited by many as the key to Airbus' success, though this is a simplistic assessment. Leahy likes to point out that he and his team lost 40% to 60% of the sales depending on the measuring point.
Air Wars begins with the big gamble by Leahy to win a huge order from American Airlines for the A320 family. American at the time was an exclusive customer of Boeing. This deal caused Boeing to launch a re-engined version of the 737, which was branded the MAX.
Air Wars then takes a step back to introduce Leahy while in college and a taxi driver in New York City. From there, the book reports one sales campaign after another, with wins and losses by Airbus and Boeing. The book concludes with the MAX grounding, the COVID pandemic, and finally, the retirement of Leahy, Conner, and other key players.
Chapters
1 THE MULTI-BILLION DOLLAR GAMBLE
2 FLYING CARGO
3 PIPER
4 EARLY YEARS AT AIRBUS
5 HIGH RISK, HIGH REWARD
6 FACING OFF
7 THE DEATH OF McDONNELL DOUGLAS
8 WAKE-UP CALL
9 LAUNCHING THE A380
10 MOONSHOT
11 TROUBLE IN TOULOUSE
12 TRY, TRY AGAIN
13 FALLING APART
14 LABOR WARS
15 UPSTART AND DISRUPTOR
16 CREATING NEO
17 LAUNCHING MAX
18 GROUNDING
19 THE X-FACTOR
20 SMASHING A BUG WITH A SLEDGEHAMMER
21 THE BOEING-EMBRAER JOINT VENTURE
22 LAST GASP
23 THE ALPHABET AIRPLANE
24 GROUNDING
25 SCANDALS
26 CORONAVIRUS
27 RETIREMENT
Air Wars is available in paperback and eBook form at Amazon and in paperback at Barnes & Noble.
---