Dec. 26, 2022, © Leeham News: This year has been a year of recovery.
Recovery from the COVID-19 pandemic. Recovery from shortages in the supply chain, layoffs during the pandemic and from financial losses. Boeing continues to struggle in its recovery from the 2019 grounding of the 737 MAX and 2020 suspension of deliveries of the 787.
This year saw a resumption of the big international European air shows since the pandemic—Farnborough. There was great anticipation that Boeing was working on new airplane programs in earnest for the first time in three years.
And disappointments.
Here's a review of the Top 10 stories LNA published, by readership.
---
Leeham News in addition to Twitter, Facebook and Linkedin, may now be found on Post.news here and on Mastodon here.
---
Top 10 2022 Stories
1.   Last Boeing 747 leaves factory tonight

The 1,574th Boeing 747 left the factory Dec. 6, ending 54 years of production. The Queen of the Skies set the standards for every airplane that followed. The last plane is destined for Atlas Air. Delivery will be in the first quarter next year. It will be adorned with the likeness of the designer, Joe Sutter.

2.  MTU gets support from Pratt & Whitney for wet engine

The engine, which has a mild parallel hybrid architecture, extracts more energy from the turbofan fuel by driving the core exhaust through a vaporizer, where it recovers more heat from the core exhaust. Water from the exhaust, extracted from the core exhaust in a condenser, is heated to steam by the vaporizer and then drives a steam turbine that co-drives the fan. The steam is finally injected into the combustor to lower emissions.

3.   With Boeing's decision against new airplanes, Airbus will stand down, too

When CEO David Calhoun said Boeing won't introduce a new airplane until the mid-2030 decade, investors and Wall Street analysts loved it. The stock price went up 18% over the next week.

Most others hated the idea. Boeing's single-aisle market share is now under 40%. Some think it will decline to 30% as Airbus whips Boeing with new orders, driven by the A321neo vs the lesser-performing 737-10 (which isn't yet certified).

But Wall Street wasn't the only group to love the delay. So did rival Airbus. Our No. 1 story for 2022 looks at Airbus' reaction to Calhoun's decision.

Our next most-read story for 2022 was about a series of steps Boeing was taking that pointed to the development of a new airplane.

Boeing went on an engineering hiring spree. Spending for Research and Development shot up. There were great, positive signs. Alas, it all came tumbling down on Nov. 2 when CEO David Calhoun said there won't be a new airplane until the middle of the next decade.

5.      Pontifications: Airbus nears 800 sales for A220, but major challenges continue

Airbus is having good success is selling the A220. Having purchased the program from Bombardier, when it was developed as the C Series, Airbus could make the investments and marketing muscle behind the airplane that Bombardier could not.

Despite boosting sales dramatically, Airbus is still losing money on the airplane. Quality control remains an issue. Supply chain shortages depress delivery schedules.

When Boeing appeared on a path toward launching a new airplane, Product Development was working on a 767-size aircraft to replace the popular 767 freighter. Due to new emissions and noise regulations taking effect at the end of 2027, production of the 767 must stop then unless Boeing gets an exemption for the airplane.

Boeing showed FedEx a concept for a new freighter generally based on the New Midmarket Airplane (NMA).

7.      Boeing's product move kills direct 767F replacement, puts 787F in doubt

After Boeing CEO David Calhoun killed any thought of developing a new airplane before the middle of the next decade, this also killed the concept to replace the aging 767F with a new freighter.

8.      Boeing adds 737 MAX 7 to at-risk status with MAX 10 for cancellation over FAA certification

It was widely reported that certification of the Boeing 737 MAX 10 by a year-end 2022 deadline wasn't going to happen. Boeing CEO David Calhoun said that if the deadline wasn't extended to certify the airplane or a new cockpit warning system was required, the MAX 10 program might be canceled.

Less widely reported was that the 737 MAX 7 also faced the year-end deadline. In Boeing's 3Q2022 10Q Securities and Exchange Commission filing, Boeing said the MAX 7 program also could be canceled.

9.      Boeing prepares to swap engines from MAX inventory to new production

Leeham News was the first to report that Boeing was going to take engines from the stored inventory of 737s to install on new production aircraft. (Some others that followed the reporting failed to give credit to LNA, a journalistic breach of ethics.)

10.      Pontifications: Boeing spending millions to retain engineers

In another exclusive, LNA was the first to report that Boeing was spending millions of dollars to hire engines, some specifically for new airplane development. Also interesting: Boeing was recruiting engineers in Embraer's home town.
---
Subscription Rate Adjustment
Effective Jan. 1, 2023, the following subscription rates will be in effect (US dollars):
Monthly Rate: $59.95. This is for individuals and not corporate employees.
Annual Individual Rate: $652. This is for individuals and not corporate employees.
Annual Single User Corporate Rate: $1,632. This is for an individual corporate user.
Enterprise corporate subscriptions begin with Enterprise 3 (three users) and are available for up to 500 users. Please contact us at info@leeham.net for more information.
This is the first rate adjustment since 2017.
---
Boxing Day Gift
Today is Boxing Day. In case you missed giving or getting the Christmas gift you wanted, my book Air Wars, The Global Combat Between Airbus and Boeing, makes a good read. Here's what reviewers had to say about it.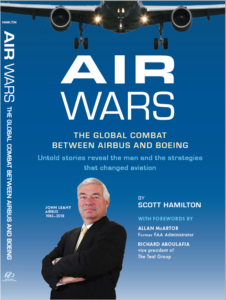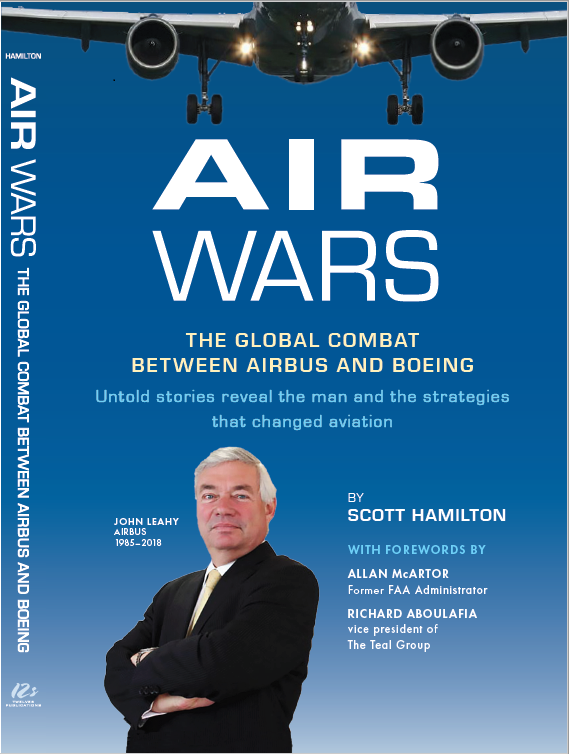 Royal Aeronautical Society
Named to the Top 10 List of Aerospace Books for Christmas Choices, 2021
Puget Sound Business Journal
(Seattle area.) No. 1 on the Christmas list of aerospace books for 2021.
BookAuthority
No. 1 on its list of Best New Aerospace eBooks to read in 2022.
Chris Sloan, The Airchive
"A worthy successor to 'The Sporty Game,'" the 1982 book by John Newhouse, considered at the time to be the definitive book about the competition between Boeing, McDonnell Douglas and the emerging Airbus.
Jim Sheehan, Aviation Industry Consultant
There is so much model and OEM information that it is for sure going to become required reading for anyone who wants to understand the last fifty or so years of commercial aviation.
Loved all of the quotes and stories.
Dan Catchpole, Aviation Writer
Air Wars is a tour de force look behind the curtain of Boeing and Airbus' global competition and, in part, a biography of Airbus' head salesman, John Leahy, the man who forced Boeing's hand to re-engine the 737. Longtime aerospace analyst and journalist Scott Hamilton takes readers through the twists and turns of the decades long battle between the two companies.
Dan Reed, Aviation Writer
Using John Leahy's long and monumental career as a vehicle for telling readers about the 51-year battle between Airbus and Boeing is both an interesting and inspired choice by the author.
Air Wars is available in paperback and eBook form at Amazon and in paperback at Barnes & Noble.