Before getting to the meat of things, a couple of key stories:
Mobile Press-Register, June 30. Details of the plan.
Wall Street Journal: Boeing complains.
It's now one of the worst-kept industrial secrets: Airbus will announce at 10am CDT July 2 that it will construct a $600m A320 Family Final Assembly Line (FAL) in Mobile (AL).
This is a major strategic and tactical move in the intense, often bitter competition between Airbus and Boeing.
Even before the plans became official, Boeing issued a pissy slam, harking back to the World Trade Organization dispute, rather than stating that it is in a position to compete against Airbus and its A320 with what Boeing otherwise routinely characterizes a better airplane with the best workers in the world.
Perhaps the pissy statement was chosen because in many respects, Airbus has mouse-trapped Boeing—and there is very little the company can do about it.
Before explaining, here are some facts to keep in mind. Click on the graphic to enlarge.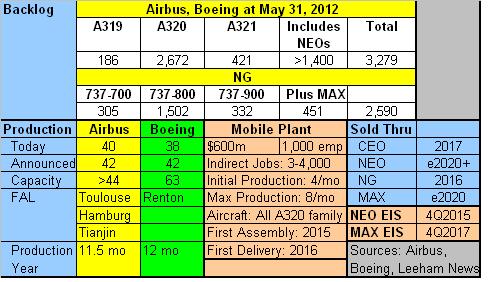 Implications and Analysis
This move is a major offensive against Boeing, driven by the huge backlogs facing both companies for the current generation of airplanes and for the re-engined successors. Neither company can any longer offer timely deliveries to customers without massively over-booking. For Airbus, the runaway success of the NEO inhibited subsequent campaigns in which Boeing had the ability to offer the 737-900ER ahead of the A321ceo by a year or 18 months. See below.
Airbus now has no available A320ceo positions until 2017 and neither does Boeing for the 737NG. Airbus, with more than 1,400 NEO orders, currently can't offer more than a smattering of NEO positions until after 2020 and Boeing—with 451 firm MAX order plus more than 550 commitments—is two years behind Airbus for the advertised EIS and likewise is pressed to find meaningful slots before 2020.
With a two year lead by Airbus with the NEO EIS over the Boeing MAX, Airbus' decision to open a Mobile FAL gives the company the ability to initially open four slots a month from 2016 and the potential to boost this to eight a month. This gives Airbus a major opening to offer the NEO to 737 and 757 operators who need fuel-savings airplanes long before Boeing can hope to offer them. Boeing already trails in market-share, 47%-53%. Airbus could, over time, add two or three percentage points, according to one Wall Street analyst. This shift could last decades—until either Airbus or Boeing design and introduce a New Small Airplane that has major technological advances. Many, including the now-former CEO of Boeing Commercial Airplanes, Jim Albaugh, thought Boeing should proceed with the NSA instead of a re-engined 737. But Airbus forced Boeing's hand with the coup of winning a huge order for the A320ceo and NEO at American Airlines.
Boeing has been struggling ever since to design the 737 MAX in a competitive fashion, given the constraints of working with a basic airplane design that dates to the 1960s.
Campaigns
Airbus had a major goal when launching the NEO: win major Boeing customers. It won Norwegian Air Shuttle and Garuda but the biggie was American Airlines. Boeing spent months denigrating the very idea of a re-engined airplane, but when officials learned American was breaking its Boeing monopoly and selecting the A320ceo and NEO, the hand was forced. In a decision said to be made by Boeing Co. CEO Jim McNerney, Boeing shelved the NSA plans and went with what became the re-engined MAX. Albaugh looked positively pained at the American press conference, sitting next to a beaming Airbus CEO Tom Enders.
But buried under its own success, Airbus no longer could offer timely delivery slots for either the NEO or the CEO. In the hard-fought campaign that followed American, Delta Air Lines ultimately selected the 737-900ER over the A321ceo (the re-engined models weren't part of the competition). Although in the end Boeing won on price, Boeing was also able to offer Delta airplanes 12-18 months before Airbus could.
Both OEMs are now finding customers reluctant to commit to new orders because they face five, eight or more years of price escalation clauses—a situation unacceptable to most.
Boeing has the ability to take production beyond the 42/mo announced, which takes effect in 2014, and officials are studying doing so. The Renton FAL has room for 63 a month, though associated facilities and the all-important supply chain need to expand. Likewise, Airbus currently can go to at least 44 A320s a month—but officials elected to hold off doing so.
With the plans for Mobile's FAL to have a capacity of eight per month (but starting with four), Airbus and its parent, EADS can achieve several goals.
Objectives
These goals are:
Hedge the dollar-Euro exchange rate. Airbus costs are in Euros; airplanes are purchased in dollars. Every 10 cents the dollar weakens to the Euro costs Airbus $1bn in profits. Although FAL is only 5% of the airplane's value, it represents 15% of its costs, according to a Wall Street analyst. Airbus has been working for years to increase its dollar-based costs and this helps.
Airbus parent EADS also wanted a solid US-based FAL in its fight for the USAF KC-X tanker. It told the Defense Department that it would assemble the tanker in the US at Mobile, a move it hoped would make it more palatable to award a contract for the KC-X based on the Airbus A330-200 instead of one based on Boeing's 767-200. EADS, partnered with Northrop Grumman, won, but the award was overturned on a Boeing appeal. Boeing won the next competition. EADS did not protest. Now, with Airbus proceeding, EADS can point to this FAL in future competitions. The Pentagon still has several long-term replacement programs based on transport category aircraft, as well as other DOD efforts in the future. Boeing immediately trashed the leaked A320 FAL (see below).
Made in the USA might help win US orders from airlines, but John Leahy, COO-Customers of Airbus, once told us he never had an airline ask for an A320 made in the USA. (China is the Tianjin plant is a different matter.) But Airbus Americas isn't just the USA, it also includes Canada, Mexico, Central America and South America. We suspect suppliers from these regions will also feed into Mobile, so while we don't believe Mobile will be decisive in any campaign, maybe it won't hurt.
The biggest goal, in our analysis, is to break through the backlog that stretched to 2020 and offer delivery slots, especially for the NEO, that Boeing can't match because its MAX is two years later in coming. Whatever airplanes roll off the Mobile line can either fill the need or free up slots in Toulouse and Hamburg (Tianjin is largely, but not exclusively, for China) to provide airplanes elsewhere. Boeing, is mouse-trapped—unless it wants to increase production beyond 42/mo on the NG and drop the price to compete with a more fuel efficient NEO.
Tankers
Boeing pulled out all stops to defeat EADS the second time for the KC-X and one reason was to deny Airbus a commercial FAL in the USA. Boeing gambled that once the tanker was dead, so was the prospect of an FAL.
It was a multi-billion dollar gamble that Boeing lost. Boeing bet the farm, as they say, undercutting the EADS price by 10%. Boeing and the USAF have already said Boeing will lose upwards of $500m on the first four airplanes and associated R&D. It remains to be seen how the balance of the 175 airplane contract works out.
From the moment Boeing won Round Two, Alabama officials began floating the idea of an A320 FAL in Mobile. We knew that Airbus and EADS never stopped analyzing, and in November we understood a decision was pending the French elections this year. When we were at Airbus Innovation Days in May, it was clear management wanted to proceed. The final business case analysis was then underway.
Boeing's Reaction to Mobile
In a press statement that had journalists rolling their eyes, Boeing trashed the Mobile plans, relating it back to jobs identified by the US and Boeing in the WTO trade dispute as allegedly lost. (Never mind the WTO largely dismissed this claim.) Boeing, of course, became the master of outsourcing jobs overseas with the 787 program—but never mind this little detail. Also a bit of irony: In the tanker competition, Boeing promised to maintain and add jobs in Wichita (KS) but the company is closing its operations there, much to the consternation of Kansas politicians who carried Boeing's water in Congress for the KC-X. Further irony: Airbus will likely hire many of the Boeing engineers losing their jobs as Boeing closes up shop.
But Boeing chose to trash Airbus and connect the WTO complaint while missing the opportunity to praise its 737NG and 737 MAX, the workers who build them and the ability to match any production capacity. The problem, of course, is that Boeing doesn't have a MAX for delivery until two years after the first NEO rolls out of Toulouse and even today Boeing doesn't have final specifications for the MAX to show customers. So perhaps falling back on the tired, old WTO complaint was the best Chicago could do.